Uti Nwachukwu  is a familiar fixture on television talent, game and magazine shows—most notably African Magic's "Jara," which he co-hosts, with comedienne Helen Paul. A dreadlocked extravert,  Nwachukwu  prefers hosting. But he has also excelled, as an actor— his role in "Breathless" (2016) drawing an African Movie Academy Awards (AMAA) nomination.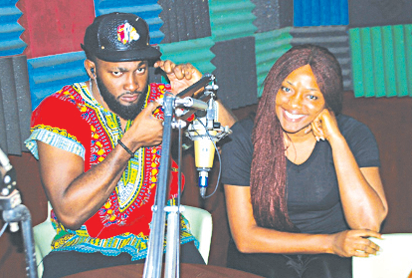 He and  J.K. Obatala  conversed,  on the set of Willis Ikedum's recent sequel, "Mummy Dearest—The Wedding," filmed in Port Harcourt. Nwachukwu,  a Delta indigene, attended Edo State's famed Igbenedion Education Centre—then took a "Computer Science and Education" degree, from Benson Idahosa University.
Tell me, about yourself.
I am an actor, model and T.V. presenter. My acting career  took off, after I won the Big Brother, All Stars Edition, in 2010.
My parents gave six siblings a decent upbringing. I was the last born. My father is late. But my mother is in the U.S.A. She, and everyone, else is doing quite well.  I'm very family oriented. Very stable. Very grounded.
When you say, "family oriented," does that mean you're married?
No, no, no, no. For me, it's all about a close nuclear family. We're very close. We grew up, as each other's friends.
So, I'm all about family. I respect old family traditions. Family values. Family comes right after God, with me.
But you do have long term plans, to marry?
I used to have "long term plans," about everything in my life! But history has taught me, that you can't be in total control. You can only hope.
I learned that the hard way, back when I was 22 or 23. I thought I had my life figured out. But I didn't—and ended up, having to start all over again.
What happened?
I'd just gotten my diploma and was working at Guaranteed Trust Bank (Benin). I wanted to further my education, in the  USA.
On winning the visa lottery, I thought everything had fallen into place.  But the U.S. Embassy disqualified me, because of a first-name-last-name error. That trivial was in 2005, 2006.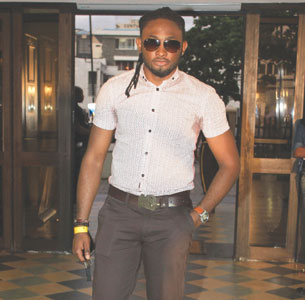 I had gained admission to a university in Minnesota, you know. And my sister even moved into an apartment, big enough for the two of us. Then, my castle came crashing down!
But you have hopes of getting married?
Yes. I have hopes. I mean, I would definitely like to get married and start a family. I don't know if it's now or later. I really don't care when.
What is your main vocation?
I'm primarily a T.V. presenter. But acting comes very natural to me. I'm in acting, because of encouragement from a lot of people. Producers and directors liked me.
So, I said, "O.k. That means I can do this." But what I love doing most, is hosting and T.V. presenting.
How many films have you appeared in?
Close to 20,in nine years. My first film was, "You Must Do, Or Die!" It was produced in Lagos.  Ini Edo  spoke with Stanley Ebonine, the producer, and he casted me.
Afterwards, I went back to Big Brother. Then Desmond Elliot casted me, in a couple of his movies. And, like they say, the rest is history.
How do you find Desmond Eliot, as a director?
He's alright. He's cool, you know. I enjoyed being on set. He knows what he wants. And he executes it, quite well.
Desmond is, like, my mentor. He opened me up, to the world of acting. He's an actor's director, not just a technician. He coaches you, on set. So, I learned a lot from him.
What is the movie you're best known for?
"Finding Mercy," released in 2013! That was my most popular film. It's on Netflix, and everything. That was, like, my "break out" performance.
So,"Finding Mercy" opened doors for you?
Well, winning "Big Brother Africa," opened doors for me, at least in the world of entertainment.
But, you know, being a reality star, a lot of people don't take you seriously. They see you as this talentless person, who has acquired fame by just being silly, on T.V.
Consequently, I had to prove myself,prove I was willing to work hard, to be taken seriously. So "Finding Mercy," kind of consolidated my position. It established me firmly, as an actor.
Among the movies you've made, what is your favourite?
I cannot choose, just one. I have three favourites. I like "Finding Mercy." I like "Breathless," for which I was an AMAA runner-up, as "Best Supporting Actor." And I like "In The Cupboard"—my first movie with Desmond Elliot. It was amazing!
There was a big joke, during the "Wedding" scene, on the set of "Mummy Dearest" –and everybody was laughing. What was the joke?
I'm not sure. The fact is, I'm constantly laughing at one thing or the other. I'm like the clown, on set. I like to laugh. I like to laugh at myself as well as other people.
I like to make jokes, in a serious situation—when the environment is tense. It could have been anything part of the script or us making fun of each other.
That's me. I'm always laughing. I'm a happy-go-lucky fellow.
How do you assess the Nigerian film industry?
I think we're growing, fast evolving. It could be better. But considering the kind of issues we're facing in the country, I think the industry is doing quite well. Eventually, we will get there.
I remember when Indian movies started. They were laughable. We used to make fun of them. But today, Indian movies are topnotch. The same thing is occurring with Nollywood.
You say the industry "could be better". What are the improvements, you'd like to see?
Well-made action flicks are rare. You know, we're very drama-oriented, in Nigeria. We tell very good dramatic stories.
Comedies? Well, we're also good in that genre. You know, Nigerians love a lot of comedy. But our comedies are not really deep. Or, let's say, they're not intelligent comedies.
They're very slapstick. And I'm a sucker for intelligent comedy like sarcasm sort of like British humour. So, we can improve in that area, as well.
Maybe, it's because we're passing through a period of anti-intellectualism, in the country?
Yeah, you know. That's a huge problem and a challenge in Nigeria, right now. We're very anti-intellectual. Something needs to be done.
Who are the Nigerian directors, you admire?
Oh, I love Desmond Elliot. He's my number one favourite. I also love Walter Banger. I've seen his movies. And they're absolutely mind-blowing.
Kunle Afolayan is good. So are Chico Ejiro and Teco Benson. I also like Ezu Ojukwu, director of "'76″ which is, arguably, the best Nigerian movie, ever.
The best Nigerian movie ever made?
The best. Quote me, anywhere!
But it didn't do too well at AMAA. It won only "Best Nigerian Film" and "Best Artist". What do you think was responsible for that?
I don't know. At the African Magic Viewer's Choice Awards, it won in six, seven or eight categories. So, one man's meat is another man's poison!
I don't know why it didn't sweep all the other categories at AMAA. But it's a beautiful movie.
You've complained about the lack of action films in Nigeria. But there also seems to be a dearth of detective movies, as well as scenarios featuring "invaders from outer space," "devouring monsters" and that type of thing?
In Nigeria! (Laughing) Nah, we've not gotten that far yet!
What about detective movies?
Detective movies? Yes. I think we can accomplish that if we put the right pen, to the right paper.
Why aren't more filmmakers doing that?
Because, like you've said: Nigerians are very anti-intellectual. You have to do a lot of thinking.
There are already so many problems, to deal with. When one goes into the fantasy world of cinema, he just needs to feel good. He needs to laugh. He needs to be happy.
Most people don't want the extra burden, of having to think and figure things out when you're just there to be entertained.
What is your advice, to young Nigerians seeking entry, into the industry?
I would say, start with a big dream. If it's not in your heart, then it's not for you. But if it's in your heart, chase it and when you chase it, don't stop!"
The best way to learn, is to fail at something.  Every time you fail at something, you've learned how  not  to go about it. Follow instructions. Be disciplined. And educate yourself.
You used the term "Nollywood". Personally, I have a problem with that.
(Laughing) I know. Me too! I mean, but that's what they've chosen. I have a lot of problems, with a lot of things. But what are you going to do, be the only one in some corner?
I would rather use the term, "Nigerian film industry." But they call it "Nollywood". So, I say, "O.k. If you all want to call it that, it's fine, with me."
You're wearing dreadlocks.
I've never been a plain person. Even before I grew dreads, I used to have a bushy Afro—like yours! I used to want to do crazy patterns in my hair. It's just who I am, you know.
I've always wanted to wear dreadlocks. But I told myself, "I'm going to wait until I graduate". So, I started wearing dreads in 2009, the year I graduated.
I said then, "I'm never cutting this hair unless I grow bald or I'm paid a truck load of money".
Right now, I don't think anyone, here in Nigeria, can afford to pay what it would take, to induce me to trim my hair! But, who knows? Time may change me!
So far though, it hasn't.