By Ayo Onikoyi
Someone once said that beautiful people tend to have more beautiful and easier lives than others. What the person didn't mention is that females with tantalising curves in all the right places on their bodies tend to often get their desires met faster than others.
If you don't believe in the above analogies, the examples that will be listed in this piece ought to convince, and not confuse you.
PEACE HYDE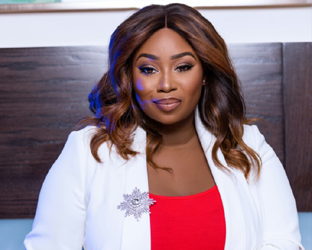 To say that Peace is well endowed would be a strong contender for the understatement of the century. She is indeed a sight to behold.
The British-Ghanaian beauty is a TV personality, as well as a correspondent for the respected Forbes Africa Magazine.
Interestingly, she is not just about her looks. She graduated with a First Class in Psychology from Middlesex University, and possesses a Masters Degree in Communication and Digital Media.
To further underscore the fact that her teeming fans can't get enough of looking at her fabulous body, she is the presenter of three shows in Ghana which include the EFGH Show, Friday Night Live and MTN Hit Maker Season Three. While not denying or dismissing her talent, it is unarguable that Peace's sexual appeal played a big role in landing her the above-listed plum jobs.
TOOLZ
The curves on this babe would make a gay man have a rethink of his sexuality.
Born Tolu Oniru, the ebony hued stunner has a degree in Business and Mass Communications from the London Metropolitan University.
As a radio personality, she hosts the Midday Show on Beat FM.
She also has a TV show called 'The Wrap Up' where she discusses interesting topics with celebrity guests, and she was the host of the maiden edition of Glo X-Factor.
Though she also has a lovely voice, it is unarguable that her 'hotness' was one of the reasons she was chosen to host the X-Factor. It was very common to hear catcalls from the audience during the show, with many of the male folks professing their undying love (or is it lust) for her.
COSSY ORJIAKOR
If you know Cossy Orjiakor, I'm sure the first thing that comes to your mind at the mention of her name is 'Boobs.'
As far as mammary glands go, Cossy's is legendary.
An actress by profession, she has landed many jobs by virtue of her huge boobs. She was featured on Fuji star, Obesere's 'Apple Juice' video where her milk factory was generously displayed on the cover.
She has also been the subject of numerous controversies because of her boobs which bloggers and news hounds can't seem to get enough of. She has graced the cover page of many magazines for her luscious shape
MOESHA BUODONG
If you 'Google' the name Moesha Buodong, your sight will be assailed by many sexy pictures that'll definitely make you swallow your own saliva; that's if they don't make your member stand as stiff as a soldier on the parade ground. The babe is hot, period!
This Ghanaian actress has got curves to die for, and she knows it, so she is never tired of flaunting it in our faces. Often dressed in skimpy and seductive attires, Moesha has landed many acting roles on account of her humongous boobs. She is also often paid to attend parties simply because of her sexiness.
YVONNE JEGEDE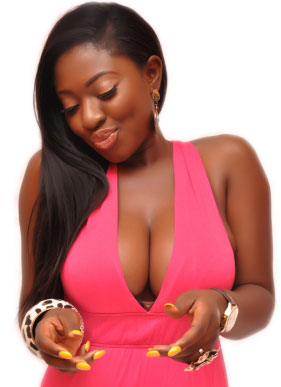 "It is not my fault that my dress cannot cover my boobs," says Nigerian actress, Yvonne Jegede.
The above statement should give you an inkling as to the size of Yvonne's mammary glands; she is loaded!
Though she is not rated an A-list actress, it is a fact that she has gotten many acting gigs because of her fantastically hot body (no apologies to David Cameron).
MERCY JOHNSON-OKOJIE
In every role she takes on, Mercy Johnson's uniquely natural talent shines through. However, it is undeniable that many fans watch Africa Magic simply to catch a glimpse of Mercy's humongous boobs. She has landed many acting jobs   on account of her banging body. Directors have even had to re-write scripts to make sure she and her boobs play a prominent role.
However, when Mercy got married some years ago, she disappointed some fans when she declared that she would no longer be wearing skimpy outfits as a result of her marital status. That notwithstanding, Mercy's body still remains   incredible even after two kids, and directors aren't still tired of casting her in roles of a sexy babe.
CORAZON KWAMBOKA
The sight of Corazon Kwamboka can make a warm-blooded man break out in sweat even in an air conditioned room. This Kenyan model has curves for days, and it attracts men like bees to honey.
Her fantabulous body has secured her many modeling jobs. She is also regularly paid to host events, because at every show she anchors, hordes of men always turn up, if for nothing but to feed their eyes with her gift of nature.
JOSELYN DUMAS
It may just be a coincidence that Joselyn's last name rhymes with 'arse,' but with the kind of backside she has, it is indeed fitting.
The Ghanaian TV host and actress has won many awards for her acting prowess, and she sets tongues wagging on account of her body frame. She is usually paid to host shows, and when she does, the excited response of the audience is better imagined.