Immediate past chairman of the Council of Regulation of Freight Forwarding in Nigeria, CRFFN and Managing Director of Talod Oceanair Freight Limited, Alhaji Hakeem Olanrewaju, in this interview with Maritime Reporter, Godfrey Bivbere, speaks on several issues ranging from permanent solution to the perennial traffic situation around the Apapa ports, CRFFN, domination of Customs brokers' job by foreigners and many more. Excerpt:  
LET'S start from CRFFN. There were many promises while you were the Chairman, and after your tenure it seems as if CRFFN has gone under. What is responsible for this Sir!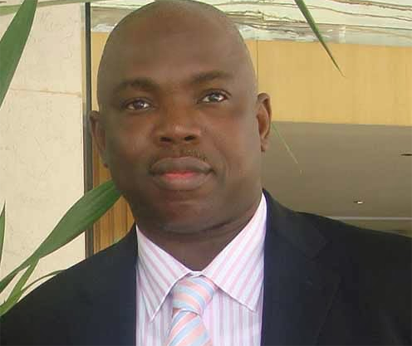 I would not say CRFFN has gone under because when we were there, we had the first and the second council, and made a lot of regulations. It was then we had the birth of the registrar with staff managing the place. You know changes in Nigeria are not always easy because we think that things here are not useful. I still believe that because of multiple associations and other things, a number of cases have gone to court concerning the Practitioners Operating Fee, POF and other things. These have slowed down activities because there is no organization that can function without money. These are some of the things that I think has affected CRFFN, but I think the organization is still working on it.
But CRFFN gets allocation from the government and there are accusations that the registrar has become a lord in the place
When I was the chairman, I did not have any allocation from the government. Most of the things I did, I used my money or contributions from the members and we were able to achieve. So now that I am not there, I have been hearing of allocation and I ask them to give me their evidence. Allocation is different from having a project proposal. Is the budget approved or not?  Is the money given or not? To my belief, with the government of today, I don't think you can just take government money without using it for the purpose for which you are supposed to use it for.
So if he has the money, I'm not the chairman now so I wouldn't know and don't need to start doing enquires on what doesn't concern me. He is the registrar, he is the CEO and he is in charge. So you expect somebody who is in charge to take charge. It is left for us the practitioners to speak with one voice. If we have been speaking with one voice, we will know we are a group of one unit. The only enquiry I made was regarding absence of council. How do you form a council without a registrar and no fund to do election? Someone who has no fund, how will he be a lord?
There is the contentious issue of restriction of membership of the council to Nigerians. Is restriction of foreigners from membership of the council right? 
I don't think there is anything wrong in it once the Nigeria constitution has allowed foreign investors to come to Nigeria. All over Nigeria, we have what they call freight forwarding, we have Customs brokage, it is the regulation that will define what part a foreigner can participate in. You cannot tell somebody who is coming to invest as a freight forwarder in Nigeria and wants to start warehousing, either transport logistics or any other aspect of the business not to do so. First of all, once the government can allow you to register a company at the Corporate Affairs Commission, CAC, and you have that company, the next step is to register as a freight forwarder or other field and then someone will come and tell you it is only for an indigene.
For example, in America, I registered Talod as a freight forwarding company and we are operating as a freight forwarder there. But the Customs brokage is where we cannot operate because Customs brokage is only for their citizens. CRFFN are not the ones licensing brokers, it is the Nigeria Customs Service, NCS. They issue license to whoever they feel is qualified to perform as a broker. CRFFN is to regulate and control the practice of freight forwarding in Nigeria and follow the regulation. Today we see some people in Nigeria that call themselves Customs brokers. To me, it's illegal; I can't call myself a journalist without going to the school of journalism. So if you are claiming to be anything, you must have gone through the training or the school and have a licence. So you can't have a Customs licence, though I still believe is for sale, if you have not gone for the training. If you have your CAC certificate, you can buy your licence. Until Customs comes back to look at that licence and re-modify it, the problem will persist.
When you say re-modify it, what do you mean?
When you look at the Act 16 of 2007 CRFFN, you would see the requirements of who is qualified to be a registered freight forwarder. There are categories of regulations we have made that we have to follow. So, even this regulation is not talking about us. That is why we are taking courses and retraining ourselves. We are even taking it to the schools now. That is why we are doing "The train the trainer". Go and look at the International Federation of Freight Forwarders Association, FIATA law. Look at Ghana, they have government institution of freight forwarding. They started it from college level now they have moved it up to the university level.
Which university in Nigeria does freight forwarding? We only have school of transport. Freight forwarding has its modules which are 14 in number. When I was the chairman, I brought "the train the trainer" which is why I was able to organize the course in six geo-political zones with universities being represented in each geo-political zone. I asked all the associations to send their representatives. We have done the third batch which is a diploma course. So with the fund not coming and the council not in place all those ideas have died but I know that one day it will still come up. The pipeline is already there.
Is there a conflict between Customs issuing licences to brokers and CRFFN regulating freight forwarding practice?
When you see the formation of who are to be council members, the Customs is a member. They have a representative representing the CG and that is why they call it regulation of freight forwarding. So we are there to make regulations. It is part of the regulations we made that states that before you license anybody, they have to get attestation from CRFFN but nobody is looking at that area. That's part of the Law of the CRFFN. Nigeria Customs Service, NCS, will only register you if you are a member of CRFFN. How do we ascertain our members? It is to make sure they get to the standard and that's training. They must have been certified. I wrote to the Customs when I was the chairman, to have a form of collaboration with them concerning trade even at the level of my biometrics. It pissed me off when somebody will just go to the Direct Trader Input, DTI and used my Talod license to access a job and tomorrow they will tell me they blocked my licence and if you find out you will not know who did that. This is because his identity is not attached to a name.
My name is Olarenwaju Hakeem, if anything happens, I can tell you as at the time you are even talking I am no more working with Talod. So Talod is an entity and the customs licenced Talod, not Olarenwaju Akeem. But CRFFN will license individual and also licence corporate bodies but that corporate body that is being licensed is attached to that individual. So that if anything happens, you can always track down. You open your bank accounts with your company's name. You are the signatory; it is attached to your name. But in the case of Customs license, you cannot hold anybody. That is why I said they should re-modify it. I think the Customs should be working on that with all these advancements.
More than ten years ago, you advocated that congestion at the port was going to become unbearable. One of the things you said then was that government should construct a rail line from Apapa to Oshodi but nothing was done about that. Today, the reality is right before us. What do you think government can do now?
You see, I've been in this environment a very long time. I schooled in Apapa and have been living in Apapa for almost all my years. When you look at the structure of the port, no matter the construction of the road they are doing today, it will not ease the congestion; it will only reduce it to about 20 percent. Go and write it down. We are still coming back there. The way the port is designed, the road leading to and from the ports are not meant for all these fuel tankers. That is number one congestion. The railway you talked about, we have Dangote cement factory packaging cement inside there. The trucks are moving, that is in addition to what is on that road, that is number two. The way Flour Mills of Nigeria Plc was designed was not to bring trucks to their facility but to use train. That  is why we have those warehouses  in Iddo, Oyingbo and towards Yaba and that is why we have that Iddo market. The trains those days were to move imports to Iddo and that is why the lorries are there. So when you move your containers there, those going to Onitsha, Maiduguri and so on are offloaded from there and the trucks go back to the port to return empty containers. You would only see trucks in industrial areas like Agbara or Ikeja. Those are the trucks going out of the port. That is why you do not see traffic but now the railway has collapsed, everybody comes by road.
That is where we first started having congestion. Now the tank farms came from nowhere. When Folawiyo and all those on that axis there were doing cement in those days, they came to take cement by batches. I remember when the congestion was trying to build up Flour Mills quickly arrested the situation by loading in the night. Their trucks come in at night around 10pm and before 4am, they had distributed what they needed to deliver for that day. So you won't know what has happened. So daytime you'll find container. But now, that programme is not working.
The congestion started from there. Then Dangote Cement wants to do its own with other companies that are springing up there and nobody is thinking about the waterways, nobody is thinking about the movement of barges. When you go to Port Harcourt, go to Onne, 50 percent of what is coming to Onne moves by barges to various locations. When you see trucks moving from Onne, they are the ones going to non-riverine areas like Aba, all those areas, traders' zone. But all those oil servicing companies go by barge. So if the government wants to do something now, it is to quickly work on the rail. That is the solution.
The road is not the solution. If they like they should repair the roads. I give it another two, three years it will depreciate again. It will only reduce it by twenty percent because what is coming in here is much. Even all these tank farms, they should quickly think of something to do about them. Either to create their own road and I'm praying Dangote refinery starts on time. That's another solution that can reduce the congestion here.
Let's go to the issue of corruption. A lot has been said about corruption in the ports, in particular that the port system made up of the customs, the agents, and everybody is corrupt. What is the situation presently?
I think the situation of corruption in this country to me is like Buba and Sokoto. And also what we call agbada now, i.e. three pieces of clothes. You first of all think of how to remove that agbada then remove it one by one. We have to fight it all together and bring what they call integrity. I think the present Government is doing his best. But the best is still not yet there. There's still at lot of corruption going on everywhere and that's why I always say the customs are enjoying from our ignorance.
How do you mean?
There is neither training nor regulations. Eighty percent of the people you see in the port that say they are clearing agents are not trained. They are just doing the job. We the freight forwarders, we are the first to get the document. We should be able to know what to do.  Customs today that we say are enjoying from our ignorance is doing so because he is trained. He did not go to the university to study for customs work, it was when he finished and was employed that he was trained as the revenue collector and they are trained regularly. So immediately they see a document they know that this document is faulty.
There is also the complaint that customs is concentrating on revenue collection and neglecting trade facilitation
Exactly that's what is happening because if everyone is trained and you know what you are doing somebody will not tell you the value is low and you too must have already made your research. Everybody knows if I bring Camry 2017 if it is 8,000 dollars nobody can tell me he bought his own 7,000 dollars, the same Camry the same year. So the book will make you to see it. If I'm bringing a container of air-conditioners, you should know the international price. So you should let your client know from day one. Let me give you an instance, at times they query my job. When they query my job, I'm not the importer. I don't argue. I will tell the owner to let him know that I know.
Have you got the expectation declaration form from the country of origin stamped by the customs over there?  If he gives that to me, he will request it from his shipper, the shipper will send it to him and he will know the value of what he's sending. The person he bought from has to declare for tax purpose in his country. So by the time he shows it to me, I'll show them to the customs.
It is now left for the customs. That is why they are members of WCO they know how to contact themselves to confirm. In those days, before all these computers and all these telephones, customs officers used to go to the country's embassy here to verify documents for classification purposes and they would do all those researches. So if I give you an exportation certificate form, even if you want to come, I have the right to bring the form and show my goods.  That is why the facilitation comes in. There must be a window out.
A matter of pricing or when you are talking of facilitation there are many ways. He has a boss, he has a controller. That's why they have dispute committee. You take your matter to the dispute committee and I think they need to more empower that dispute committee and let decisions from that place be upheld by all and even they too have to be of integrity. You will see facilitation of trade. Because when you query a job, you must be 100percent sure. You must have your evidence.
There is a call by some operators for terminals or private operators to acquire the scanners and operate in conjunction with Customs since the money to buy scanners is not readily available for the government.
If we want to be faithful to ourselves, like I've been to Dubai port, Singapore port, UK tunnel to see how the scanners work. Because when you are bringing loads from European countries, you go through the tunnel to join the other country. By the time you enter the tunnel, you'll pass through the scanners. The other country has seen that that truck that is coming, that is what is carrying as per the agents declaration is on the system. They have put the truck number that this truck number is coming with the product. If the thing just passes inside the tunnel, it has entered scanner. I was on the FIATA committee of association of trade, where we discuss most of these things and network to see what is happening so I can sail it down here.  The terminal operators, I don't know what their agreement is but they need to find out their agreement is supposed to have a scanner.
Who is supposed to have it?
Terminal operators. There should be two scanners. One at the ship side, so that anything that comes from the vessel pass through the scanners before stacking of the goods at the terminal. So that all other security agencies can see and access from their office.
What you are saying is that once the containers come from the ships, they register in the scanner, the images get to all the security agencies.
Everybody. And that is what they will use to stack. It is there Customs has its own connectivity. If it is homogeneous goods, he will tell you it's on green, they take it to green terminal. If it is red, they take it to red terminal that is how it is done everywhere that I've seen in Singapore and Dubai. If it is blue, you'll take it there. So by the time you are now doing your declaration as an agent, you have known that you are on green. It is just for you to go and do your documentation and pick. Then there will now be selectivity by customs. So if customs doubt, it will go through second scanner then go. That also can reduce corruption
Corruption. If it is on red, already the terminal operators have put it on red. So anytime you are doing your declaration you will know you are going for examination and there is nothing like examination bill. That thing was practiced sometimes and corruption came in and scattered it. Even if you are on red, you are to get release from Customs, do everything then you'll go and load, then you'll go on red line. On top of the truck that is why you have the platform. If you see the platform in Tincan here, the truck level has to be with the platform. The truck will just reverse to the platform. They'll open your door and offload, do the examination and write their report put it in the system, lock it back and allow you to take your container away.
The report of such officers will be made known to everybody?
No, that's Customs own
So just for the Customs?
That's Customs zone. The other one, NAFDAC, SON, everybody has seen. So when they should come in they come in. That is what is done everywhere. NAFDAC has no right to detain any container there or SON.  Immediately they have seen the items, they check. They know the person has taken permit on this. If they suspect anything, every importer is registered with them. If somebody is bringing Paracetamol and you know it is not registered with you, before it start taking delivery, you've known the name of that company.
If that company is not in your register or anywhere, you tell the shipping company immediately to put that container on hold to get in touch with NAFDAC. You will just put it there and we have to be sure that the person has got the message within 24 hours. He will bring his certificate to you then you'll go back to the system. System check, release, simple!  So on most of these things everybody needs training. If we want corruption to go, we need to inject IT students, IT boys. We are in another different world now. Most of what is happening here is manual. We need to become IT compliant
Then finally sir, where do you see the business in the port and port operations in the next ten years?
Somebody asked me a similar question about ten years ago. You know what I told that person? I said when you look at Apapa port today, you'll see crowd but it was only one regulation and only one law that caused the whole crowd to disappear. The volume of what is going on now is more now than then. That's why we are talking about IT compliance. When did I enter the port last? Even when there's no traffic I don't go to the port unless we are having a meeting. And if I go, I'm going to the CAC office. Not to go and shake hand. If I have business issues to discuss, those that concern facilitation of trade, I go there to advise him that sir, we are noticing delay here and there. These officers need to re-energize. I give my observations and they buy the idea and it moves.
The truth is when a cargo has been released, the TDO is collected and permission granted to load and they say somebody places the truck on alert. The truck that should have been released is detained for almost one week inside and they turn that truck back. The CAC was surprised when I told him. And I showed him the evidence. I said they didn't report to me it's my own job. And I think immediately he swung into action. I said so because you said you are hearing information but I've showed you evidence. It is because I have opportunity to get to him. A lot of people are suffering but he won't know. How will a truck that would have stayed in the traffic for almost three, four, five days and is about to load and the driver calls to say that there's alert and that they told him to drive out.
Are we talking of facilitation of trade there? That is why if there's facilitation of trade, the vice president when he was in the acting capacity would not come out and talk about the Ease of Doing Business. Even the government knows that there's problem somewhere. How will it take somebody three to four weeks after Customs has cleared the goods?
I had a meeting with some people last week. I said Customs is not my problem in the port and is not anybody's problem if you have done your proper declaration and within 24hours it will be released, in two days they have released me. I don't need to be there. They do their examination they do everything to get TDO.  It now takes you 12 to 15 days to load because of the bad roads. Customs have done their own and even forgotten that that cargo is still in the port.
So you think the Ease of Doing Business is succeeding?
It's not succeeding o. You see when you do law, there's no implementation. Nobody to report to, everybody is just doing his own. That's why I said we are all government. Somebody will just take your document and go home and you can't blame him because he is the only one to do your job and there is no road to take him to his office because of the traffic. You see our job is the most neglected. Let's go back to CRFFN, until most of the people trying to scuttle the CRFFN realize all these things they are doing they will know that they are destabilizing the future and our children's. It is only here I see freight forwarding people that are poor.
In Cotonou you cannot even enter their port. That is where a nation's security is to start from.  In US it is not anybody that does freight forwarding. Go to our port, everybody just enters the port. Everybody clears. As a citizen of this country, you can't come to me and tell me you want to clear ammunition without having the proper documents and I will go and clear for you.  If I tell you to sit down and I entered toilet, I'm calling the Police, and I will have my integrity. Even the Chinese have taken over the port. They clear their containers themselves. They have the licence. What is the difference between those who sign and those who are stamping for people? Is it their job?