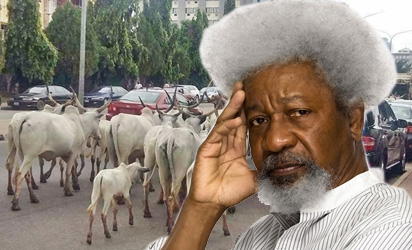 SOYINKA
By GBENGA OLARINOYE, Osogbo.
The authority of Obafemi Awolowo University, Ile Ife, Monday honoured the Nobel Lauraete, Prof Wole Soyinka, with a museum named after him.
A storey building located in the heart of the university was the official residence of the playright as a lecturer in University of Ife, now Obafemi Awolowo University.
The inauguration of the museum was part of the activities tagged "Ife festival of food and identity" by the Institute of Cultural Study of the university.
The festival attended by traditional rulers across the Yorubaland and head of some foreign missions, saw Prof. Soyinka performing symbolic cutting of yam to signal the commencement of the weeklong festival.
In his address at the occasion, the Ogun state, Senator Ibikunle Amosun expressed the state gratitude to the university for the honor done to Prof. Soyinka, whom he described as the proud son of Ogun state.
Senator Amosun, represented by Mrs. Salamat Badru, said: "anything and everything Wole Soyinka simply excite us. Although Wole Soyinka goes beyond our state and indeed beyond the shores of Nigeria, nonetheless, we are pleased that he is one of those Nigerian figures that have helped to place our nation on the world map and, for the good reasons."
"As for the Wole Soyinka museum, our association will go beyond today's event. Ogun state will continue to identify and support this facility in a way that will guarantee its viablility and continued relevance and sustainability."