By Godfrey Bivbere & Samson Echenim
Nigerian Integrated Customs Information System II, NICIS II, adopted by the Nigerian Customs Service, NCS, for trade facilitation and tariff processing may be yielding positive results, as Customs's revenue went up by 14 per cent in the first half of 2018.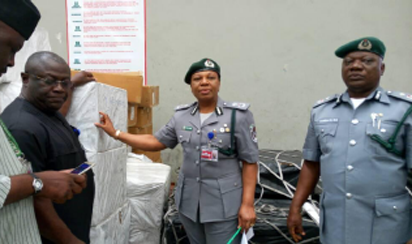 The NCS collected its highest ever half year revenue of N556.7 billion from January to June as against N486.7 billion in the same period in 2017, showing a rise of 14.4 per cent in the period under review.
Customs Public Relations Officer, Joseph Attah, attributed the increased revenue to the introduction of NICIS II, which comprises trade analysis and timely audit of the system and blockage of leakages to enhance revenue collection, among others.
NICIS II became operational in pilot commands, such as Tin Can Island Port, Apapa Area 1 and Port Harcourt Area 1 commands in January 2018.
Vanguard Maritime Report review of Customs revenue statistics shows that Apapa Area 1 Command generated N176.75 billion in the first half of 2018, an increase of 6.6 percent from the N165.74 billion it generated during the same period in 2017.
The command's Spokesman, Mrs Nkeiruka Nwala, also said the increase in revenue was due to the implementation of the NICIS II in Apapa, which, according to her, had blocked revenue leakages in cargo clearance procedures.
The Port Harcourt 1 Area Command recorded the highest increase in revenue, with 18.3 per cent having generated N21 billion from January to June 2018, in contrast to  N17.75 billion recorded in the same period of 2017, leaving a revenue surplus of N3.25 billion.
Nigeria Customs Service upgraded its trade system to NICIS II to give a number of government agencies the opportunity to automate their business processes and improve efficiency. The old system, which was based on ASYCUDA, was not deemed robust enough in terms of availability and security features.
With N1 trillion collected by Customs in 2017, NCS needed the latest and smartest in technology to support high trade volumes with a significant user base.
So far, NICIS II, which hinges on Webb Fontaine technology, has been deployed at eight ports, which are Tin Can Island Port, Kirikiri Light Terminal, Apapa Port, Ports & Terminal Multiservices Ltd, Katsina, Kaduna, Lilypond Port, and Murtala Mohammed International Airport commands of the Nigeria Customs Service.
Attah said: "NICIS II is efficient and reliable, it connects all foreign-trade stakeholders, over 150,000 governmental and private-sector users, on a single online platform. From Form M to pre-arrival assessment report, application for permits and single goods declaration, all procedures are handled through NICIS II.
"The system supports electronic payment of duties and taxes, as well as attachment of electronic certificates and other documents. The automated importation of information across various documents provides great data integrity." In a statement by the command's Public Relations Officer Mr. Ivara Oscar, the Customs Area Controller,  Isiyaku Kabiru said the introduction of NICIS II, also helped improve earnings from the Nigeria Export Supervision Scheme, NESS, from N866.9 million in the whole of 2017 to N2.1 billion in just first half of 2018.
He commended the Comptroller-General of Customs, Col. Hammed Ali (rtd) for "the timely introduction of NICIS II.