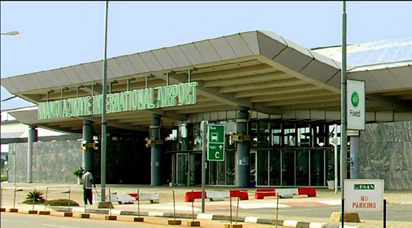 By Donu Kogbara
EARLIER on this week, I arrived at the domestic wing of the Nnamdi Azikiwe International Airport Abuja and immediately made my way to the stand at which I have, on numerous occasions in the past, hired porters to assist with my luggage. But, much to my surprise, no porters were available.
I was politely informed that the Federal Airport Authority of Nigeria, FAAN, decreed a few days ago that travellers – whether they be arriving from or departing to local or international destinations – should look after themselves – that is, pay for trolleys and push the trolleys themselves.
When I asked FAAN staff why porters had been disengaged, they shrugged wearily and told me that nobody had explained anything to them, that they didn't know whether the new rule was temporary or permanent and that they pitied the porters who had lost their jobs.
Grateful passengers
Now, while it is nice to receive help from an energetic young man, pushing a trolley oneself is not the most arduous task in the world, even when it is laden with heavy suitcases, unless one is disabled, so I am not complaining about this new development for selfish reasons.
I also pity – greatly! – the porters who have lost their jobs and wonder why, in a country where widespread unemployment is a serious problem and contributing to our alarmingly high crime rate, ordinary Nigerians who have been performing a valued service well – and who were already struggling to survive because they didn't earn much – should suddenly be deprived of their incomes (tips from grateful passengers as well as basic salary).
Furthermore, while it cost N400 to hire a porter, it only costs N150 to hire a trolley, so FAAN is also losing out on useful revenue.
OK so, I must admit that in most of the foreign airports I've passed through in recent years, porters don't exist because the stingy, people-unfriendly, bean-counting, money-obsessed book-keepers who run the hard-nosed business side of things across the globe have concluded that porters are not profitable enough.
But our economy is not strong enough to cheerfully cope with such cold-blooded financial calculations. In foreign climes, ex-porters can either find alternative livelihoods fairly easily or rely on government welfare support systems. But there are no such safety nets here.
And since the Nigerian authorities don't copy everything their foreign counterparts do (positives such as building state-of-the-art airports and providing round-the-clock electricity included!), I can only plead with the Nigerian authorities to not copy foreign authorities who have made porters redundant.
Also, even if this new rule is just a temporary thing, isn't it extremely feudal, undemocratic and cruel to impose a new rule that will inflict pain on the hard-working classes without at least explaining it to all of the folks who work for you?
Why doesn't every single FAAN employee understand the rationales underpinning the removal of porters? Does this government have no understanding of simple change-management strategies?
I urge Alhaji Hadi Serika, the Minister of State for Aviation – and his Boss, Rotimi Amaechi, the Minister of Transport – to rethink. President Muhammadu Buhari's administration is always being accused of lacking a human face. With an election on the horizon, it needs to prove its many detractors wrong, whenever possible and as soon as possible.
Fulanis remain silent!
LAST week, following the Plateau State killings, I quoted a Christian indigene of Jos who said that she had Fulani friends but was disappointed in them because they did not appear to feel morally obliged to participate in discussions about this crisis involving Fulani herdsmen.
I had also noticed this apparent apathy (or anguish or confusion or arrogant indifference?) whenever I'd attempted to engage educated Fulani friends in conversations about herdsmen.
And, suspecting that some Fulanis would become more talkative around this controversial issue if they were promised anonymity, I invited Vanguard readers of Fulani extraction to share their views with me and exclude their names if they didn't want to be identified. And guess what? Not One Fulani reader contacted me!
Meanwhile, I pleaded privately with a couple of Fulani chums, telling them that I would appreciate their opinions and would love to understand things from their perspectives. But they were evasive and chose to keep their lips firmly sealed. Like inscrutable sphinxes!
It's as if a large chunk of the Fulani elite has decided to emulate the Italian mafia and embrace Omerta (a vow of silence)!!!
Sorry if this comparison with the mafia sounds offensive and gives the (false) impression that I've already decided that herdsmen are to blame for every tragedy involving herdsmen and that every Fulani is guilty by association, but I tend to become unsympathetic when people flatly refuse to communicate at critical junctures.
Flatly refusing to tell airport staff what is going on. Flatly refusing to discuss a problem that is dominating the headlines and generating considerable angst and anger across the nation.
It's all the same thing, albeit in different contexts…as in stubborn silences that can lead to myriad misunderstandings and hostilities.
The world would be a much better place if we were all more open and communicative. Sweeping nastiness under the carpet can work in the short-term but all adults should know that leaving burning issues unaddressed is not a wise medium- or long-term strategy.
Responses to: [email protected]  or to 0802 747 6458 OR 0811 675 9752 (texts only). PLEASE KINDLY NOTE THAT UNLESS YOU REQUEST ANONYMITY, YOUR COMMENTS MAY BE PUBLISHED, WITH YOUR NAMES AND CONTACT DETAILS ATTACHED.