By Ike Uchechukwu
*20 Igbo traders, medical doctors, transporters, others abducted in 6 months
*NBC, NBL, Coca-Cola shut down Calabar Depot offices
CALABAR- INVESTORS and traders, chiefly of Igbo ethnic stock, at Calabar, capital of Cross River State, have started relocating their businesses and families to neighboring Uyo, Akwa Ibom State capital and their home states, following the wave of hostage-taking and armed robbery attacks targeted at non-indigenes by kidnappers and other criminals in recent months.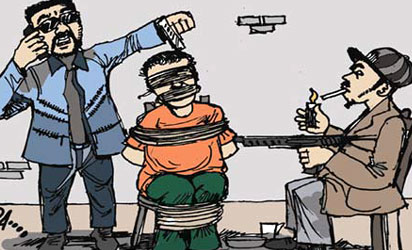 Findings showed that within the last six months, about 20 persons were kidnapped in Calabar metropolis and millions of naira paid as ransom, while in some cases, victims lost their lives in the process. Most of the people abducted were Igbo traders and contractors, medical doctors, big-time transporters, electrical parts dealers and hotel operators.
 Bandits break into warehouses, shops and private residences both in the daytime and odd hours of the night with little or no challenge from security forces.
Worrisome security
Residents said that Cross River,  especially Calabar,  is facing the most horrible security challenges ranging from kidnapping, armed robbery, outright harassment by hoodlums, cultism and other violent crimes since the state was created.  
 In fact, some big companies, including Nigeria Bottling Company, NBC, Nigeria Breweries, NBL and Coca-Cola have closed down their depot offices in Calabar and moved over to Uyo over supposed insecurity.
Similarly, some contractors and private investors in the hospitality industry and fast food business are discreetly shuffling to Uyo while operating skeletal services in Calabar.
 We're terrified – Chief Akachi, Igbo leader
NDV gathered that some group of Igbo traders, including  Onye Aghala Nwanne ya, a socio-cultural group led by Chief Uzowulu Akachi, have been steadily transferring their shops and businesses generally to Uyo, as government could no longer protect their lives and property in Cross River.
 The group, mostly auto spare parts and electrical/electronic dealers are scared of the incessant kidnapping of their members by hoodlums, who end up extorting huge amounts money from the victims as ransom and in the process, ruin their businesses and savings.
'No week passes without abduction of Igbo trader'
Leader of Onye Aghala Nwanne ya, Chief Akachi, told NDV: "A week hardly passes without one Igbo man being kidnapped in Cross River State. We are now living in a state of fear and uncertainty. Our shops are raided at will; our private residences are invaded at night and valuables as well as cash carted away. We end up losing our life investments and savings.
 "So, we had to come up with an alternative and that is relocating either to our various states or nearby friendly Akwa Ibom State. I can tell you that it has been very rewarding, as at least 30 per cent of our members have moved to Uyo.
 "We are negotiating with the state government over there and we are getting favourable responses. Certainly by end of this year, the majority would have relocated with their families," he said.
Govt should beef up security – Prof. Okwueze
 Newly inaugurated President of Igbo Community, Calabar, ICC, Prof. Emeka Okwueze, who also spoke to our reporter, asserted: "It is very unfortunate that we are the victims all the time even when we go about doing our businesses and contributing to the economic growth of the state.
 "I do know that the state government has invested in security through the Homeland Security outfit and others. May be it is not enough, so there is urgent need to beef up security considering the fact that the primary responsibility of every government is to protect lives and property," he added.
Prof. Okwueze, however, appealed to the aggrieved to be patient, saying they should give the state government more time to put things in order as it has already started by providing logistics for that purpose.
Things will normalise – Gov's aide
Speaking at the inauguration of the new ICC, Security Adviser to Governor Ben Ayade, Mr Jude Ngaji, assured Igbo people in the state that the situation would be normalised shortly.
Ngaji, represented by the Head of Administration, Mr Edet Asuquo, said:  "We are working assiduously to make sure that everyone is safe and we have beefed up security around the state, especially in the metropolis, but we are certain that everything will return to normal," he promised.