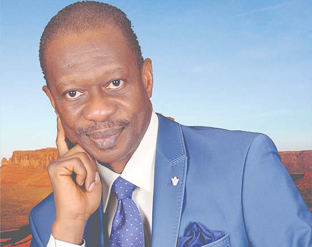 By Sam Eyoboka
PREACHERMAN Emmanuel Oje Ehimika is the visioner of The Jesus Dream (TJD), an annual one-hour global worship for declaring the wonderful works of God. The annual event holds on June 30 at 9.00 pm Jerusalem time (8.00 pm Nigerian local time). In an interview in Abeokuta ahead of the 9th edition of the programme held last Friday, Preachmerman spoke on the faithfulness of God in the past editions. Excerpts:
How did you start The Jesus Dream, TJD?
I was passing through Abeokuta with my family when I heard God say to me, "Stay in this city". I told my wife and she said nothing. We didn't know anyone in the city. But as we drove on the main street, I saw an estate agent who I approached for a house. He took us to one and we liked it. When we were told to pay, I told the estate agent that I had no cash but that God told me to stay in the town. He looked at me and sat up in his chair. I asked him if he was a Christian; to which he affirmed. Then I said, "It means that we have the same Heavenly Father; so, you may ask Him if you should give me the keys."
The man was dazed. After a short time of meditation, he instructed his staff to give me the keys. We moved into the duplex without anything. After we moved into the estate called Asero Estate, God told me to start a fellowship in my house. I emptied all I had saved, invited believers in the estate and had a Suya (barbequed meat) night. That was how the issue of unity of the Body of Christ became my passion. But TJD started in 2010 just before my 50th birthday. I asked God what He specifically wanted me to do and He said I was born for the purpose of spreading the good news about unity of the Body and so He instructed me to start TJD.
How have you been managing TJD since you don't have a church crowd to support you financially? 
When you do ministry simply to achieve, over time, what God desires, ministry becomes easy. I had a church and the Lord told me to shut it down. I had a motivational talk business, He told me to shut it down. And He said to me "Sell nothing in this ministry." So I simply sit there sharing the Word He has given me and those He has opened their eyes to the vision support us willingly. He told me not to promise people rewards from Him or try to encourage them; but just ask for willing offerings. Those who really love God for what He has done, and not what He will do, are responding. Whatever offering comes in, no matter how little, always gets the job done. Remember the five loaves and two fishes that fed 5,000.
The Holy Spirit runs this ministry directly hence our adverts read-—the precious Holy Spirit invites you to THE JESUS DREAM.
What is the secret of the growth of TJD worldwide?
When Adam was created, he did not grow. He messed up; but Jesus, the last Adam, grew from childhood to adulthood. So any work that revolves around Jesus grows like an oak tree and not an overnight mushroom. When you build upon the Word of God and the level of revelations from the Holy Spirit to you flows unhindered, that ministry will excel in the face of opposition.
I am simply an available man with a 'gift of contentment'. So I hear the Spirit and I push it out. Believers, media houses etc. run with it; and TJD keeps growing. Each year, TJD expands with adverts running in countries around the world I have not even heard of. Our website has names of media houses advertising TJD up till 2019. We stopped counting because we realized many advertise TJD without our knowledge.
God motives before He prospers a work. But more importantly, this issue of collectively declaring His wonders is His priority; so He is spreading the word about Himself. That's why He emptied me so that everyone who is discerning will know He is behind the move.
We have free adverts running to millions of dollars across the world. How do you explain that? And it's increasing yearly. We now have media houses sending us mails to send 2018 jingle, some newspapers in foreign countries requesting to re-publish some articles on our website in their magazines.
Why did you say TJD Hour is the most powerful worship hour on earth? 
First, it satisfies God's passion that runs from Genesis to Revelation; which is to DWELL WITH MAN. Read this Scripture: Exodus 29:46. Many preachers present what we stand to gain, leaving God out. For instance, that God brought Israel out of slavery to give them the Land of milk and honey-—-proving that a child of God should prosper. Yes, we should; but that is not the first thing. So, we see God telling us that He has been side-tracked by our messages. God wants our unity so that He can dwell in us.
At TJD Hour, we come in with unity in a magnificent size for God's greatest passion in the Bible. It runs from Gen. 3:8 to Exodus 25:8 to Ex. 29:46 to Ps.132:13-14 to Ezek. 37:26-28 to Zech. 10:2 and crosses over to Matt. 3:16 to John. 1:16 to Eph. 2:21-22 to Col. 1:19; 2:9 and, finally, in Rev. 21:3, God's original purpose becomes His final purpose——to dwell in the midst of His people.
Secondly, in the beginning of the Bible, Genesis 1:1, the Holy Spirit introduces us to God by His works (In the beginning, God created the heavens and the earth). In the beginning of the Church, the Holy Spirit introduces the Church as He declares the wonderful works of God (Acts 2:11). Again, in the beginning of worship in heaven, Holy Spirit introduces the Church as He declares the wonderful works of God (Acts 2:11).
Again, in the beginning of worship in heaven, the Holy Spirit tells us that the 24 elders tell God He is worthy to receive glory honour and power because of His wonderful works (Rev. 4:11). Again, this runs from Genesis to Revelation.
At the TJD Hour, we declare the works of God. And so, at that Hour, we do what they did when the Church started and also what is being done in heaven-—-thus making the will of God be done on earth as it is in heaven exactly.
No other worship comes before it. You can't put prayers, preaching, fasting before it. Not even praises or singing because you can't praise God if you don't know what He has done. What will any Christian that misses that hour offer God-—nothing! Whatever the Holy Spirit makes first should be made first thereby honouring God and giving an acceptable sacrifice.
It is, obvious! One of the requirements for outstanding ministry is boldness. That is the prayer the early Church began with. When Saul was coming to arrest and destroy them, they did not pray for God to kill him and his fellows. They prayed for boldness. The statements I make are provocative; but I hear the Spirit tells me what to say and He backs it up. I said many years ago that TJD is the most unifying Christian experience since Pentecost. It was coded and today we can see its reality.
What level of cooperation have you been receiving from other ministers?
One thing is sure, any pastor that knows how he or she will be rated by God at the end will not toy with the issue of unity of the Body because that is primarily why Jesus gave us the gifts-—-to groom the saints to be like Jesus until we come to the UNITY of the faith (Eph. 4:11-13). We are appealing to men and women of God to teach and release God's children under their care to function in the Body of Christ at that hour, either in their churches, cell groups or homes. They could encourage them to organize other Christians on their streets to fellowship together. Imagine how Jesus would love such a great gathering because He shed His blood for this purpose (John 11:51-52). Meanwhile many ministers who have seen the revelation in the last few weeks are coming on board. This is the ninth year and nine stands for fruitfulness. So many can see the fruit; hence the willingness to partake.
A few days ago, one of the top spiritual fathers sent in an offering. Another called me to ask how TJD should be observed. We started seeing TJD banners by different churches and I believe that the time has come and everyone to see that this is a move of God from Africa to the world.
Why 9.00 p.m. Jerusalem time?
In 2016 the Lord told me to henceforth announce the time of TJD as 9.00 pm from Jerusalem. I simply obeyed, only for me to find out that was about a year later; I was shocked that Jerusalem is the centre of the world in Ezekiel 5:5. Years after, President Donald Trump declared the capital of Israel as Jerusalem and moved the US Embassy.
Have there been testimonies?
Oh yes! Very amazing testimonies; but we don't want to make TJD an experience of "Lets praise and so the earth will yield increase." That's scriptural and good; but there are levels of commitment. On the day of Pentecost, they did not worship to receive anything. When all our dealings with God are to receive something at the end, we are just simply selfish folks.
Habakkuk says he will praise God no matter what happens (Habakkuk 3:17-18). Satan told God that Job worshiped Him because of all he got from God. And God wanted to prove Satan wrong. At this hour, our focus is to give back to God because of love not because of a need. God can do whatever He decides; but our motives must be just to worship for He created all things for His pleasure.
After June 30, what next?
God told me to plan each edition for one year. So, it's a one year plan for one hour worship. Immediately after June 30, 2018 we are planning for June 30, 2019 which will be the 10th anniversary. But we produce materials which we give out monthly to teach these revelations. We have people who support us monthly with freewill offerings.
When we get more support, we will hold meetings to teach these truths. The devil does not like unity of believers. He does not mind us talk about prosperity and other issues; but not unity; so he blinds the minds of people from helping. But God is raising a people who will back this work with their substance because the blood was shed for it. People who have genuine respect for the blood of Jesus.
How do we declare the wonderful works of God? 
Start off by appreciating God who created the heavens and the earth, raised Jesus from the grave, parted the Red Sea etc., just recounting the miracles in the Bible. At the end of the hour, thank God for allowing you be a part of the Great Assembly of The Jesus Dream (TJD). David looked forward to such a gathering. He said: "I will give you thanks in the Great Assembly; among the throngs I will praise you" (Psalm 35:18). Then confess: 'I will not die; but live to declare your wonderful works in TJD 2019'. Ps 118:17.
Which denomination do you belong to?
I don't belong to any denomination, I belong to the Body of Christ; but I have a place of fellowship. And when I travel, I fellowship in any assembly. Jesus did not encourage denominations; hence He united the Jews and Gentiles in one body.
Why is TJD on June 30 and how many people keying in?
It is the centre of the year and unity always begins from the centre. Churches are producing TJD banners and handbills across the world. When we see them, we get really excited. It shows they have caught the vision. About a week back, a minister in Tanzania said he slept at about 3:30 a.m., the previous day, sending mails to 50 platforms containing thousands of people across the world.
Many are using the social media to raise worshipers worldwide. The beauty about this is that those who have no money to buy cement, blocks for church building can be used by Jesus for this building by telling other Christians who are the living stones Jesus is using for building His own Church.
What is your take on church building projects?
As soon as God brought Israel out of Egypt, He told them to build a dwelling place for Him in their midst. As soon as God revealed who Jesus is to Peter, Jesus told him that He would build His Church. This shows that there is a building uppermost in God's heart which Jesus is building. But it is not this physical structure anymore as it was in David's time. God was dwelling in tents and David said it was not good enough. He provided materials for Solomon to build the Temple and God's glory came down.
But God was not really pleased with physical temples so he said in Acts 7:48-52 "What will you build for me. My hands made all things." God was waiting to dwell in a perfect tabernacle and so when Christ came, He dwelt in Christ as told us in Col. 1:19; 2: 9- that it pleased God to dwell in His fullness in Christ. But when Christ left for heaven, God now dwells in His Body on Earth; hence Jesus prayed for the unity of His Body for God to continue to dwell. But many do not know this; so they spend so much to build physical structures and think they have pleased the Lord while ignoring unity of the Body worldwide. Even Jesus, when he was shown the temple, said it will be destroyed.
We can build; we need them, beautiful cathedrals for that matter; but only when we have spent reasonably to encourage unity of the Body of Christ. God will question every believer on how he or she spent the money given to him or her. He gave Israel wealth in Egypt before they left and He demanded for it to build His dwelling place. That tells us that our wealth is for His dwelling place. Today the Bible tells us that His dwelling place is in our midst; and no longer in temples. Eph. 2:21-22. This is why we need support from those who know God is pleased to dwell in our midst so that we can disseminate the truth to the uttermost part of the earth