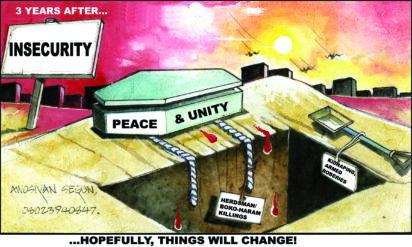 Insecurity
By Dennis Agbo
ENUGU – THE Christian Association of Nigeria, CAN, in the 17 Southern States has said that the upswing insecurity pervading the country, particularly in the North Central zone, pose grave danger to the conduct of next year's general elections.
CAN in the region did not only bemoan the menace but said it was a sign of total collapse of security architecture in Nigeria.
It said with such situation, the conduct of the 2019 election was under serious jeopardy.
CAN spoke as reactions continue to trail the killing of over 100 residents of Plateau State by suspected herdsmen.
Secretary of the organization, Dr. Joseph Ajujungwa, who spoke to newsmen in Enugu, said the Christian body was worried that several days after the attack, no concrete effort had been made towards arresting the perpetrators.
He said "CAN is saddened that many days after that avoidable massacre of innocent Nigerians in Plateau State, government is still telling the same old-fashioned stories.
"For every murderous act of these marauders, the Federal Government and the security agencies reel out words of assurance that never yield any fruit.
"We restate once again that the incessant, senseless and wicked killings going on in the Middle Belt and South-East is totally unacceptable to us."
Ajujungwa said it was more lamentable that whereas government had never prosecuted any of the AK-47 wielding-herdsmen who had murdered hundreds of Nigerians, it rushed to convict to death 5 Christians for allegedly killing one of the attackers.
"There is grave injustice in this country and they are not even pretending about it. These people are using AK 47 killing everybody; almost 200 were killed in Jos but the police never arrested any, army never arrested any, and we are saying there is security, there is no security in Nigeria,
"We are calling on the Federal Government; if we have security, let them rise to the challenge,
"This is not good for this democracy, especially at a time we are preparing for election and such thing is happening, I don't think it is to the best interest of Nigeria. It is putting the election in jeopardy," he further stated.