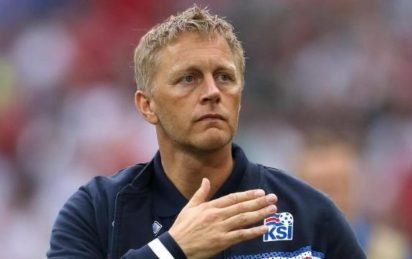 Hallgrimsson
Hallgrimsson
Iceland coach Heimir Hallgrimsson stepped down on Tuesday, a few weeks after leading the tiny nation at its first World Cup.
"If I had to continue, I would have done it with the same preparation, the same motivation but at some point, this kind of routine can lead to a certain weariness," he told a press conference in Reykjavik.
The 51-year-old added that it would be "good for the team to have a new vision".
The Football Association of Iceland had hoped he would extend his contract for two more years.
"Heimir was naturally our first choice due to his excellent work in recent years," Gudni Bergsson, president of the federation, said in a statement which also thanked Hallgrimsson.
Hallgrimsson became an assistant coach in 2011 under Swede Lars Lagerback. He took charge after Iceland reached the quarter-finals at the 2016 Euros in France and guided Iceland to first place in a World Cup qualifying group that also included eventual finalists Croatia.
With a population of 330,000, it became the smallest nation to play in a World Cup finals.
In Russia, Iceland opened with a 1-1 draw against Lionel Messi's Argentina but then lost to Nigeria and old adversary Croatia to exit at the group stage.
"I'm grateful and happy to have been part of this group's team spirit above all," Hallgrimsson said, adding "it's a privilege" to leave team in such good shape.
The federation said it is reviewing a list of "national and foreign" candidates.
Iceland face Switzerland on September 8 in the UEFA Nations League.
AFP