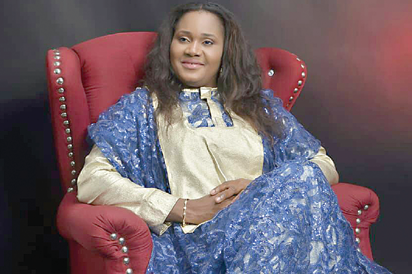 By Esther Onyegbula
Honourable  Ifeoma Anthonet Onwudiwe, is a very passionate humanitarian. An astute business tycoon and a graduate, her quest for knowledge and professionalism especially in production got her admitted to NANGING Super College, China in 2010, where she obtained a Diploma in Cosmetology in 2011.
Being introduced to the fashion and entrepreneurial world in NANGING Super College  awakened her modeling and productive career and she was privileged to compete with national and international celebrities in various competitions.
Currently, Honourable  Ifeoma Anthonet  Onwudiwe is vying is for a seat in Anambra State House of Assembly. In this chat with WW, she talks about the increase in  rape and violence against women, her journey into politics, her dreams and aspirations and other sundry issues.
Rape and domestic violence are on the increase, what do you think can be done to address these issues?
Some social ills have not been carefully handled. You will agree with me that they are acts against humanity. For years, we have been hearing about such individual tragedies while diverse studies and surveys have been carried out in that direction yet nothing seems to be changing. Rather, rape and domestic violence is taking a completely monstrous dimension across the globe.
Basically, all forms of domestic violence have one purpose: to gain and maintain control over the victim and it has been on the high rise in under developed societies. If elected I would ensure that adequate measures are made to ensure its complete eradication.
 What do you think can be done to curb this menace?
Creating public awareness and sensitizing the general public has been shown to be a critical tool in changing behavior and value system of people with ease. Therefore there should be intense public enlightenment and education at schools, social clubs, cultural group gatherings, churches and through the different media platforms to first of all demystify the saga about sexual assault and enlighten people of the existing consequences.
These myths inform the way many people think about rape and sexual assault. Because they are in the background unconsciously influencing people's thoughts, the false assumptions may be seen as being true. For example, when we read in the newspaper that a young girl has been raped, perhaps near a nightclub, we often automatically search for a cause other than the real one (that she was raped because a man with the power to do so decided to rape her). Perhaps we proffer the reason for the rape as being tied to the place where she was raped, or the time of the day, or the clothes she was wearing, or the fact that she has wronged the culprit. This way of thinking deflects blame from where it rightly belongs- with the perpetrator of the crime. It is this kind of community disposition and ignorance that detracts from tackling the real cause of sexual assault, without which preventive efforts will be futile.
To champion the public enlightenment crusade, the Civil Society Organizations (CSOs) and the Media occupy a major role in this respect. Many are ignorant of the consequences of their acts and the law states that "ignorance of the law is not an excuse" (see section 22 of the criminal code) which is why they need to be enlightened.
These strategies also seek to prevent sexual assault before it occurs by charging individuals and groups who exhibit early signs of violent behavior or being subject to violence to report at the early stage; some reorientation especially for boys to have respect for the opposite sex. There are more factors to sexual assault than just dark places, but to an extent, having light in various lit walk ways will make a great difference.
We can curtail this social ill through improvement in our educational sector. No doubt, poverty and ignorance have led to persistent practice in certain parts of Nigeria where children and teenagers, instead of being in the classroom, are used for street hawking of petty wares by their parents or guardians, thus; making them vulnerable to sexual exploitation and abuse.  Child and women trafficking with the helper risk of sexual assault and exploitation would be greatly curtailed if equal opportunity and free formal education is provided for all children. In that regard, the U.B.E. as introduced in Nigeria with the enabling law, has the potential to take children off the streets and at least prevent the poverty usually responsible for non-enrolment in school. The law has mandated that all Nigerian children must be enrolled in schools but the effecting of this law needs a strategic platform. Sexual assault prevention requires a solid foundation and one of the pillars would be addressing the gross inequality against the girl child in the educational system.
Naturally, the dividend of democracy is power. Unlike tyrannical, dictatorial or oligarchic politics, democratic politics strives for less domination of power by an elite few, and the greater participation of the people in governing themselves. An equitable distribution of power recognizes that the people are the ultimate repository of power; and the elected and government officials and every organ of government are delegated to operate solely and totally in conformity with the will of the people.
Certainly,  if elected  I will bring equitable distribution of  constituency projects without any iota of sentimentality and bias. Good governance follows this pattern but goes a step further towards not just providing such services but also ensuring that the constituents are once in a while in Town Hall meetings to address issues of concern in the constituency while ensuring their active involvement in the polity which is indeed the very essence of democracy.
"Dividends of democracy" as it pertains to legislative function entails expression of the opinion of my people, sponsoring bills that will make education accessible and affordable, constituent functions, control over foreign policy, accessible medical care, jobs creation amongst others as it concerns the good and peace -loving people of Anambra East.
I will use such a position to attract state projects to my people and find a way to empower my people though vocational studies and skill acquisition programs without relying mostly on the government.
Do you think women can perform better if given the opportunity to serve in political positions? 
It has been established that the development of any country requires the participation of both men and women, which is why, in greetings, they normally cheer ladies and gentlemen. Gender equality in political participation is a fundamental aspect of modern democratic governance. Winnie Byanyima, Executive Director of Oxfam International, told IPS that: "It is not about men against women, but there is evidence to show through research that when you have more women in public decision-making, you get policies that benefit women, children and families in general, unlike when the system is filled with men alone or women alone."
Today's global problems require leaders that have diverse skill sets and innovation that can only come from diverse ideas and players, gender immaterial. Women bring the skills, different perspectives, structural and cultural difference to drive effective solutions. In short, female leaders change the way global solutions are forged. That's why it is important to keep pushing forward. Fairness and equality are admirable goals in themselves. And women have consistently proven that they are able to benefit policy in important ways. Having more female leaders in politics is important for another reason: female politicians change the norms about who can lead and what qualities are necessary in leadership. Having women in leadership roles is breaking down cultural and structural barriers, improving leadership around the world and showing everyone what women can achieve.
Women's participation in politics and decision making is not just good politics but also good economics. It is not a favour done to women.
What inspired you to venture into politics when you are doing well in business?
My thought for joining the political euphoria began in my university days when I contested to represent the school in the House of Representatives, a contest which I lost but learnt greatly from.
Just like the saying: great leaders don't set out to be leaders; they only set out to make a difference.
It is apt in describing female politicians like  late Dora Nkem Akunyili (OFR), former Director General of the National Agency for Food and Drug Administration and Control (NAFDAC) whom I got the whole of my inspiration from. I am also inspired by Chief Mrs Ebelechukwu Obiano. Following the antecedents of these great women of substance  and learning from them has broadened my knowledge and my intrinsic worth and their virtues  as leaders are worthy of emulation for every politician and public office holders in Nigeria, Africa and the entire world. Politics is one of the major areas where you can effect positive change in society.
What position are you vying for?
Today, I am vying to represent the good and peace-loving people of Anambra East Local Government in Anambra State House of Assembly, a position I have so desired to contest for, to have the leverage of impacting the lives of the old and young in our society. To use the provisions set out for empowering the youths and helping the constituents with pressing social needs as well as sponsoring bills that will create wealth, peace and security of ndi Anambra East.
On which party platform are you contesting?
I have chosen to contest under the umbrella of All Progressive Grand Alliance (APGA) as the fastest growing party in the country, where the Igbo have finally- under the leadership of  Governor Chief Dr. Willie Mmaduaburochukwu  Obiano- gained common voice to rediscover their lost identities and virtues.  
 Do you think that the current governor of Anambra state has done well?
He was tagged ''Willie is working," because of his zeal and enthusiasm in making Anambra State indeed a 'Light of the Nation' – and it will be of great essence to reveal how well the Governor has done in some key sectors using his economic blueprint known as "Four Pillars of Development'' with the (12) twelve enablers. His Excellency identified the core areas to stimulate growth and development in the state. They include Agriculture, Oil and Gas, Trade and Commerce, and Security
With the quality of investment the government has attracted so far while having the four pillars as her watch-word, the unemployment problem in the state has drastically reduced.
He also maintained the victory of Anambra State over kidnappers, armed robbers, drug-dealers and child-traffickers. The smashed crime syndicates remained subdued throughout the year under review.