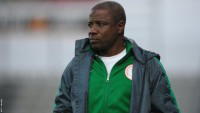 Salisu-Yusuf
By Patrick Omorodion
ONE thing that baffles me about my country Nigeria  is the way we treat issues of corruption as if it is a way of life. In every aspect of our life, bribe giving and taking seem to be the norm. Even when you ask questions, people look at you with disdain. One aspect of the Nigerian life where bribery is commonly known is in the area of public transportation. Anyone who patronises the public buses and taxis will experience the cat and mouse confrontation between the Police and drivers.
Every now and then, you see police men and women, stopping drivers and taxis and asking them for money even when they have not committed any offence. When these drivers refuse to part with any money, you hear the passengers in the vehicle shouting on top of their voices, asking the driver to give the bribe and not waste their time.
Most often the drivers are forced to give because thy wouldn't want to lose the passengers who may decide to disembark from the vehicle and ask for the refund of their fare. Because of this, most often you see the drivers keeping money aside to give to this police men at different check-points even before they are asked.
In sports, particularly football, which is the crux of my piece today, corruption is rife and people know but prefer to talk about it in hush tones. Nobody wants to bell the cat. Even when you talk about it, they shout you down and label you unpatroitic. That was exactly what happened to former Green Eagles winger and Commissioner of Justice and Attiorney General of Rivers state, Adokiye Amiesimaka years back when he spoke about age cheats in our age grade competitions and even cried out when one of his former players was drafted into the national U-17 team, the Golden Eaglets.
Adokiye was derided and called names, surprisingly by officials of the then Nigeria Football Association, NFA who should be thankful that the Rivers-born administrator saved them from being embarrassed by FIFA if the players age were to be discovered to be false.
The issue of bribery which is now the talk of the town following the BBC report on the Super Eagles assistant coach, Salisu Yusuf taking bribe offered him by an undercover reporter posing as a football agent has only helped to expose what everybody knows but pretend it doesn't exist.
Football players, whether at club or national team levels, have always complained about coaches asking them for money before they are even allowed to train with their teams to see their suitability.   And more often than not, their cries have never been taken seriously nor even looked into to know whether it is true or not. Rather than investigate the allegation, these players are labelled lazy and not suitable for the teams.
There are also players who know they are not good enough to make a particular team and knowing that a particular coach is gullible go all out to entice him with money. It also does not end there as these players go the extra length of paying to ensure they retain first team shirt. All these are done at the detriment of the team.
Bribery case could be said to be more in national teams because football agents are in a haste to make money from their players. Once they are able to get their players into the national teams and scouts spot them during competitions or even friendly games, scouts are able to assess them and clubs possibly sign them.
This is where the undercover reporter got Salisu Yusuf. His defence now that the players were already part of his team or that their selection was not influenced by the bribe or cash gift, as he prefers to describe it, does not hold water.
Knowing that the giver of the 'gift' was an agent to one or two of his players, he should have turned down the gift and maintained that his team selection is based on merit like he stated in the video. If he had rejected the offer as well as reprimanded the 'agent' when he mentioned that if the players secured club contracts he would be entitled to 15% of the contract sum, no one would accuse him of taking bribe.
The bribe issue is not limited to coaches. referees, football administrators and even sports journalists are all involved in the scandal. And this is where club football, especially in Nigeria comes to the front burner.
There have been insinuations that the Nigeria Professional Football League, NPFL is never won by the best club but by any club that is ready to vote huge sums of money to influence matches in their favour especially their home matches.
That is why Nigerian league champions and the runner-up which qualify to play in the CAF Champions League get knocked out early in the campaign by clubs from countries which football development is far below that of Nigeria.   The consequence now is that the quota for Nigeria in both the Champions League and Confederations Cup has been reduced to one each. Yet we pride ourselves of running the best league in Africa.
I know of a club chairman in this country who, when asked why he sacked the club's coach in a year they won the league, said "We know how we won the league", meaning the victory had nothing to do with expertise of the coach. How then did the victory come, if not by the grace of the referees who must have been compromised. That is the sad story of Nigeria's football.
Salisu Yusuf