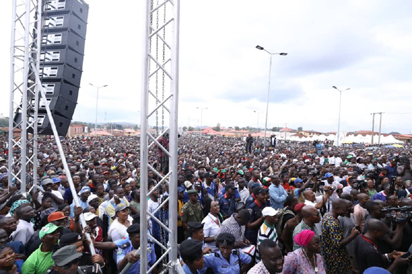 Mamoth crowd at the Ekiti Peoples Democratic Party, PDP, Mega Rally in Ado-Ekiti
The Ekiti State Peoples Democratic Party (PDP) Publicity Secretary, Mr Jackson Adebayo, has said campaign by the PDP ended on Thursday July 12, 2018 at 11pm.
The PDP has therefore dissociated itself from any campaign in whatever method or through publication of stories or advertorial in newspapers, radio, television or in online newspapers.
Jackson said his party is law abiding.

Also the coalition of election observers composing over 15 bodies, have faulted police on its explanation that it dispersed a rally held by the Peoples Democratic Party at the pavilion in Fajuyi park on Wednesday.
The coalition said using tear gas and live shooting to disperse the rally is undemocratic and urged the police to be more proactive by ensuring a more civilized approach in line with global practices.
Speaking on behalf of the coalition to newsmen on Thursday, Dr. Nwambu Gabriel,Director General, Centre for Credible Leadership & Citizens Awareness, said: " In world over, it is necessary to ensure that elections comply with International Best Practice and Globally Accepted Standard, hence, the essence of accrediting reputable Civil Society and Non Governmental Organizations to observe any election is to assess the degree of compliance of the electoral management body (INEC), the political parties as well as their supporters to the relevant electoral laws as provided by the Electoral Act of 2010 as Amended, Federal Republic of Nigeria. This essentially is to serve as a parameter for measurement and a term of reference to improving future elections.
Thus, election observation increases the level of credibility of a well ordered process of power transition in any defined democratic state. Report of organizations also remains a potent tool in election tribunals or court of competent jurisdiction.
Consequently, the Independent National Electoral Commission (INEC), as an electoral body saddled with the constitutional responsibility of conducting elections across Nigeria, after a thorough scrutiny accredited about fifty (50) reputable domestic Civil Society/Non Governmental Organizations and about seven (7) International Organizations to serve as election observers for the Ekiti State Governorship election of 14th July, 2018.
" Ekiti state has a record of being a serial politically volatile state in Nigeria. This becomes manifest, before, during or after elections.
" Some killings have been noted in the state in the midst of election campaign.
In all these, as at 9th of July, 2018, Ekiti state has a total number of 913,334 registered voters. A total of 667,064 voters have collected their PVCs, while 246,270 PVCs are yet to be collected. By this medium , we encourage the electorates in Ekiti state to collect their Permanent Voters Cards to enable them exercise their franchise on the 14th of July Governorship election.
" As part of our pre election observation, we observed the violence and the use of tear gas and firing of live bullets to disperse a rally organized by the PDP. Although, the PPRO of the police in Ekiti State said in his statement that two political parties cannot hold rallies simultaneously. For us, the police ought to have used a more pro active way to address the issue.
" The Ekiti Governorship Election fall into what we may call a staggered election and a precursor to the expectations in the 2019 General Elections. It becomes therefore inherent and a great onus on INEC to ensure that the process is smooth, transparent, free, fair and credible in line with internationally accepted standard.
"The INEC Election Stakeholders' Meeting on Monday, 9th July, 2018 at the Great Eagle Hall at Ado Ekiti ended abruptly following the inability of the two major political parties to adhere by the basic code of conduct.
" There has been growing apprehension and accusation and counter accusations of biased by various political parties.
We, as INEC Accredited Observer groups have decided to address you today, having achieved a pre election observations as part of our mandate, hereby proffer the following measures to mitigate possible resurgence of electoral related violence and hereby state categorically as follows:
" That the Election Management Body (INEC) in its neutrality is expected to be seen to do so. The Commission should live above board in the conduct of the election in line with transparent modus operandi across all political parties.
" A timely inspection and dispatch of all sensitive electoral materials should be ensured by the EMB.
Back up Card-Reader machines, batteries, etc should be put in place to improve the response time.
" Money politics should be discouraged at all levels especially on election day. Security Agencies should apprehend individuals who indulge in vote buying/ soliciting for vote in or around polling units and ensure the suspects are prosecuted. This would serve as a deterrent to intending perpetrators.
" Electorates are advised to conduct themselves in a civil manner in line with the provisions of the electoral act.
6.Political parties, candidates as well as their supporters should conduct themselves within the rule of engagement as entrenched in the electoral act of 2010 as amended.
The Military is encouraged to be professional in the protection of lives and property.
" Again we reiterate our advice to the youths of Ekiti state to remain law abiding and shun all anti social vices such as thuggery, ballot box snatching, election related violence etc.
Finally, we reaffirm our commitment to the Electoral process en route a sustainable democratic culture in Nigeria synonymous with Global Best Practice, " he said.
In another devwlopment, the Ekiti State Council of Traditional Rulers have expressed apprehension about alleged unwarranted attack on the sitting Governor of the state, Ayodele Fayose , just as it appealed to the Police to refrain from further harassment, intimidation and brutality of innocent citizens of the state till the end of election and beyond.
The traditional rulers who stated this in a communiqué issued at the end of their emergency meeting held in Ado Ekiti, implored the people of Ekiti State to be calm and go about their normal duties without fear of molestation.
They said if such a thing could happen to the governor, they wondered what will happen to the ordinary citizens of the state in the course of the election.
In the communiqué signed by the Chairman of the Council, Oba Oluwole Ademolaju, they noted that prior to the Wednesday incident; they had held several meetings with the stakeholders in the election. "Council met with the participating party leaders and the gubernatorial candidates with the Police, other law enforcement agencies, the INEC, the civil societies and the diplomatic community.
"During these meetings, the Traditional Rulers had preached peace implored all concerned to be neutral and unbiased. Most especially, we had requested the law enforcement agencies to refrain from intimidation, harassment and brutality of the people.
"We are therefore worried and disturbed that after all our appeal and entreaties, the police still went ahead to unleash mayhem on the Governor and innocent citizens right in front of the Government House.
"What happened yesterday showed that Ekiti State is under siege. We are not in a state of war and we don't want Ekiti state to be turned into war zone. Election is a civil exercise and it should be so".
The monarchs therefore appeal to INEC to remain an unbiased umpire and to be fair to all and also provide a level playing field to all parties involved in the election, as they appeal to all participants to accept the outcome of a free, fair and transparent election.
In a related development, the Ekiti Council of Elders have asked security agencies to remain very professional and unbiased in their duties to ensure a free, fair and credible poll on Saturday.
The elders, who stated this on Thursday in Ado Ekiti, said that the security should avoid unnecessary use of force as any weapon used to inflict harm on the people is used on an Ekiti person.
In a statement signed by the Chairman, Prof. Joseph Oluwasanmi and Secretary ,elder Niyi Ajibulu respectively, and made available to newsmen in Ado Ekiti, appreciated the efforts of the Federal Government in providing security for the peaceful conduct of gubernatorial election, but added that" the massive deployment of security was causing fear, tension and great anxiety among our people who should ordinarily freely exercise their franchise without intimidation.
"We consider the unfortunate incident in the Government house premises on Wednesday as most embarrassing because the state governor and the government house are the symbol of authority for the state that should be accorded the respect the respect the respect they duly deserve."