…APC chieftain alleges multiple voting
…Not possible, Omotoso, PDP Chieftain, INEC Official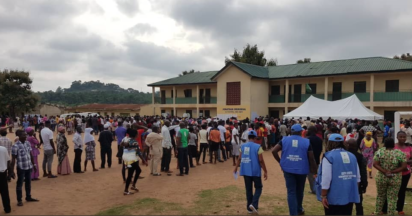 By Rotimi Ojomoyela
Ado Ekiti- Voting has commenced in the Ekiti governorship election as voters turned out in numbers to exercise their civic responsibility.
At Irona , Oke ori omi , St Michel primary schools, Unit 4 at Adebayo area of Ado Ekiti metropolis and voters were conducting themselves in peaceful and orderly manner.
At unit 07, 04 and 06 in Oye-Ekiti, voters are on queue waiting to vote.
In the areas visited, the card reader machine have been working well and there are no cases of malfunctioning of the machine.
A voter at Ifaki Ekiti, Kunle Ajibade who just exercised his franchise commended the smooth process of the election.
"Yes,i just cast my vote and i am comfortable with the process so far. Everywhere is peaceful and the police are here.
" I just hope everything will be peaceful till the end"
Our correspondent, who is monitoring the poll observed that as early as 7am, voters had moved out to their respective voting points .
Voting begin in most of the units at exactly as 8am with INEC Ad-hoc staff accrediting and giving ballot papers to voters.
As promised by the Inspector General of Police,Ibrahim Idris , 5 police officers are stationed at each polling units and voting points.
Also,men and officers of the Police, Army and other security agencies are seen at different points.
At unit 07 in Oye-Ekiti, voters are on queue waiting to vote.
As at the time of this report, voting is on going in a peaceful atmosphere.
At Ayegbaju Ward 4, unit 002, the European Union Ambassador in Nigeria, Mr Keti Karlsen hailed the peaceful manner with which the election commenced.
Karlsen said : "As at 9.17 am, the election has been peaceful . I have been to five polling units and the process has been credible enough.
"This election is going to be a litmus test to 2019 elections . This election is a precursor to the 2019 elections and its success is very crucial to us.
"The EU have been supporting INEC win voter education, how to encourage people with disabilities among others.
"We have seen large turnout of people and the enthusiasm for people to elect a governor that can represent them well.
"I believe this election will be credible if it ends like this," he said.
Meanwhile, a chieftain of the All Progressives Congress APC in Ekiti State, Senator Ayo Arise has alleged multiple voting by suspected youth in some Voting points in Oye Local government area.
Arise, who voted at his Ward 1 unit 5 Oye-Ekiti alleged that the youth are moving from one unit to another with different permanent voters card(PVC).
Responding to the allegation,the presiding officer in one of the unit, Sani Nafisat denied any cases of multiple voting.
She said the card reader machine would not allow any form of multiple voting.
A member of the state house of Assembly and PDP chieftain in Oleje-Ekiti, Dr. Samuel Omotosho dismissed the allegations of multiple voting.
Omotosho,who disclosed that there are some areas where the card reader machine were malfunctioning commended the peaceful conduct of the exercise.