… As Human activist fingers PDP in vote buying
By Rotimi Ojomoyela
Ado-Ekiti-The Peoples Democratic Party (PDP), Ekiti chapter, has described the victory of the candidate of the All Progressives Congress(APC), Dr Kayode Fayemi in the Saturday's Ekiti Governorship election was a product of 'poll robbery'.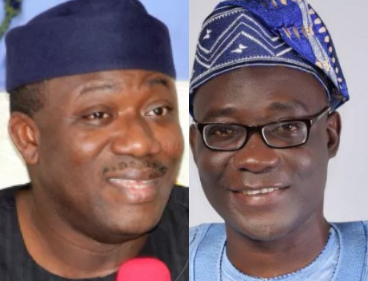 The party said that they would employ every constitutional means to retrieve what it called a ' stolen mandate' from the former Minister of Mines and Steel Development, disclosing that the party would challenge the election in court.
It described the governorship poll as an embarrassment to democrats across the globe, saying APC governors spending humongous amount that could have been used to develop their states to buy votes signposted that the party has no interest of the masses at heart.
PDP said there was nothing unusual about the congratulatory message sent by former President Olusegun Obasanjo to Fayemi on his victory, saying that was what was expected from an elderstatesman.
"We are not embarrassed and we can't join issue with Chief Obasanjo on that . When a young man became successful, the elders will congratulate him. But the former President will soon change when he realizes that Fayemi actually stole the victory", it said.
The party's Chairman in Ekiti, Gboyega Oguntuase, said this in Ado Ekiti on Monday, while addressing Journalists on the outcome of the election.
He also accused the Independent National Electoral Commission(INEC) and security of conspiring to subvert the will of the electorate.
Oguntuase alleged that the two bodies of were neck deep in the allocation of votes to Fayemi, just to disgrace Governor Ayodele Fayose, who has consistently been posing as the major opposition to President Muhammadu Buhari.
Oguntuase said over 20 members of the party, including the Chief of Staff to the Governor, Chief Dipo Anisulowo and four of his aides among others were arrested by combined forces of military and paramilitary security outfits and clamped in detention on the day of election.
He said: "What did they need 30,000 police officers for in Ekiti when criminals were killing Nigerians in other states? Ekiti people knew they were in our state for a task and not to protect their votes and that was why there was no jubilation or ceremony anywhere in the state after the election.
"This election was far from being free, fair and credible. In Ilejemeje, Ilawe, Ikole, Ise/Orun , Oye , Ado and other major towns in Ekiti , many of our people were beaten by APC thugs being aided by the security men.
"As we speak, the results declared by INEC to give victory to Fayemi was more than the number of accredited voters. So, where did they get the additional votes they added?
"We are going to use every constitutional means to retrieve this stolen mandate, it is just a matter of time.
"APC mobilized over N11 billion to buy votes in Ekiti. They came here to perpetrate electoral perfidy and such will not stand", he stated.
Oguntuase stated that the federal government deliberately delayed June allocation to Ekiti to create impression that Fayose was owing salaries and to sway votes for APC.
On those arrested and detained members , Oguntuase told the police to release them to the party, saying : "We are not going to tolerate excuses that they had escaped from detention when they cannot be found anywhere from police.
"They must not just be released immediately to us, they must also be hale and hearty", he added.
Right activist fingers PDP in vote buying
Meanwhile, a human rights lawyer, Mr. Morakinyo Ogele, has accused the People's Democratic Party (PDP) of vote buying in Ikere-Ekiti, the hometown of its candidate, Prof. Kolapo Olusola.
He was reacting to Olusola's allegation that the All Progressives Congress (APC) won Saturday's election largely to alleged purchase of votes.
Olusola and his party, PDP, have signified intent to challenge the victory of the governor-elect, Dr. Kayode Fayemi, before the Election Petition Tribunal.
Ogele, a native of Ikere like Olusola, who spoke with reporters on Monday alleged that PDP and its agents induced voters at his Okesegun Polling Unit in Ogbonjana Ward.
The National Coordinator of Ekiti Redemption Group (ERG) also warned Olusola not to use state funds to sponsor his proposed court case against the poll result.
According to him, he has been compiling evidence of alleged PDP vote buying to be forwarded to the Economic and Financial Crimes Commission(EFCC) for investigation.
Ogele said: "I am a voter and I voted for the candidate of my choicein our unit, Okesegun Unit in Ogbonjana Ward, Ikere-Ekiti where PDP asked voters to fill forms and the voters who voted for them were given tallies.
"After being giving tallies to voters who voted for PDP, they were asked to go to a location nearby where they were given money.
"In the same ward, we prevented some of the PDP thugs from hijacking our ballot box. The PDP should come out and explain where they got the huge amount of money they shared on election day.
"PDP chairman and any other person in the party lack the moral justification that other parties shared money at the election.
"PDP lost because of the character that is ruling Ekiti while Dr. Kayode Fayemi won on his goodwill.
"PDP in Ekiti State is an agent of poverty, circulating poverty in Ekiti State. Ekiti people are fed up with looting, impunity, deceit being perpetrated by the Fayose administration."