By Morenike Taire
At a high-octane Lagos State event last year, outgoing governor of Ekiti State, Ayodele Fayose, was the only governor present in the opposition.
When protocol announced his presence, the substantive crowd broke into a cheer, hailing him as "president l'ola" (the president in waiting). So humbled by the reception was the usually gregarious fellow that he was virtually speechless when asked to address the gathering.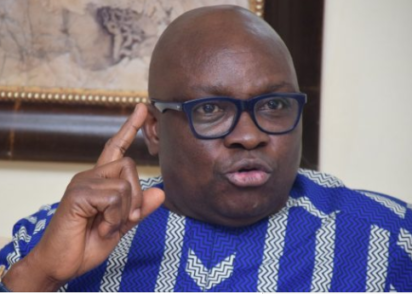 Less than 24 hours later, rumours broke out of an attack on his vehicle in the Osodi area of Lagos, en route the international airport; one which he stoutly denied. Nevertheless the propaganda machinery continued to churn out innuendo to the effect of 'the enemies' being at it again.
It is difficult to relate the dithering gentleman at the Lagos state event to the drama king the two-time governor has proven himself to be over and over again; but that is only the nature of a politician. It would seem that the more bipolar a Nigerian politician is, the more charismatic, successful and powerful he tends to be, especially with regards to getting results.
But there are two sides to one coin, which is why the same tendencies that create charisma and charm can also create repulsion and distaste, leaving no middle ground whatsoever. Shenanigans and antics that had once made for entertainment and some level of admiration somehow turned sour at the end of the day, setting things on edge and shifting the paradigm in a most unprecedented manner.
It has been widely postulated that whatever happened in the July 14  Ekiti elections would set the tone for the rest of the general elections across board within the next months. This is especially believable, given the trends we have seen in the presidential races: the 4th republic saw the return of former military heads of state in civilian garbs.
Obasanjo set the tone, with Babangida almost throwing his hat in the ring a few times before Buhari came along. With Fayemi's comeback, hope has returned to those state executives who had lost second term bids and have now restrategized and are returning to claim them. But the significance of the July 14 elections is bigger than the political ambitions of some individual men. Again, two sides of the same coin are at work here.
Ayodele Fayose's popularity is certainly not under contest, even in his native Ekiti. He is definitely the most admired politician of South West origin in the South East and South South. His propensity for posturing is definitely legendary and we have definitely not heard the last of him.
In addition, he is a man of spirituality, a trait he has not milked satisfactorily. Like many successful Nigerian politicians, he has behind him an ardently praying woman who is just as ambitious as he is- if not more so. It has been postured that Fayose's wife, Feyisetan, having prophesied his 2014 victory, has gone on to predict he will ultimately be voted president of the Federal Republic. It was- and still is- not generally regarded as an impossibility, in spite of the fact of the fact that some of her prophesies have been off the mark.
As the last PDP man standing in the South West, Fayose is in a similar political position as Bola Ahmed Tinubu had been during his second term between 2003 and 2007.
Still, Fayose's recent losses have had a less than spiritual connotation. The man he had roundly trounced as an incumbent in 2014 has now returned to the same space to shake him off the table. If the political space and its character have not changed significantly, other variables must have to be responsible for the Ekiti people's embrace of the same Fayemi that they rejected so recently.
In-state analysts argue that Fayose's loss in the July 14 election is a calamity of his own making. Videos have emerged on social media of the governor making adult civil servants serve unprintable forms of punishment for reporting to work late. He has also been accused of a cold and even malicious attitude towards key members of his party, while causing a sitting monarch to be incarcerated. This level of perceived contempt seemed to mark a turning point, even for some of his most ardent followers.
Yet what happened in Ekiti on the 14th of July cannot be so easily forgotten. As the singular governor who was able to nip the problematic herdsmen national conundrum in the bud before it became a serious issue in his own state, fears that this will be reversed with a change of administration are very real and present; and if there is any issue more urgent than salary arrears for Fayemi to deal with as governor, it will be herdsmen.
Still the real significance of the July 14 Ekiti polls is that it is a veritable barometer by which the direction of the electorates' thinking can be measured with a view to predicting their behavior in 2019.
Professor Eleka, the anointed Ekiti PDP gubernatorial candidate was virtually ignored in the campaign;, and the race was seen- strange as that concept might seem to a non-Nigerian- as being one between Fayose and Fayemi. The same people who had embraced Fayose have rejected his anointed one.  It would seem that finally, a death knell has been spelt on godfatherism as a major factor in winning elections in Nigeria.
What is the name of the PDP candidate again? Very few even remember.