By Donu Kogbara
LAST Sunday night, 180 inmates escaped from Minna Medium Security Prison. Only 30 have been recaptured as I write this column on Thursday. In other words, 150 are still at large. And a very disturbing thought just occurred to me while I was gloomily mulling over this alarming state of affairs: Nigeria has become so frighteningly amoral that those jailbirds who broke out of a medium security lockup may very well be less dangerous than thugs who belong in maximum security prisons but are as free as the wind and confidently roaming the streets or boozing in bars or enjoying billionaire lifestyles or claiming to be blameless herdsmen or occupying important positions. And so on.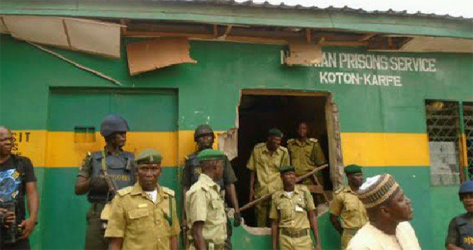 Nigeria has become so lawless from top to bottom that the number of criminals in prison are probably far exceeded by the number of known criminals who haven't been caught (and may never be accused or caught or properly punished – or even mildly embarrassed publicly – if they have powerful masters).
Powerful masters
Nigeria is a country in which there is little or no incentive to be a truly decent citizen, a country in which horrible people tend to be more successful than nice people, a country in which politicians can do what they like, a country in which too many security agents have become deliberately ineffective or criminal conspirators because they have been bribed or are simply afraid of being severely dealt with by ruthless leaders or murderous gangsters.
A couple of weeks ago, there was a dispute between APC and PDP groups outside a courthouse in Port Harcourt, the capital of my state. Shooting ensued. Videos of the incident went viral on social media. The watching world was shocked. But nothing has happened to the culprits who initiated this violence.
A society that tolerates such outrages with a nonchalant shrug or a mere shudder, a society in which Anything Goes and the Baddest Boys run the show, is a society that has been corrupted, brutalized, traumatized and desensitized. What hope is there for children who are growing up in this toxic environment? Who or what will save us from this slough of degradation and terror and theft?
Benign semi-dictator
I used to think that Buhari would make a huge difference. I assumed that an elderly ascetic soldier would not put up with any type of rubbish.
I thought that he would ensure that his party and government were as pristine as inevitably flawed human organizations can be…ie, imperfect but impressive nevertheless. I thought he would so transform the ethical landscape of Nigeria that even opposition parties would frantically clean up their acts to avoid annoying him.
I dreamed of him being a benign semi-dictator who'd bully legislators to help him turn Nigeria into a real Giant of Africa. I dreamed of guys who had been crooks before suddenly realizing that they were happier not being crooks!
I dreamed of Buhari playing a stern, altruistic Father of The Nation role that would cover everyone…as in he would tell Governors that he didn't give a damn whether they were APC or PDP…and would have them locked up if they were unproductive or if their supporters harmed anyone or if they sponsored any sidekick who possessed a dubious track record and questionable character.
I dreamed of Buhari being completely detribalized and un-nepotistic. I dreamed of Buhari firmly grabbing army/navy/airforce/police chiefs by the scruffs of their necks and warning them to Perform and Protect Or Else. I dreamed of Buhari solving the Niger Delta crisis by being fair to Niger Delta people. The Buhari of my dreams would by now have loudly told Rochas Okorocha, the Governor of Imo State, off…and instructed him to stop causing trouble and encouraging instability by trying to force his son-in-law as his successor.
The Buhari of my dreams would have taken an extremely dim view of the shenanigans that are happening in Rivers State and would have pacified Rivers State by now, by strongly advising his gra-gra Minister of Transport, Rotimi Amaechi, to concentrate on his job…as in waterways, railways and airports…
Fighting battles
…(Port Harcourt airport was, the last time I checked, a disgrace; and the irony is that Amaechi is more likely to win hearts and minds for himself and APC on his home turf if he solves problems like the airport…instead of winning enemies by fighting battles that are not supported by the average Rivers person!).
The Buhari of my dreams would also have summoned my Governor, Nyesom Wike, to Abuja and provided him with certain assurances, based on intellectual objectivity…while adding on some warnings about overreacting to provocation!
The Buhari of my dreams would not have packed the NNPC Board or other Petroleum Ministry parastatals like PTDF with Northerners who do not appear to be any better than predecessors who were criticized during the 2015 election campaign. The Buhari of my dreams does not, unfortunately, exist. But I think that the majority of Nigerians will share my view that the Buhari of my dreams is the type of person we need at the helm.
My only mistake was to imagine that Buhari would be that Messiah. Some of the people I've spoken to think that we can only be saved by religion; and they are forever on their knees in churches and mosques, praying that our nation will be delivered from the multiple evils that threaten its existence.
I agree that spiritual cleansing is vital. But we already have a Pastor Vice President, the genuinely worthy Professor Yemi Osinbajo. And it's not like his presence has prevented us from being dragged down into a massive moral abyss. In other words, we need practical solutions more than anything else.
Vanguard readers' opinions about how we can eliminate the rampant criminality that is poisoning our society will be much-appreciated.
Responses to: [email protected] or to 0802 747 6458 OR 0811 675 9752 (texts only). PLEASE KINDLY NOTE THAT UNLESS YOU REQUEST ANONYMITY, YOUR COMMENTS MAY BE PUBLISHED, WITH YOUR NAMES AND CONTACT DETAILS ATTACHED.