• Drogba, Osaze, Eriksson react
"When I first started to coach Ivory Coast I said to Didier Drogba: 'We have some fantastic players and we can go far in the World Cup.' He said: 'No we can't'."
Sven-Goran Eriksson is trying to shed some light on why Africa is still waiting for a first World Cup triumph more than 20 years after Brazil legend Pele predicted a winner from the continent by 2000. By the end of the 2010 World Cup, the Swede understood Drogba was not being negative – just realistic.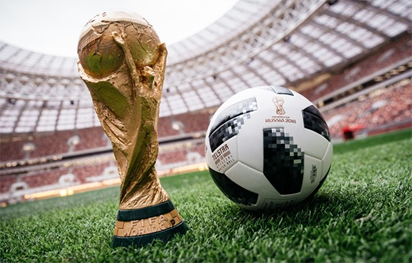 "The reason why they don't do it? One word: organisation. It was total chaos when I joined," Eriksson told BBC Sport.
At one stage, Pele's prediction looked like it might come to pass. Nigeria came top of a group featuring Argentina and Diego Maradona at the 1994 edition, while the likes of  George Weah  and Jay-Jay Okocha were making their mark in Europe during the 1990s.
Yet Africa, the second most-populated continent and a place where football is king, has still to produce a team to advance beyond the quarter-finals – let alone lift the gold trophy.
Egypt, Morocco, Nigeria, Senegal and Tunisia will compete in Russia later this month – but few believe they will get near the final, including former Cameroon defender Lauren.
"I could say we'll have a team in the semi-finals but that's not the reality," said the two-time Africa Cup of Nations winner. "We're still behind the top teams."
Power shift in Africa?
None of the five heading to Russia are in the top 20 of  Fifa's world rankings and Peter Odemwingie, the former Nigeria forward, claims African football has gone backwards.
"There's definitely been a decline," said the ex-West Brom, Cardiff and Stoke striker, who played at the 2010 and 2014 World Cups.
"Nigeria had one of the best African squads at the 1994 World Cup. We were knocking on the door. We won the 1996 Olympics by beating Brazil and Argentina with all their stars.
"That period was like, 'yes, it's coming'."
But Nigeria, who will be competing at their sixth finals in Russia, are still waiting. Along with the rest of Africa.
The three teams to make the quarter-finals – Cameroon (1990) , Senegal (2002) and Ghana (2010) – have come from sub-Saharan Africa.
But in Russia, there will be more teams from the north than elsewhere on the continent, including a  first appearance in 28 years  for Egypt and a return after 20 years for Morocco.
A number of north African countries have players who learned their trade at academies in Europe, but it is Morocco who arrive at this World Cup with the  most foreign-born players  – seventeen of their 23-man squad were born outside the country.
Odemwingie believes those who play for the north African nations are "more clever" at reading the game and has also noticed a physical difference.
"It's like Anthony Joshua fighting Floyd Mayweather," he said on comparing a typical player from sub-Saharan Africa with one from the north. "The players in the north are a little bit leaner.
"They always start free-kicks faster, they have the mental game a bit more than the sub-Saharan teams."
Bonus rows and boycotts
At the 2014 World Cup, Cameroon, Ghana and Nigeria all made headlines for the wrong reasons.
Ghana's players  boycotted training  in protest at not receiving appearance fees owed to them in Brazil. It was only settled when their government sent more than $3m (£1.8m) in cash by plane. Meanwhile, Cameroon's players  arrived late  in South America because of a dispute over bonus payments.
The Nigeria Football Federation (NFF) and the country's players  signed an agreement  last November concerning the payment structure for the 2018 World Cup to avoid problems in Russia.
Former Tunisia World Cup defender Radhi Jaidi believes the financial disputes are down to "broken promises".
"Players who come from Europe to play for their country, these players get paid on time by their clubs, they get bonuses, but it can be different when they play for their country," Jaidi told BBC Sport.
"People promise things and when they don't get them players get frustrated and clash."
Yet off-field controversies are not something north African nations have had to worry about, mainly because things like bonuses are sorted well in advance of the tournament, according to BBC Africa's Piers Edwards.
"They're more organised and there's greater accountability," added Edwards.
Of course, World Cup rifts are not exclusive to Africa.
Eight years ago, France's players refused to train following Nicolas Anelka's  expulsion from the squad  for verbally insulting coach Raymond Domenech, while the Republic of Ireland were rocked by Roy Keane's  infamous row  with manager Mick McCarthy in 2002.
'It's Africa, it's like this'
Eriksson was in charge of Ivory Coast leading up to and during the 2010 World Cup.
He had plenty of talent at his disposal, including forwards Drogba and Salomon Kalou, who had both just  won the Premier League with Chelsea,as well as midfielder Yaya Toure.
Yet the former England boss encountered "a total lack of organisation" as he prepared for group games in South Africa against Portugal, Brazil and North Korea.
"We played a friendly in Switzerland and we went into the dressing room and there were no shirts, no kit, and it was one hour and fifteen minutes before kick-off," Eriksson said.
"I asked where the kit man was and was told he will come.
"One hour before the game – kit man not there. Forty-five minutes [before], the kit man came with two huge bags and he put them on the dressing room floor.
"All the players were in the bags looking for shirts that fit them. All I could hear was: 'This is not mine, this is yours'.
"Just before the warm-up one of the players came to me and said: 'I can't play'. I asked: 'Are you injured?' He said: 'No, the kit man forgot my boots.' The hotel was far away so he couldn't play.
"Drogba said to me: 'Sven, it's Africa. It's like this.'
The call for better organisation is familiar to those who have played and managed in the sub-Saharan region.
Patrick Mboma remembers Cameroon's 2002 World Cup hopes virtually end before the team even arrived in Japan.
"The most important thing when you've qualified is that you have seven or eight months to prepare," said the former Paris St-Germain striker.
"But you have some leaders who think you can prepare for a World Cup one month or two months before. It's always too late.
"In 2002, I thought we could make it to the last four. Then it took 46 hours to reach Japan from Paris – so you can imagine how difficult it was."
Tunisia's preparations for the same tournament were disrupted by the sacking of Henri Michel shortly before the tournament.
"They spent a couple of months deciding on who was going to replace him. We didn't win a game in Japan," recalls Jaidi.
Light at the end of the tunnel?
Morocco is in the running to  host the World Cup  in eight years' time.
The North African nation is the only rival to a joint bid from Canada, Mexico and the United States for the expanded 48-team 2026 finals. A decision is due on Wednesday.
Journalist and African football expert Mark Gleeson does not think it is beyond the realms of possibility that Africa will be celebrating a World Cup success in the future.
"You will always get these rare moments when everything clicks," he said. "Look at Turkey in 2002. It would have been a preposterous idea before the tournament that they would reach the semi-finals."
And despite a lack of organisation, infrastructure and finances, Jaidi is confident about the future.
Recent changes have been made to refereeing structures and coaching standards in an attempt to bolster the chances of African sides and, for the continent to succeed globally, a clear pathway to local success needs to be carved, according to the former Southampton defender.
"The problem is wider than just: 'Oh yeah, definitely an African team will win the World Cup,'" said Jaidi. "It's a complex situation. It's not just one issue or one problem.
"When African teams play at the World Cup, there is always a thought at the back of the mind that we have no chance.
"We need to build a base that gives support to young African players who are now 10 or 15 years old to help them to the highest standards."
Brighton and Cameroon defender Gaetan Bong said even the most basic facilities needed to improve in Africa.
"Sometimes you cannot even play because the pitch is not good enough," he said. "We need to develop more because we have a lot of talented players in Africa – but we don't have strong leagues."
For all the problems he encountered with Ivory Coast, Eriksson hopes Africa will be celebrating a future World Cup triumph.
Asked how far an African side is from being world champions, the Swede said: "I don't know when but I think Africa will win the World Cup sooner or later. Maybe later. It's a pity because interest in football in Africa is huge."