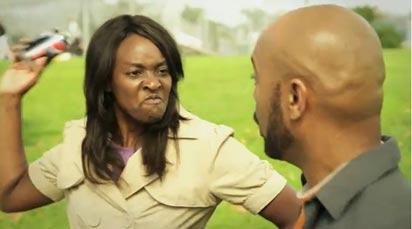 marriage
By Funmi Komolafe
For the first time since we started this column, we are sharing our thoughts on a particular topic for two consecutive weeks.  This  is  essentially because  in my view as Christians we must be conscious of events  around us  and respond to issues in the manner that God has directed us.
In today's edition, we'll   spell out some of the ways by which we can identify the spirit of Delilah and banish it from our homes before it consumes us.
By the grace of God, the forces of darkness will not have their ways in our lives in the name of Jesus. However, we have a duty to identify it and keep it away from our homes.
With  cases of wives and husbands who have taken vows to love till death do them part, now taking the lives of each other, one has to be cautious.
Suddenly some wives have become butchers, cutting the flesh of their husbands and sending them to their graves   only to cry, " I never intended to kill him".
This evil act is not limited to women alone. Some husbands, fathers of young children have also battered their wives to their graves.
May the Lord take absolute control of our homes in Jesus name. Notwithstanding these ugly developments, people must get married.
Genesis 2 vs. 18 tells us " And the LORD God said, it is not good that the man should be alone; I will make him an help meet for him".
The word of God also stated in verse 24 of the same Genesis chapter 2:
"Therefore shall a man leave his father and mother, and shall cleave unto his wife:  and they shall  be one flesh".
So, how do we keep away this evil spirit of Delilah?   Parents have a duty here.  It is not enough to rejoice that your daughter or son has introduced a marriage partner. Parents have a duty to do some checks.
Parents, especially mothers need to ask their daughters about the temperament of the potential spouse. Ask your daughter if she has ever had a disagreement with the potential husband.  Find out how he responded  and how she too responded. This is important because it is practically impossible for the two never to disagree. Therefore, mothers need to speak to  the youths on how to handle disagreements.
The late first lady of Edo State, Clara Oshiomhole  while having a discussion with me,  made a statement that I find quite profound and I have never forgotten. We were discussing the habit of someone  and the disappointment expressed by his friend  and shesaid  " does that mean you no longer love him"?
The circumstance we discussed wasn't even a marriage relationship, it was that of two friends.
Mothers, ask your daughter or son , even with the worst form of  disappointment   from your spouse,  you should be able to ask yourself, do you still love him?  If  she or he cannot answer in the affirmative, then, danger could be ahead.
I also remember that  a young couple planning to get married visited an aunt who then lived at Festac in Lagos.   The lady introduced the man. Of course, the aunty welcomed him but she called the bride in waiting aside and asked her, " If you are angry will you still love this man".
Brethren, you may think these questions are not important but I tell you they are.
Anyone who can answer these questions in the affirmative is set for a joyful home.
Ist Corinthians 13 vs. 4,  (Good news Bible) defines love this way : " Love is patient and kind, it is not jealous or conceited or proud; love is not ill-mannered  or selfish or irritable; love does not keep a record of wrong things; love is not happy with evil, but is happy with the truth. Love  never gives up; and its faith, hope, and patience never fail".
In our society today all that the Holy Bible says love is not is what manifests in many marriages.
Spouses keep records of wrong doings of their partners and within a short time  it develops to hatred.
Parents have a duty to let the youths know that marriage is not all bed of roses. Challenges will certainly confront the couple and how they are dealt with could either   hold or ruin the marriage. Youths must be tutored that trust is the foundation of marriage.
Ask  your child, who is his or her confidant?  Youths must be told that they cannot have any confidant apart from his or her spouse.
Once a partner discovers that his or her spouse  has another confidant, the foundation of the marriage become shaky.
Parents also need to let the youths know that age is no barrier where there is true love. Therefore, you need not dismiss your child's choice because she is older.
What is important is, are they truly in love? Does the fiance or fiancee truly love  God?   No one who truly loves God will pick up a knife and butcher his or her spouse.
I'll share with you a testimony.  There was this lady, who  was in her late 30s. Naturally, she wanted a marriage partner. A man approached her and  a relationship began but the church where they were to get married requested that they must have HIV test.  The man was positive.   During the marriage counseling, the   bride was asked  if she knew the man was HIV positive.  She said she knew and that she would go ahead with the marriage.
To shorten the story, they got married. As I write today, they are still married.
Now, what's the lesson here?  It's simply that the man told her the truth and allowed her to make her decision.
A second case was that of a man who was working in a media outfit. Somehow, a  few months to the wedding, he was sacked for embezzlement. The news  of his sack got to his would be wife's family, but the lady  insisted she would go on with the wedding.
She told her relations that  the reason she would go on with the wedding was because, the man told her the whole truth about what happened. He repented and asked for her forgiveness.
Today, they are not only married with children.  God has really blessed them financially. The man later got a bank job and she has also become an entrepreneur.
Note again, the man told the truth and the woman forgave him. Even you as a grandma or a grandpa, how truthful are you to your spouse?
A marriage based on deceit is founded on the spirit of Delilah and will surely crumble.     It may also cost either parties his or her life.
Brethren, as parents we must counsel our children, counsel our siblings.
Whereas, we invite people to  rejoice with us  when our children get married,  I do not know of anyone who has invited friends and relations to celebrate a failed marriage.
My prayer is that the spirit of Delilah will not have a place in our homes in the name of Jesus. Amen.
Be watchful and cast away the spirit of Delilah in  your home.