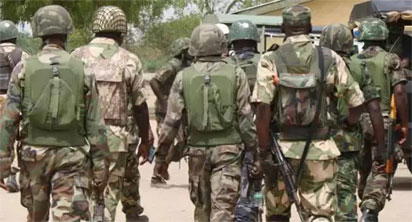 soldiers
A Nigerian Army Captain on duty in the North-East has committed suicide by turning his rifle on his own stomach and opening fire.
It was gathered that the incident occurred at the 7 Division Medical Centre in Maiduguri on June 18, military sources said.
He was referred to the facility for medical examination and treatments.
According to an online news medium, the officer's name is being withheld because it is not clear whether his family members have been notified.
He was drafted from the Nigerian Army 22 Armoured Brigade in Ilorin to the North-East as part of the war against Boko Haram terrorists.
The brigade has notified the appropriate authorities of the development, including the Defence Headquarters.
Death
Before the officer killed himself, it was gathered, he threatened shooting a storekeeper at the Medical Centre Armoury, who fled for safety. Afterwards, the Captain killed himself. He was rushed for treatment, but passed on shortly thereafter.
The officer was attached to troops operating in Mafa Local Government Area, Borno State, the heart of Boko Haram onslaught. He collected his gun from the armoury on June 18, saying he was returning to Mafa to join his team the next day.
The nature of his ailments prior to the suicide, if any, could not be ascertained at press time.
Defence Headquarters and the 7 Division spokespersons did not return requests for comments Wednesday night and Thursday morning.
The incident occurred seven months after a soldier opened fire on a Captain, killing him before killing himself. That sparked renewed fears about post-traumatic stress disorder, PTSD, among troops combating insurgents.
The military said the matter will be investigated, but the outcome remained unknown.