By Janet Adetu
Are you incompletely dressed?
Are you dressed for business in your suit, wearing formal shoes but wait you have no socks on?
Wearing socks is a basic compliment to your full professional look. I find that it has become common practice for many men to wear formal shoes without wearing socks with it. Could it be that it is more comfortable without the socks or the environmental heat is too much to bear when it comes to sweating at the feet. The fact remains that in grooming your socks have a major role to play. Wearing socks tends to create moisture in the feet when worn for a long time, if not protected it can cause fungi, bacteria and virus. These socks will help control the moisture in the feet by controlling the perspiration. Wearing socks will also help protect against bruises, abrasions, corns and wounds on the side of your toes. It is very important however that the socks worn are always clean for healthy and hygienic reasons. It is an image saboteur when you remove your shoes in the office and an unpleasant aroma attacks the air.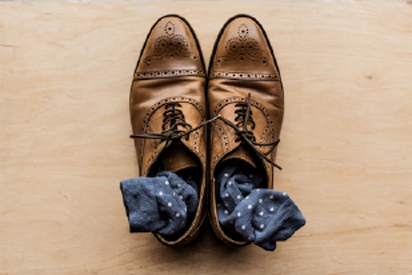 Which socks to wear.
Unless you are wearing the full formal traditional wear it is expected that yes socks are to be worn but you must recognize where you are going and what you are wearing socks with. There are three major looks for men when it comes to wearing socks.
Business Look
As I mentioned earlier you are incompletely dressed if you are formally suited up with dress shoes but no socks, that is a complete breach of dress etiquette for men. Dress socks should be worm with the business look. Such socks will come in form of silk, cotton or light wool. Your woolen socks are better preferred when the weather is cold or in a winter environment. Cotton socks are most commonly worn with the business look, they are usually rugged and durable when washed. If you find socks quite uncomfortable the light silk or cashmere socks slip right over your feet and into the shoes they need no extra struggle. They are best for formal and business wear without that extra formality.
Causal looks
Your causal look will entail jeans, khaki, shorts or traditional kaftan, wearing socks with causal wear depends on the shoe you wear too. When wearing jeans with trainers or loafers the socks are expected to prevent the sweat and compliment the dressing. It applies to khaki and shorts too. However if you are wearing shorts and sandals or a kaftan then the sandals do not require socks as they are open toed foot wear. The best causal socks are cotton or wool.
Sport socks
Your hobby may be to play golf, tennis, badminton, football and much more if you are a sporty person, when dressing this requires socks all the time. Mostly athletic socks come in various lengths, the short to medium and long. The very short socks are to be worn inside trainers while jogging, walking or running. The mid-calf socks are to be worn for some sporty outfits as desired, or they are knee-length socks usually in sports like football. Sport socks are usually thick, mainly white and at times other colors..
Socks Etiquette
? Wear socks ankle and mid-calf length for sports, but knee-length for business.
•Know your shoe size to match your sock size
Small to medium shoe size 5 – 9
Medium to large shoe size 9 – 12
Large to extra-large shoe size 13 – 15
• Match your socks with the color of your trousers, do not match miss match with socks
•You may wear black socks with black trousers.
• Watch the brightness of the colour of your socks especially during business meetings
•Multi-coloured socks will sabotage your image, when worn inappropriately.
•Watch the pattern on your socks to avoid sending a wrong message.
– No flowers, birds or flimsy description.
– Diagonal lines and shapes are better.
– Avoid patterns that are too attractive in business.
•Determine your look for the day when choosing socks to wear, is it business look, causal look or sporty look.
•Throw away socks that have major holes in them, do not wear again.
•Wash socks together by hand or machine to avoid losing the other foot.
•Dry sock together and place together.
•Purchase socks in bundles of four for durability and sustainability
• Keep all socks in the same location in your wardrobe.
•Do not throw socks around the house they will get lost.
•Do not keep socks in shoes after wearing. Keep them in the wash especially if you have sweated in them.
•Avoid wearing smelling socks.
•Never wear socks with sandals.
•Check the length of two black socks before wearing.
•Buy your sock regularly and dispose of worn out ones
•Declutter your wardrobe with one-legged socks.
Wishing you all the best
Good luck!!!!!!!