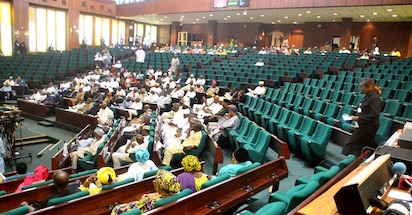 By Rotimi Fasan
FOR the umpteenth time, the Nigerian political class has again shown itself incapable of keeping to the straight but narrow path that we are told leads to salvation. This generation of politicians continues to stumble from one error to another, pretending they are acting in the interest of the majority of the people of this country while clearly engaged in illegal if not criminal acts. The National Assembly that thrives on illegality, protecting and acting in the interest of their members once more wants Nigerians to accept that its tinkering with the Appropriation Bill that was signed into a law by President Muhammadu Buhari last week was to ensure 'geopolitical spread' of capital projects  distribution across the country. And in order to effect this self-imposed duty of dabbling in executive responsibilities, the legislators saw to the bloating of the Appropriation Bill to the tune of N578 Billion.
Altogether these busybodies masquerading as law-makers injected nothing less that 6, 403 projects of their own into an executive arm bill. We have the authority of the President for this information which the National Assembly has neither denied nor contradicted. But the strange thing about this disclosure is that President Muhammadu Buhari still went ahead to append his signature on the bill and effectively made it a law in spite of his apparent unease. What prevented the President sending the bill back to the legislators and insisting on the removal of the extraneous elements that had been inserted into it? Why couldn't the President call on Nigerians to witness this capricious breach of extant laws and the Nigerian Constitution as they pertain to separate roles for different arms of government? One would not know the answers to these questions but it should be sufficient to note that neither the President nor his administration has shown themselves sufficiently above board when it comes to complete respect for the rule of law.
His administration for example cheery picks what aspect of judicial pronouncements to obey. Many times, it is both accuser and judge in matters in which it is an interested party. Given this picture it may be a little difficult for Buhari and the All Progressives Congress to call out the law breakers in the National Assembly. I am sure the executive would be eagerly looking forward to that time when it can take its own pound of flesh from the legislature. So is the way of government and governance in our part of the world- it is an exercise in both personal and group vendetta. One must also not forget that the endorsement of the Appropriation Bill that the legislators had refused for both justifiable and unjustifiable reasons to do before now is coming at least six months later than it should. Having wasted six months to get to the point at which it was more or less ambushed and presented with a fait accompli, the presidency could definitely not afford any further delay. Which is not to say that it was entirely without blame in the delay that has left the national treasury gasping on borrowed time.
But beyond the question of the presidency failing to insist on strict adherence to the law as might be expected of government that leverages on its anti-corruption pretensions, Nigerians still have to find a way to address the outrageous conduct of a legislative body that routinely takes on executive roles that are meant to take care of their members' interest. Indeed, should it not bother us all that a body of so-called law makers would inject hundreds of billions of naira into a budget that was proposed by the executive authority? Who do these legislators expect to pick the bill for additional constituency projects, so-called, for which appropriation had earlier been made? This again raises question about the appropriateness or adequacy of the appropriation previously made in the budget for the legislators. In a polity where things are done with fairness and an eye for the good of all irrespective of party affiliations and positions championed, nobody would be asking this type of question. But it is a known fact that wielders of power in Nigeria often use it to the great disadvantage of their opponents, real or perceived.
It is not impossible that members of the executive authority deliberately appropriated an amount they knew fell far short of what the legislators would need to justify their presence in the National Assembly before their constituents. But what this requires is for the legislators to show just how they have been shortchanged by their executive arm counterparts. After all they are all members of one government that is ostensibly out to serve Nigerians. Like Buhari that accused the legislators of unconstitutional acts by injecting unauthorized projects into the Appropriation Bill, the legislators who also accused Buhari of bad faith in the distribution of projects, failed to show where and how he had done this before resorting to self-help and engaging in the unconstitutional act of injecting members' projects into an executive arm bill.
What's wrong in simply pointing out the anomaly in the executive arm action and asking it to make necessary amendments? This could lead to another round of recrimination and counter recrimination, they could argue. The solution for them is therefore to do what they know a tone-deaf presidency would not do willingly. This should tell us how our politicians have been working at cross purposes, hardly taking the interest of Nigerians into the overall scheme of their decision-making process. Flagrant violation of extant regulations, rules and laws have become a culture and have been perpetrated by Nigerian politicians in a manner that is ultimately injurious to our sense of national being. All too often these acts of tinkering with executive proposals for capital projects and services are criminal avenues for not only misappropriating funds by all sides but tools of embezzlement and other acts of corrupt manipulation of the national treasury. Budget padding which in local parlance is what this unauthorized act of legislative misconduct is called cannot and should not be allowed to continue.
We have known before and since the whistle-blowing activities of Abdulmumin Jibril that budget padding is a dangerously criminal procedure that should be terminated without mercy. But unfortunately when President Buhari had the opportunity to take decisive steps against this breach of the constitution he chose expediency over and above probity. He turned a blind eye to Aminu's revelations choosing to cozy up to leaders of the National Assembly that were prepared to do anything to cover up their activities. Why is nobody surprised now that the President is once again railing against an act he openly condoned? Muhammadu Buhari has brought home ant infested faggot and should not mind the visit of lizards.