By Charles Kumolu, Deputy Features Editor
Concerned by the threats posed by the renewed executive/legislature face-off, Second Republic lawmaker, Dr. Junaid Mohammed x-rayed the situation and cautioned that if the points of contention were not resolved quickly, they could lead the country into a civil war.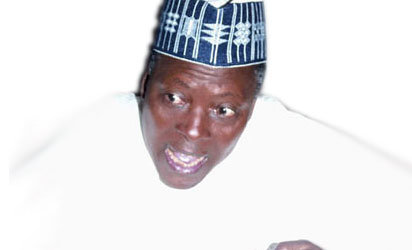 Also, he warned that the matter might result in the collapse of the All Progressives Congress, APC, and the administration of President Muhammadu Buhari.
Junaid, who said these in an exclusive chat with Saturday Vanguard, described both arms of government as being responsible for some current anomalies in the system.
He further declared Buhari's leadership as incompetent and careless, adding that Nigerians should encourage it not to return in 2019.
Contempt for Buhari/NASS
His words: "I have nothing but contempt for the executive led by Buhari and the National Assembly led by Bukola Saraki and Yakubu Dogara. I believe that both arms are not serving the national interest. Talking about impeachment now is not a priority. I believe that confronting the problems of this country especially insecurity and the battered economy should be issues of priority.
"There are also other issues that should attract the time and energy of those in the executive and legislature. I have not seen any evidence of that. It is for that reason that I believe that what they are doing is just mere camouflage. They have bastardized the national economy, they have failed in building institutions and they have failed woefully in taming the insurgency in the Northeast.
" In addition to that, we now have manifestations of banditry especially in Zamfara State and in the north central states of Benue and Taraba. That is entirely political because it is entirely masterminded by politicians. These are all games that are being played particularly because the National Assembly has failed and they now look for excuse.
Buhari has not committed impeachable offence
" I have no problem with impeaching anybody in government because impeachment is legal and procedural. If anybody should be impeached, those impeaching have to convince those that elected them that they have done so much to the extent of impeaching someone for not performing. I have not hidden the fact that I have contempt for the performance of Buhari. But I do not believe that what he has done amounts to an impeachable offence.
"Buhari has been incompetent, careless and he is nepotistic. Those he appointed into positions are corrupt. But as far as I am concerned, the combination of these cannot constitute an impeachable offence. Nigerians should be very careful because the crop of leaders we have in the National Assembly and executive, especially the lawmakers, can lead this country into a civil war. And I am not prepared for that.
"With such men in office, this democracy has been reduced to a sham in a country where there so much poverty and illiteracy.
"It is important to understand that what is happening is still an aftermath of the emergence of the Senate President. He manipulated the majority in the senate to become the minority and created an illegal coalition whereby the majority party became a minority party.
"Frankly, anybody who is disturbed about how he emerged as the Senate President is wasting his time because it is too late. Anyone who wants to do something about it should have done so earlier than now. My main concern and advice is to allow these people to finish their tenure and leave.
Enough damage to Nigeria
"They have done enough damage to this country and I pray none of them in the executive and legislature comes back. That is my wish because I don't want to be seeing all these for the rest of my life. Those saying that it might be linked to 2019 may not be wrong, because politicians are supposed to engage in power play. But power play should not be to the extreme. It should not be done to overheat the polity. Who is engaged in power play? Is it Saraki or Buhari?
"  The Senate President actually has no gravitas to confront Buhari. Most of the senators are not saints. Impeachment should be far from the main issues now. The nPDP said they will not continue with their negotiation with the Vice President because Saraki is under pressure, but they did not commence the negotiation with the executive under duress.
"  They voluntarily agreed to do that. Nobody should threaten this nation. If they said they are not negotiating anymore because Saraki is under pressure rightly or wrongly, it means that their negotiation is not about Nigeria. It is about themselves.
"They have forgotten that if you are dealing with anyone in government, you have to be very careful because as long as the person remains in government there is little to be done to make the person obey the rule of law. The end result of their non-negotiation will be the collapse of the APC and the collapse of the Buhari administration. I personally will not miss Buhari, I will not miss the National Assembly."