By Morenike Taire
Teju Abiola, one of the youngest – if not the youngest – wives of MKO Abiola during his lifetime, was a vociferous human rights advocate, up until her demise in 2010. A woman of great beauty, sharp wits and a delicate frame, she hardly fit the profile of a rabble rouser; but she was, devoting much time and resources to forcing out the post June 12 dictators and then watering the seedling of the democracy which had germinated out of the June 12 struggle.
Until the end of her life, cut rudely and abruptly short by an insidious illness, Teju could be called upon at any time and in any place by her comrades to support a cause; and it was at one of such gatherings that she once chided her comrades for trying too desperately to nurture an  idea whose time had passed. At that forum she criticized the comrades for being stuck in the struggle long after its objective had been released, possibly in a bid to remain relevant in the scheme of things.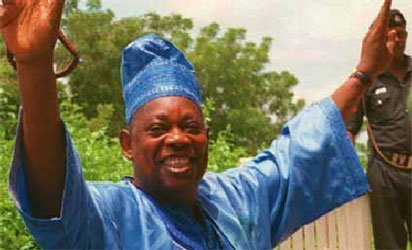 It was most probably her last public assignment but the issue persists. A crop of individuals who were empowered by an era of free flowing international funding  for non-governmental organizations (NGOs) have made an entire career out of rabble rousing , even when there is no rabble to be roused. A sense of entitlement has become pervasive in parts of  that community, even as its members seem to have got more out of the struggle than the people on whose behalf  they were purported to have been fighting. A new class of Nigerians has emerged.
Too obtuse to be actual politicians though some have run or are still running for political office, its members  are also not quite true to their presumed socialist ideologies. They occupy a world in between, one which might not have been so comfortable were it not so lucrative. The June 12 industry, continuing to reinvent itself more to its own advantage than the advantage of the people,  seems to have come to stay.
There is no doubt whatsoever that Buhari's public apology to the Abiola family has healed many wounds and will continue to do so; but Mr. President owes the Nigerian people another apology on behalf of the Federal Government for the annulment of the June 12 1993 elections.
It is simply unquantifiable, the price that the ordinary citizens of Nigeria paid for the annulment and the unrest which followed. Lives, limbs, properties and souls alike were lost on a daily basis, even by those who had nothing directly to do with the elections. Activists too numerous to mention either fought or fled to lives as refugees in strange lands. Many were jailed, beaten and poisoned. Just as there was the 'unknown soldier' as captioned by Fela, so there is the 'unknown patriot'.
Call it what you will but the whole idea of adopting the 12th of June as a national holiday is to boldly declare that the 1993 elections which, had it not been truncated, would have culminated with  MKO Abiola in the Aso Rock villa was not only adjudged the freest and fairest in our national history ; but one which proved that the ethnic divides that threaten our national unity are artificial and merely man made in nature. It bears repeating that Abiola's closest rival in the election, Alhaji Bashir Tofa, was largely trounced by Abiola in the former's home state of Kano.
Also of critical importance is the fact that the families of both MKO Abiola and Gani Fawehinmi graciously accepted the national honours done to their respective partriachs, without a shadow of malice, suggesting that they bear no grudge and their wounds have healed or are on the way to doing so.
Greatly significant as it was, to overflog Abiola's role in the June 12 affair is to disacknowledge the very critical roles played by very many others including now somewhat sketchy characters such as  Baba Gana Kingibe without whom Abiola might not have secured the SDP ticket in the first place; but most importantly the hundreds and hundreds of Nigerians who sacrificed their time, their limbs, their property, their families  and their very lives in the fight for the actualisation of June 12.
While we bask in the long overdue warmth of reconciliation and while honour is given those to whom it is due; it is important that individuals and bodies that quietly played a role are not put on a lower pedestal in the parade, lest we procure more enemies for the state. It is about time to separate the wheat from the chaff- the charlatans from the true stakeholders in this defining moment of our nationhood, to forestall the danger of  trading one ill for the other.
As for the new class of June 12 comrades which has has benefited immensely from the the dire fate of MKO Abiola, they can be said to already have got their reward. Some argue that the June 12 saga, far from being over, has really only just begun; but this can only be in a manner of speaking. A classic saga rich in intrigues, betrayal, love and tragedy, the presidential apology is as sufficient a resolution as any.
The June 12 saga is history dying to be written; and in the writing of that history, it is critical that villains are not mistaken for heroes.