By Donu Kogbara
THE All Progressive Congress, APC, recently announced the formation of a 77-member team, to secure victory for Dr. Kayode Fayemi, its gubernatorial candidate in Ekiti, currently a Peoples Democratic Party, PDP, state.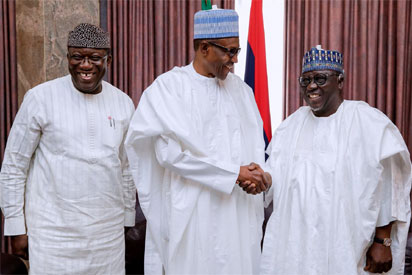 The Ekiti election will take place on July 14 and the 77-member team, described as a "National Campaign Council," is headed by Abubakar Atiku Baguda, the Governor of Kebbi, and includes other serving APC governors and sundry bigwigs – ministers, legislators, aparatchiks and so on.
According to APC Deputy National Chairman, North, Senator Lawali Shuaibu, who inaugurated the council on behalf of the national chairman: "The election in Ekiti is very important for the APC…[only] slightly below the importance of the presidential election…We are not going to relent in our effort to win."
Frankly, I am completely underwhelmed by this National Campaign Council, which is clearly meant to impress voters and intimidate the APC's enemies!
Many Nigerian politicians, whether they be APC, PDP or whatever, are downright wicked and/or corrupt and/or sub-standard intellectually and/or lamentably unpolished.
But quite a few are decent and/or not crude and/or super-smart and/or highly effective; and I know for a fact that some of the APC's Campaign Council members are exemplary individuals.
However, loudly and grandiosely informing the world that you are deploying no less than 77 VIPs to tackle an electoral challenge in a small corner of the Federation smacks of fear and weakness! The APC wants us to see this as a powerful show of strength, but some of us are gaining the opposite impression.
It has to be said that the incumbent Governor of Ekiti, Ayo Fayose, who will mastermind the PDP's election campaign on behalf of Prof. Kolapo Olusola, the deputy he hopes will succeed him, is not someone who can be easily beaten.
Seasoned populist
Love him or hate him, Fayose is a take-no-prisoners demagogue, a seasoned populist, a stomach infrastructure specialist and a down-to-earth orator who knows how to appeal to the masses (albeit to their basest instincts!)
Long story short, Fayose is a feisty force to be reckoned with and one of the few PDP politicians who routinely grabs newspaper headlines because he is genuinely newsworthy.
So I can understand why the APC is taking him very seriously indeed and doesn't want to take any chances around July 14.
But I personally think that the 77-person juggernaut thing is overdoing it and may even put some voters off!
Anyway, at the heart of all this razzmatazz that isn't my cup of tea is Kayode Fayemi, an academically gifted man of ideas and man of principle who cares passionately about his fellow Ekiti indigenes. And, at his side always, is his wonderful wife, Bisi – a widely respected female empowerment advocate.
I have known the Fayemis since we were all youngsters in the UK; and I though I cannot confidently vouch for every childhood friend who went into politics because some have agendas with which I cannot entirely identify, I can confidently vouch for these two on every single level that matters.
The Fayemis are clever. The Fayemis are cultured. The Fayemis are humble. The Fayemis are not flashy or greedy or dishonest. The Fayemis are well brought-up and morally sound. The Fayemis are extremely kind-hearted. I've met foreigners who normally adopt a highly sceptical attitude towards Naija dignitaries because they (rightly!) feel that most of what comes out of Naija dignitaries' mouths cannot be believed; but these sceptical foreigners hold Dr and Mrs Fayemi in high esteem because they regard them as sincere.
The Fayemis are, quite simply, Good People who have a Vision and a Mission.
They have occupied Government House in Ado Ekiti before.
And when they were there, they performed as well as anyone can perform within the context of an African setting that is riddled with socio-economic complexities and problems.
Dr. Kayode Fayemi is the preferred candidate of most of the discerning Ekitians I have consulted in the past few weeks; and he should, in my opinion, be given a chance to return to the hot seat in Ado Ekiti and resume his work.
The bigger picture
I CANNOT tell you how many Vanguard readers have contacted me to express concerns about the PDP's lacklustre approach towards the upcoming election.
Many of the above readers would like to vote PDP in 2019, but are upset about the lack of any definite PDP presidential candidate and upset about what they see as suicidal slowness on the part of the PDP leadership.
I urge – and not for the first time! – the PDP leadership to get its act together and pick a presidential candidate and start giving the APC a run for its money! Buhari and his cohorts have not done as well as many who supported them in 2015 expected. And I belong to this category of disappointed ex-fans of Buhari.
I don't hate Buhari but I am not pro-him any more…or pro-APC or pro-PDP (I still think that the PDP was doing a lousy job in 2015 and deserved to lose).
Anyway, nowadays, I'm a floating voter who supports anyone from any party who appears to be credible and decent. And I keep reminding my PDP pals that the Buhari administration is so out of step with so many Nigerians that the upcoming election is the PDP's to lose. A few words are enough for the wise!
Responses to: [email protected] or to 0802 747 6458 OR 0811 675 9752 (texts only). PLEASE KINDLY NOTE THAT UNLESS YOU REQUEST ANONYMITY, YOUR COMMENTS MAY BE PUBLISHED, WITH YOUR NAMES AND CONTACT DETAILS ATTACHED.