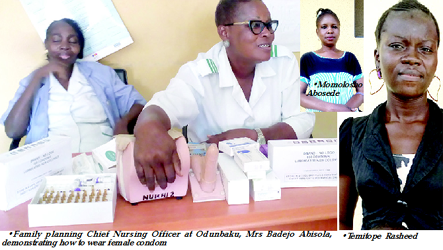 •Married women speak out about family planning
•Health providers applaud increased uptake of services
By Chioma Obinna
Before now, mere mention of family planning was a taboo among many Nigerians.  Many at that time saw it as a strategy for promiscuity. While in some quarters it was seen as a strategy to stop procreation as ordained by God.  But today, the stories are different. Many Nigerian women who have taken up family planning confessed they have found peace in their homes. Some of these women who currently use injectables shared their life-changing stories.
"Family planning has brought back peace to me. It is helping my marriage and has kept us healthy," says 35-year-old Ramat Jamiu. Ramat became pregnant for her second child eight months after she gave birth. From then, life became difficult. Taking care of the new born baby, her job and pregnancy was tough.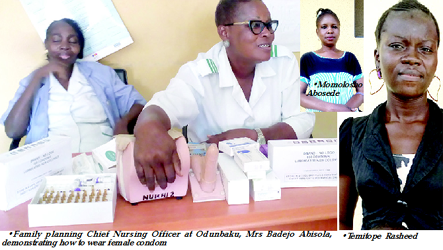 "I went through a lot. I was ashamed. People mocked me. The pregnancy taught me a lesson. So we decided to go for family planning before I gave birth to the third child seven years later. Life has been better for me," Ramat who is on three months injectables told Good Health Weekly.
Temitope Rasheed, another user of three months injectables and a mother of two, has overcome the myths and misconceptions surrounding family planning.
Before she was introduced to family planning immediately she had her first child, Temitope, 30, had fears such as adding weight, growing big tummy, contracting cancer, etc.
"I was afraid. But when I finally summoned courage, the assurance by the providers at the Dopemu Primary Health Care Centre, gave me confidence that family planning is safe.  Today, I am happy I took the decision. My first child is six years and the second one is three years.  I have peace at home."
Also, 32 year-old, mother of triplet, Veronica Adu, narrated how her implant of five years have helped her nurture her children without complaint. "I took up implant five years ago. It has been good on me because I don't have any complaint. In the first three months, my period was irregular but later it normalised."
Veronica explained that in Agege area of Lagos where she resides, she has taken it upon herself to encourage other women. "Many women are now using family planning and they are happy."
For Augusta Akilotun, 35, who is also on three months injectables, she and her spouse have been able to space their children.
"From the start, my husband planned with me on how we can space our children and have better life immediately we got married. I have three children now.  The first one is 8, the second child is six and the last child is four years."
Also, recounting her experience, Momolosho Abosede, 42, who said she was going from her house in Dopemu 10 years ago to Alimosho PHCs for family planning said she was simply motivated by the need for a happy home.
"What motivated me was the need for a happy home. I don't want to be getting pregnant every year. I have four children. I had only one child before I took up family planning. It was one of my friends, a nurse that introduced it to me. My first son is 18, second  15, the third is 12 and last child is 2.
"Family planning will give you happy home and your husband will not go outside because when you satisfy him in the house, he will be happy to give you whatever you want. When I did it, I agreed with my husband," she stated.
One striking thing about these women is that they are all using injectables and their husbands initiated their choice of family planning method. This may have confirmed a new report which states that injectable contraceptives are increasingly popular in Nigeria with a 28 per cent largest share of modern method. Users rely  on injectables in Nigeria and many other countries due to their convenience, privacy, and effectiveness.
Commenting on the rise in the use of family planning, a provider and extension worker, Dopemu PHC, Mrs. Olamide Olundogun, said more than 20 people obtain family planning services there in a week.
"I can't precisely say the figure but I know that sometimes we see an average of 10 in a day.  And many of these women mostly go for injectables, implants, and condoms.
Olundogun who said all the methods are free said most of the consumables are supplied by the Nigerian Urban Reproductive Health Initiative, NURHI, a family planning advocacy organisation.
Also a record book obtained by Good Health Weekly at  Dopemu Centre, showed that in January 2018, there were 79 women that obtained family planning services there; February-102; March -65 and April -29. The women were aged 21 – 45 years. Only 12 men visited the PHC for family planning in February during an outreach programme.
Badejo Abisola, the Chief Nursing Officer in charge of family planning at the Odunbaku PHC under Orile Agege Local Council Development Area, LCDA, attributed the increase to activities of family planning mobilisers, effects of community dialogue sponsored by NURHI and upgrade of the clinics.
"We offer all methods here except surgery – vasectomy for men and tubal ligation for women. All other methods are offered here. We have the daily pills, the one for breastfeeding mothers and the one for regular users with the help of NURHI and the Lagos State Ministry of Health.
We also have the injectable, the two months and three months. The way we calculate our three months is not the calendar calculation. We calculate in weeks and that's how we give appointment. We have two cards, the one that they go with and the one that stays in the office. So when clients come, they come with their appointment card and we look at it.
We also have implant which we insert in the hand. We have the three years and five years. There is also IUD that is inserted into the uterus to prevent pregnancy.
"We also have condoms for men and women. Although some say they don't enjoy sex with it. For men, some of them don't know how to apply condom. If you apply it wrongly, it means it's going to tear."
In 2017, the Federal Ministry of Health led the development of the Strategic Plan for DMPA-SC Introduction and Scale-Up, a roadmap for expanding access and accelerating progress toward Nigeria's National Family Planning Blueprint (Scale-Up Plan). As part of the strategic plan development process, the ministry—with technical support from the Health Policy Plus project funded by USAID and the Technical Support Unit project (funded by the Bill & Melinda Gates Foundation)—applied a new DMPA-SC Impact Model to quantify the potential family planning programmatic impact and cost implications of DMPA-SC introduction and scale-up in Nigeria by 2021.
With this, Nigeria could achieve a modern contraceptive prevalence rate of 19.5 per cent by 2021, compared to a scenario of 18.3 per cent without DMPA-SC and this translates to an additional 660,000 family planning users in 2021, a new report by health policy stated.
The health Policy Plus report showed that approximately 15 per cent of all women use a modern method of family planning while an additional 19 per cent of women do not want a child, but are not using any method of contraception.