By Funmi Komolafe
Glory be to God ! By the grace of God, you and I have  seen the end of the first half of the year 2018. You are already a winner.  It doesn't matter if you are yet to attain your goal or you are yet to overcome that challenge that has weighed you down.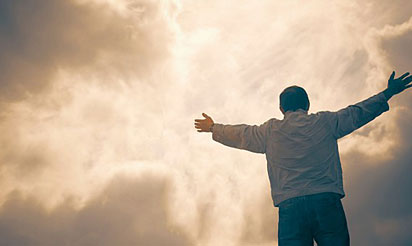 Psalm 107 verse 15 "Oh that men would   praise the LORD for his goodness,  and  his wonderful works to the children of men!".
When we praise God, we acknowledge   his awesome powers .  With praises, we appreciate the supremacy of the Almighty God.
Like prayer, praise worship is a means of communicating with  the Lord.     In most cases, prayer and praises are like Siamese twins that cannot be separated.
Perhaps, this is the reason Christians are taught to praise God  before we present our prayer points.   Praise is a  testimony that you  have faith that whatever, you ask of him, he has the capacity to  do.
Some of the songs that we sing speak of his powers to deliver and to save.
Others are about his healing power, his ability to set free etc.
A   man of God once said, prayer and praise make the armies of God to  move. Our God loves to be praised.  He does not resist praises.  Many times, praise worship moves God to attend to our needs speedily.
Praise worship is more effective at the time when everything  around you seem to  suggest that you are far from your miracle.   Praising God at this time  is even more important that thanksgiving.
When the doctor tells a woman that her eggs are to weak to be fertilized or the man has zero sperm count that is the time to praise God.  It is not the time to be wearing mournful looks.
There is a big difference between praise worship and thanksgiving.  We when conduct thanksgiving services or give thanksgiving offerings, it is basically to thank God for what he has done which is quite in order.
Let's   see the  Holy Bible's example of thanksgiving.
Luke 17  is about the story of the 10 lepers who met Jesus and asked for his mercy to the healed.  Verses 12- 14 "  And as he entered  into a certain village, there met him ten men that were lepers, which stood afar off:   And they lifted up their voices, and said, Jesus, Master, have mercy on us". And when he saw them, he said unto them, Go shew   yourselves  unto the priests.  And it came to pass, that, as they went, they were cleansed".
Note that they benefitted from the healing power of our Lord Jesus.  By the Grace of God, whatever is the health challenge you are going through, let your mind be focused   on the great physician  who is able to heal .
What followed the healing is our major focus here.  Luke 17  vs. 15 – 18 " And one of them, when he saw he was healed, turned back, and with a loud voice glorified  God.   And fell down on his face at his feet, giving him thanks: and he was a Samaritan.  And Jesus answering said, were there not ten cleansed? but where are the nine? And they are not found to give glory to God , save this stranger".
Many of us know how to give thanks   but not many of us know how to praise God especially when we are going through challenges.  Whereas, the time to really praise God is when we are going through life hurdles that we are unable to overcome  as human beings.
Brethren, the more you praise God, the more,  he raises you up.  Your praises of the Lord is an instrument to raise you above that challenge. Praises multiply the blessings of God. Even when you are low in spirit, strive to praise the Lord.
Hebrews13 vs. 15 states " By him therefore let us offer the sacrifice of praise to God continually,  that, is, the fruit  of our lips giving thanks to his name". When we praise the Lord, the mind is at ease.  The mind is free from stress.  It becomes joyful.   It is practically impossible for someone who is praising God to be   in deep sorrow at the same time.   Praise worship frees the mind, it bring is peace and turns sorrow to joy.
Psalm 34 vs. 1 "  I will bless the LORD at all times; his praise shall continually be in my mouth".
Reading through the Holy Bible one cannot but acknowledge the distinguished character of King David who never fell short of praising the Lord.   His habit of praises gave him victory over all challenges.  His continuous praise gave him special favour of the Lord.   David's praises of the Lord was the key to his communication with God and there was never a time that he called on the Lord and the Lord did not answer him.
Even when he committed   adultery and God punished him with the death of the adulterous child, he didn't stop praising God.   The result was that God forgave his sins.
Brethren, we must not be tired of praising God, when we do, the heart of the Lord is open to us.   When we praise God, he will send helpers  of destiny.
Praising God opens  ways to miracles, it changes you, and it changes your situation.
Psalm 146  vs. 1&2 " Praise ye the LORD.   Praise the LORD, O my soul.  While I live will I praise the LORD: I will sing praises unto my God while I have any being".
Anyone who is alive must find time to praise God.    Praising the Lord is not an activity that should be done in the church alone.  Praise the Lord anywhere you find yourself.
I'll share with you the story of a lady  who was married for years but was waiting on the Lord of children.  She had this habit of praising the Lord with songs when going in or out of her office.   It had become so much a part of her that one day, one of her colleagues jokingly said, she has made the office an extension of her church.
She simply ignored him.
It was not long after this that   the lady had a baby  boy.   The miracle was so great that it became controversial.   Some even went to the extent of asking,  colleagues at work, " did you know she was pregnant".
Of course, she was  but very few people knew.  They knew she was putting on big gowns but they thought her religious activity made her lose her sense of fashion.     Only a handful knew.
That is the Lord for you.
When the Lord visits you   in a special way, many will be so stunned , they will   find the miracle unbelievable.
When we pray, and praise the Lord, we are assured of victory. Psalm 34 vs. 19 " Many are the afflictions of the righteous: but the LORD delivereth  him out of them all".
As you make up your mind to praise the Lord  with all your heart, he will deliver you from all your troubles.
In the name of Jesus , that issue that has been your source of worry will soon become your testimony.
May the Lord bless all you in a special way this week.
Shalom!.