• 'I met a disjointed office, staff not knowledgeable about their work'
•Speaks on how he relates with the Niger Delta 'Big Five', ex-agitators
By Olalekan Bilesanmi
Special Adviser to the President on Niger Delta and Coordinator, Presidential Amnesty Programme, Prof. Charles Quaker Dokubo, speaks, in this interview, on his mandate to use the programme to sustain peace in the oil-rich region. Excerpts: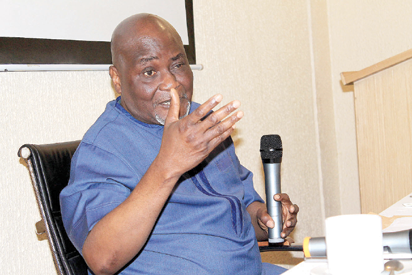 You are coming as an academic to a new role. What are your responsibilities?
This is a new office, a new challenge and a new environment. In the past, I wrote about the Niger Delta and my position has always been that the Niger Delta people have been marginalized. But with the coming of the Buhari administration, there has been a lot of commitment to the Niger Delta in terms of funding, and in terms of looking for peace and security in that environment. Oil production in the Niger Delta has increased. I think that also testifies to the fact that, without peace, there will be no development and, without development, there will be no peace. I don't want to criticize my predecessor. My work is to resolve issues and do my best to make sure that the office works perfectly. These are conflicting ideas in the environment.
But be that as it may, I raised a review committee to look at issues concerning the Amnesty Office and saw a lot of things I didn't know. I try to make sure that best hands are employed in the programme and also look at the two pivotal issues of the Amnesty Programme: Security, development and enhancement of the Niger Delta people. How far has it been? What is the way forward? The programme started very well but, with time, it was driven by other demands that made it not to be as impactful as it should have been. What I am doing now is to refocus the Amnesty Programme so that it could positively impact those who are meant to be catered for and you know that I can't do it alone. That is why I met the critical stakeholders; that is, the 'Big Five'. I think it was the first time in the programme that the 'Big Five' had come to sit down with me and agreed that they were going to drive my programme. That was the best thing I have ever done; that I could bring the 'Big Five', talk to them, listen to them, and put forward the programme that I have developed. They all bought into the idea and are willing to push it forward.
Who are the 'Big Five'?
The 'Big Five' are those who are helping to maintain peace and security in the Niger Delta.
Who are they?
I don't call them by their names; I see them as Niger Delta people who are interested in maintaining peace and security. They are stakeholders. They've been involved since the beginning of the programme and whenever there is crisis in a particular part of the Niger Delta, they know how to deal with it.
Those people who are supposed to enjoy the benefits of the Amnesty Programme, how happy are they?
Most of them have undergone vocational training and empowered to set up their own businesses. Some have been sent to school abroad although I'm trying to put a stop to offshore training because of the huge financial implication. I think it is better to train them in Nigeria because there is no reason sending somebody to do political science in England whereas universities in Nigeria offer the course. The money you're going to spend on one person studying political science in the United Kingdom or US can be used to train four, five people in Nigeria. My first assessment of offshore education is to keep it as a discount. Those who are there now will finish; but to send new people abroad to study, I will not like to do.
On personnel recruitment in Amnesty Office, you said what you met on ground was unspeakable. I don't understand what exactly it is that you saw. Is it that some people embezzled funds? Or is it that somebody used money somehow? 
Even if some people embezzled funds, that's not my preoccupation. I was appointed to do a job and that is the job I'm interested in. I am not the Federal Government to know whether somebody embezzled funds or not.
In the process of doing this, you saw something; you said you saw…?
I don't want to elaborate on that; the fact is that the office was so disjointed. Those who were employed to do the work were not knowledgeable about the work. It's not about thievery or anything.
You said that you have a focus on two main things in the Niger Delta. You mentioned security, development and enhancement. Can you tell us a few things you want to do in terms of security and development?
To maintain the existing peace in the region is quite important for us to function. If there's a crisis in the region, all we are putting in place will not work. That's why the security aspect of it is very important and, in doing that, you have to pay stipends to the boys who are working there, enhance their training and empowerment. If you do that, oil revenues will increase, and then you have government pumping more money into the Amnesty Programme to empower our people. If that is done, I would have achieved all that I want in the programme.
Do you have anything focusing on the ex-agitators in the region?
Yes, by interacting with them; by trying to let them know that the region belongs to them. Blowing up pipelines does not affect those who live in Lagos or Kaduna. It affects the people there, the ones that you claim to protect, so please stop that. What else do you want? So that we can do all that it takes to satisfy your aspirations for the Niger Delta people.
An aide to the Minister of State (Petroleum) said Amnesty Programme is not sustainable. Is it unsustainable or are you working on an alternative? 
If somebody said the programme is not sustainable, the person was not talking for my office and the person couldn't have known the way the programme has been designed. But I know that this programme is sustainable. I know the environment; I know the security environment of the Niger Delta and how it has been sustained to this level where we have massive production of oil. We've seen periods where we could not export a million barrels; now, we export more than double of that.   So, I know what the programme is capable of doing and I know that, after we have carried out enhancement, empowerment and also setting up clusters of farms and training centres, we can sit back with satisfaction that we have done something. Hitherto, there was a feeling of marginalization; that the Nigerian people had taken sides with the multinational oil companies so that the Niger Delta people could not be trained and will not be part of the oil that comes from their place. But now, programmes are being done; we work with the oil companies, we also send our people to be trained. There might be some trouble but I know that, with time, these people will be trained to a level that they will see themselves as equal to their counterparts in other parts of Nigeria and could be employed to do any job like those counterparts. The alternative will be too ghastly to contemplate.
The Amnesty Office, the NDDC and the Ministry of Niger Delta Affairs do not appear to be working together sometimes. The second issue is that I do not think that there is enough engagement with the people. I think you need to do more engagement with the communities to be sure that what you are putting on ground represents the needs of the people?
You said the interventionist agencies in the Niger Delta are not working together. I think it was so in the past but not recently. The three agencies have been meeting to harmonise issues concerning the Niger Delta. We meet every week so that we don't duplicate resources, we don't work at cross purposes; we are engaging so that we can work together, and you also must bear in mind that in most of these peace building situations, it is always very difficult to get the right infrastructure in the institutions. These are the things we have to take in small doses and bearing in mind the sensitivity of the people. Those of us who work in the system know that the security environment of the Niger Delta is important. You talked about reintegration. Reintegration is the final stage and that is what I said I want to do. Those who have been trained, how do you give them sustainable jobs? How do you link training to jobs?
It appears that everything government is doing in the Niger Delta is driven towards oil production and not towards developing the area and that is where the problem of perception is created. To those in the Niger Delta, they see every kind of intervention as a move for free access to the oil, to increase production. And each time achievements are celebrated by the Amnesty Office or other interventionist agencies, what you hear is that 700 barrels per day has increased to 2.4million barrels, which is to say that the focus is how to get the oil from the region and not how to develop the region. And the people feel so abused because of the heavy security presence there.
Abuse is the word I would not accept because the fact is that you must also understand that government has the right to maintain peace and security in any part of the country. If we are maintaining peace and security in the Niger Delta, embarking on development; making sure that our people get what they want, then, I see no problem with that, because, like I said, if there's no security, there will be no development and if there's no development, there will be no security. And security goes beyond sending soldiers; it's about human security. When the human being becomes a reference point for security, that's when we talk about security. It has moved from the other side to the human security needs and that is what this government is trying to do. That is what my office is trying to do. It's not just about securing jobs, but to make sure that everything about security is done. You cannot lay emphasis on a security plan because if the security is not human centred, then, I think you are wasting your time.
How does your office manage the perception of the people of the Niger Delta about the overwhelming presence of the military and that you're not just here to collect oil?
Changing of perception is not something that you do overnight. The fact is that if there's stability, these soldiers could be withdrawn.
Do you have a deadline for the Amnesty Programme? Are you still collecting arms? What is your response to the protest by the people of the Niger Delta who complained they were not being accommodated?
I have not been given any deadline. There are people in Ondo State where government just did a disarmament programme and said those involved should be included in the Presidential Amnesty Programme. That's beyond the mandate of my office. I don't declare amnesty; it's only the President that declares it, and when the President declares it, the beneficiaries become part of the Amnesty Programme.
You talked about engaging the 'Big Five'. How do you engage the New Avengers, the new militant groups springing up?
The fact is that there's also a plan to bring what we call the field commanders together; that will take place in Abuja in the next two weeks. Wherever you had conflict in the past, it was not easy to maintain peace and security because some people will see themselves as the real protesters; that they are not going to be part of the programme. But it's for you to use your prowess to bring them to the table for discussion. How do we engage all of them so that we can deal with the issues effectively? That's what I'm trying to do. If there's anyone that emerges somewhere that is a New Avenger, I'll try to meet him and say, 'Look, let's not behave like this. This place belongs to all of us, please, what do you want that you have turned into a New Avenger?' For me, if you don't negotiate and talk to them and link up with them, sometimes, some of these people are not that violent. I have seen a situation where they will call me around 5 am and said, 'Oga, where our pay now?' They don't know whether you are sleeping or not. But if you listen and answer them; that you have spoken to them takes care of their problem. They want to be spoken to.
What is your job, to take out some people and then pay them salary for life, or to get them employed?
When you talk about my plan, it is government's plan and not my plan. What government is trying to do is that in some places where you had disarmament, they traded arms for money, but then you find out that the Presidential Amnesty Programme is a very noble one; it's quite different from other programmes around the world. It is a home grown programme.   So as we go, we try as much as possible to adopt and adapt to new circumstances, there is no benchmark; that this is the way it should be done. We learn, we adapt, and we also appeal to the ex-agitators' sensitivity. It is our place; let's make it safe so we can all live together.
I do know that they (ex-agitators) are on salary; when will it end? How many people do you pay salary? Those who have been trained, have they been employed? Do they worry you? What are the success stories that you have?
Of course, there are people who have been trained under this programme and have been employed. There are pilots who have been trained and now flying with some of our local airlines; there are others who have been trained by Shell and, of course, they have been employed by Shell. There are others who have been employed by pipe-making companies. Sometimes when these success stories come, it is difficult for us to tell, because if you tell them, you will overdo it, and your critics will say 'abi na only them go school?' So I try to down play it.