•Osinbajo warns against religious war
•Plateau CP removed, redeployed to Force Headquarters
•Shehu Sani wants victims of 'mindless killings' buried close to Aso Rock
•Arrest leadership of Miyetti Allah now —Gov. Ortom
Jos – The death toll in last weekend's attacks on some villages in three local government areas of Plateau State by herdsmen has hit 135, as President Muhammadu Buhari visited the troubled state yesterday.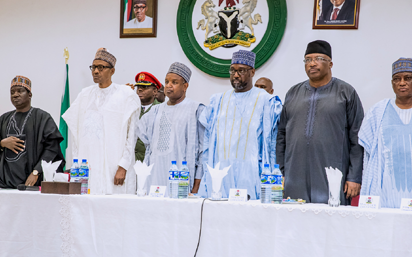 Vanguard reported on Monday that no fewer than 120 persons, comprising 34 in Nekan, 39 in Kufang and 47 in Ruku villages, were killed in the coordinated attacks, though the Police confirmed 86 casualties.
However, the attacks which continued on Monday, despite the dawn-to-dusk curfew imposed on the three local government areas by the Plateau State Government, claimed 15 persons more as at yesterday in Dorowa Babuje village in Barkin Ladi Local Government Area.
The new toll came as the Vice President, Professor Yemi Osinbajo, who was on an on-the-spot visit to Plateau State on Monday, warned against religious war in the country, even as the the Inspector-General of Police, Ibrahim Idris, yesterday removed the state Police Commissioner, Undie Adie, who was redeployed to Force Headquarters in Abuja.
On the fresh attacks on Dorowa Babuje village in Bakin Ladi Local Government Area, Monday, residents said the 15 victims were killed as their houses were also razed by the attackers.
A resident, Friday Dusu, said: "We are in hiding now because it seems the security forces are targeting us. Assemblies of God Church, First Baptist Church, Tsauke Baptist Church, Living Faith Church and COCIN LCC Ratatis, have all been razed down in Dorowa Babuje."
Residents in the affected communities in Barkin Ladi also complained that men of Operation Safe Haven forced people in the attacked communities to secretly bury their dead.
But spokesman of Operation Safe Haven, Major Adam Umar, denied the villagers' claims, saying "nobody forced anybody to bury the dead. The dead had to be buried and that was exactly what they did.
"The issue is that when a person is dead, definitely, it is our tradition that the person must be buried. They buried them. If you have a dead body, must somebody force you to bury the dead person?
Asked about the ploy to destroy evidence which would support the number of casualties claimed, he added:  "What evidence? If you look at it, there are numbers that were being given, yes, people give numbers, we are security operatives and we give out the numbers when we are sure that this is the exact number because this thing happened.
"Some were killed in their rooms, some were killed in their compounds, and some were even killed in their farms.
"So nobody forced anybody to bury, they had to bury because if you leave dead bodies, they could even affect the people that are alive."
Osinbajo warns
Meanwhile, addressing stakeholders from communities affected by the attacks at Government House, Jos, on Monday night, Vice President Yemi Osinbajo advised against stoking religious war, noting that no nation had ever survived one.
Osinbajo, who expressed displeasure at the level of carnage, said the travesty must not be allowed to fester.
He said:  "We must condemn killings of any kind. It doesn't matter whether these killings are by herdsmen, villagers, or whether it is villagers who in one way or the other have killed others, including herdsmen.
"I think it is important that we condemn these killings, in particular these killings that have taken place, where so many people have lost their lives in the last few days. There is no reason at all for anyone who commits these offences to escape.
"We must not allow in this country a religious crisis that becomes uncontrollable, and if this sort of thing continues to happen, we will have the kind of crisis that no country in the world has ever survived. I want to urge all the leaders to show more restraint, especially in what we say.
"Nobody can survive a religious war, so I want to urge every one of us to exercise some restraint by being as civil as possible.
"It is the responsibility of each and every one of us, especially leadership of the communities to ensure that we are able to bring about the situation of lasting peace.
"The head of Operation Safe Haven as well as the DIG (Police) have confirmed to me that some arrests have been made and those persons will face the law, and that more arrests will be made. I think it is important that we ensure that there is justice.
"I want you to be sure that we will do so, we will make sure that those who have been arrested are duly prosecuted, and that others who are engaged in this heinous conduct are also arrested and prosecuted."
He further emphasized that Buhari's administration was committed to finding a permanent solution to the conflicts.
Displaced perons
Prof. Osinbajo added that the federal and state governments would see to the welfare and rehabilitation of displaced persons from the affected communities.
"One of the critical issues that was raised is the fact that people have been dislocated from their villages and from their homesteads and have not returned to those villages and homesteads because those places have been taken over.
"I think this is a serious issue, and an issue that the Federal Government, in collaboration with the state government, must take up, which we'll ensure that we take up," he said.
Noting that relief materials would be made available by the National Emergency Management Agency, NEMA, Osinbajo noted that the N10 billion fund approved for rehabilitation of farmers of affected communities by the President would be made available to Plateau State.
He said further: "The DG of NEMA will ensure that is done as relief materials are provided in various areas where they are required. We have also talked about the N10 billion fund which the government approved for the rehabilitation of farms and farming communities; the farmers in particular.
"Fortunately, we have the Deputy Chairman for Food and Security Council who is here with us, the governor of Kebbi State. That fund is to enable farmers who have not been able to farm, who have lost farmlands, to be rehabilitated and we would provide for them, inputs; we would provide whatever assistance is required so that they can go back to their farms.
"We will look at how to implement several of those suggestions as we go along. Some include the permanent positioning of security agencies in certain communities that are prone to these types of violence."
In his welcome remarks, the state governor, Simon Lalong, said he was surprised and disappointed when he heard about the Berom/Fulani incident because of the efforts both sides had made to ensure lasting peace in their communities.
"If I said I'm disappointed about what happened, it's an understatement, because they set the road-map for peace in this state," he explained.
PDP on Buhari's visit
Reacting to the President's visit to the state yesterday, Peoples' Democratic Party, PDP, described the visit as an "after-thought."
The opposition party in a press conference, lambasted Governor Lalong for frittering away security votes and not doing enough intelligence gathering to stem the attack, even when "there were plans to attack communities in Plateau State immediately after Sallah."
Addressing the press, the state chairman, Damishi Sango, insisted that Lalong's administration had failed in its constitutional responsibility of protecting lives and property and was even pressured to cancel "his planned Russia trip just to go and watch soccer where an advance party was already on ground."
Sango accused the federal and state governments of trivializing "the ongoing act of terrorism, reducing it to the activities of politicians, even when some people have been considered a special race to be allowed to carry modern and sophisticated weapons to unleash mayhem on innocent locals with impunity."
It's genocide  — COCIN
The Church of Christ in Nations, COCIN, which recorded large number of casualties among its members, yesterday, described the events of the last few days as "genocide" and "an attack on Christendom."
In a statement signed by the PRO/Protocol Officer of the Church, Rev. Justin Ahmadu, the church stated: "It is with serious concern that we wish to draw the attention of the government and the world to the massive terror attacks on our members in Barkin Ladi and Riyom LGAs since Saturday, June 23, 2018, which claimed the lives of over 200 people from more than 11 villages as follows:  Gindin Akwati (Nekan), Gana-Ropp, Ruku, Nghar, Kaikayi, Kakuruk, Kuzen, Shonong, Zakerek, Rokok and others.
"Many more from feelers are still missing and possibly decomposing in the bushes, or in difficult humanitarian and/or medical situations. These killings, which have persisted and only increased in frequency and scale over the past years, certainly amount to genocide.
"This is nothing but an attack on Christendom and a calculated effort to annihilate our members, for the purpose of creating a grazing field for local and foreign herdsmen.
"The ultimate goal from all indications, especially given the silence and sympathy from the government and Muslim leaders within and outside Nigeria which the marauding herdsmen have enjoyed in their conquest is, therefore, to forcibly dislodge and take over ancestral land from the indigenes and not clashes between farmers and the herdsmen as widely insinuated by both the federal and state governments."
Police  boss removed
Also yesterday, Plateau State Police Commissioner, Undie Adie, was removed from office and replaced by Bala Ciroma who resumed immediately. Adie was redeployed to Force Headquarters in Abuja.
Confirming the arrival of the new commissioner, the Plateau Police spokesperson, Terna Tyopev, said handing over formalities by the two commissioners of police had taken place at the command's headquarters in Jos.
"Today (yesterday) June 26, 2018, a new Commissioner of Police, CP Bala Cioma has assumed duty as the commissioner of police, Plateau State command," he said.
Before his new assignment as commissioner of police in Plateau State, he was deputy commissioner of police, criminal investigation and intelligence department in Abuja.
Mr Ciroma had also served as head of operations, Economic and Financial Crime Commission, EFCC, in Abuja.
He joined the Nigeria Police Force on March 3, 1999 with the rank of Superintendent of Police.
Bury the dead at Three Arms Zone  —Shehu Sani
Reacting to the killings, yesterday, the senator representing Kaduna central district,  Shehu Sani, said victims of "mindless killings" should be buried in the Three Arms Zone in Abuja.
The zone is where the three arms of government, Aso Rock (the presidential seat of power), national assembly and courts, are situated.
Commenting via his Twitter handle yesterday, the senator said burying the victims "close to the seat of power" would make leaders feel the pain of their families, having "failed" to protect them.
He wrote: "We need a graveyard in the three arms zone of Abuja so that victims of the mindless killings in the country can be buried close to the seat of power.
"Then, the executive, legislators and the judiciary can feel the pains of the helpless widows and orphans we failed to protect."
Reacting to claims by Miyetti Allah Cattle Breeders Association of Nigeria, MACBAN's statement that the killings were as a result of loss of 300 cows, Governor Samuel Ortom of Benue State, again, called for the immediate arrest and prosecution of the leadership of the group.
Governor Ortom, who spoke yesterday while inaugurating the 19 chairmen and members of state-owned Boards and Commissions in Makurdi, lamented the level of killings and destruction of property in Benue, Plateau and other North Central states by armed herdsmen.
He said: "Those who have claimed responsibility for the killings should be arrested. Just like we in Benue have been calling for their arrest for their complicity in the Benue killings. What is the government waiting for? It is heart-rending that in a country of close to 200 million people this kind of act takes place as if we are still living in the past.
"As a state government, we appreciate the Federal Government for sending the Operation Whirl Stroke to end the killings in Benue state. We will give the operation all the needed support to ensure it succeeds.
"But we have said that those who are law-abiding are free to live in Benue State and do their legitimate businesses. They can apply for land and set up their ranches in line with the provisions of the Benue State Open Grazing Prohibition and Ranches Establishments Law."
Buhari in Plateau
President Muhammadu Buhari also visited Plateau State yesterday and urged the leadership at all levels as well as all stakeholders to be awake to their responsibilities of driving the peace process so that meaningful development could be seen by the people.
President Buhari, who gave the charge during an unscheduled visit to Jos, the Plateau State capital to commiserate with the people over the recent killings of people and destruction of property in the state, appealed to the people of Plateau State to bury their differences and work together for the peace of the state.
Buhari, who met with the stakeholders at the Banquet Hall of New Government House, Little Rayfield, Jos, condemned the crisis and commiserated with the bereaved.
"Please pass my message of condolence to those who lost loved ones," the President said.
Sack security chiefs now, Arewa youths tell Buhari
Irked by the gruesome murder persons in Plateau State by suspected herdsmen, the leadership of the Arewa Youths Assembly has asked President Muhammadu Buhari to relieve all the service chiefs of their appointments and appoint new ones.
The Northern youths in a statement jointly signed by its Speaker, Mr. Mohammed Salihu and Clerk, Mr. Desmond Minakaro, yesterday, condemned in very strong terms the rampant killings of innocent and defenceless persons in the North Central part of the country by herdsmen without any response by the country's security.
The group said: "First, it was Benue State, then Zamfara, Taraba, Adamawa, Kaduna and now Plateau State recording one of the deadliest attacks where gunmen   freely moved into communities of Barikin Ladi and others, killed and destroyed   houses and left.
"It is quite unfortunate and devastating that all we have heard as usual is that the killers overpowered our security agencies and carried out the murder of the innocent men, women and children in their sleep. What a shame of a nation?"