THE Secretary General, Organisation of Petroleum Exporting Countries, OPEC, Mohammad Sanusi Barkindo has called for increased cooperation among stakeholders in order to achieve stability in the global market.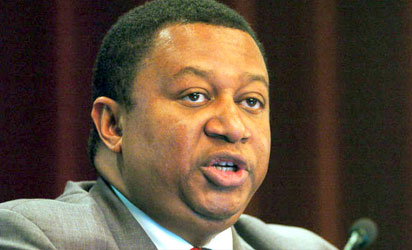 The call becomes essential as crude oil price, which had dropped from $76.00 to $74.62 per barrel stabilised at $78 per barrel.
Specifically, while the price of Brent and WTI stood at $77.73 and $66.45 per barrel respectively, the price of the Organisation of Petroleum Exporting Countries, OPEC, basket of 14 crudes, including Nigeria's Bonny Light hovered at $75.17 per barrel.
OPEC disclosed that: ''the price of OPEC basket of fourteen crudes stood at $73.37 a barrel on Monday, compared with $74.87 the previous Friday, according to OPEC Secretariat calculations.
''The OPEC Reference Basket of Crudes (ORB) is made up of the following: Saharan Blend (Algeria), Girassol (Angola), Oriente (Ecuador), Zafiro (Equatorial Guinea), Rabi Light (Gabon), Iran Heavy (Islamic Republic of Iran), Basra Light (Iraq), Kuwait Export (Kuwait), Es Sider (Libya), Bonny Light (Nigeria), Qatar Marine (Qatar), Arab Light (Saudi Arabia), Murban (UAE) and Merey (Venezuela)."
Meanwhile, speaking at the 25th International Caspian Oil and Gas Exhibition and Conference, 29 May 2018, Baku, Azerbaijan, Barkindo stated that: ''Mr President, Shah Deniz is clear evidence of your visionary leadership, and the motivation and determination that you and your great people have for the country of Azerbaijan.  This second stage, to support the already flourishing first stage of the project, is a huge multi-billion dollar capital investment and one of the largest integrated energy projects in the world".
''It is an inspiring project; one that the whole country of Azerbaijan should be proud of.  It generates significant added value to Azerbaijan's economy, and more depth to its hydrocarbon sector. ''It is also a testament to great partnerships, with the Shah Deniz project operated by BP, and including many oil and gas companies that are from countries in the landmark 'Declaration of Cooperation' between 24 OPEC and non-OPEC producing nations.
''This obviously includes your own national oil company, SOCAR, as well as the National Iranian Oil Company, Russia's Lukoil and Petronas from Malaysia.
''It is also a partnership that is an exemplary reference for effective and lasting producer and consumer cooperation.  It will enable more Caspian gas resources to flow along the Southern Gas Corridor, and in turn, contribute to global security, in particular in Europe.
''As the great Henry Ford once said: "If everyone is moving forward together, then success takes care of itself." He added: ''I was last here in Azerbaijan, only two months ago.  Mr President, I had the great honour of meeting you then, as well as HE Parviz Shahbazov, Minister of Industry and Energy, where we discussed a variety of issues, including the 'Declaration of Cooperation'.
''I would like to reiterate my thanks for your ongoing cooperation with OPEC, and for your support and full-throttled commitment to the voluntary production adjustments, with Azerbaijan consistently one of the highest performing countries in terms of conformity.
''It is also a great pleasure to be able to continue our discussions on the possible opportunities for enhancing our collaboration.  I know that we all see value in further institutionalizing the remarkable cooperation that has evolved and flourished through the 'Declaration of Cooperation' over the past 18 months.
''This has been a true reflection of the committed leadership role your esteemed country has played in the whole process, and your far-sighted appeal for closer engagement among producers to restore oil market stability.
''In this ever more complex, interdependent and global market, it is vital that all industry stakeholders work together for sustainable stability that is in the interests of both producers and consumers."