As predicted, Nigeria's stock market opened the week negative on the heels of an equally negative first quarter economic performance report released by the National Bureau of Statistics, NBS, which show the gross domestic production, GDP, in a reversal of the six consecutive quarter positive trend.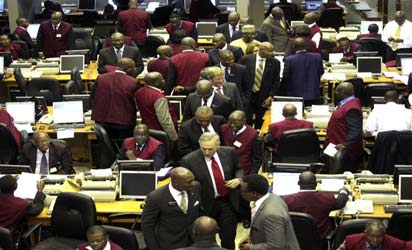 The domestic bourse opened the trading week on a negative note following sell offs  in Tier 1 banking stocks, namely, Guaranty Trust Bank Plc which declined by 1.1 percent as well as Access Bank and First Bank declining by 1.8 percent and 2.7 percent respectively.
Consequently, the Nigerian Stock Exchange, NSE, All Share Index shed 12 basis points (bps) to close at 40,425.07 points  while Year-to-Date,YTD, return declined to 5.7 percent.
Investors lost N17.2 billion in value as market capitalization fell to N14.6 trillion.
Similarly, activity level weakened as volume and value traded dipped 22.6 percent and 54.6 percent to 271.2 million units and N2.3 billion respectively.
The top traded stocks by volume  were Afri Insurance at 90 million unites, Fidelity Bank at 21.9 million, and Diamond Bank at 20.5 million unites.
On the other hand Guaranty Trust Bank, Zenith Bank and Nestle Nigeria Plc with trades valued at N664.9 million, N282.8 million and N267 million respectively were the top traded stocks by value. But sector performance was largely bullish as three out of the five key indices under watch trended northwards. The Oil & Gas index advanced the most, appreciating 0.5 percent on account of buying interest in Forte Oil Plc. Following closely were the Industrial Goods and Consumer Goods indices, inching 0.3 percent and 0.1 percent higher respectively as a result of gains  in WAPCO Plc, Nigerian Breweries, Unilever Nigeria Plc and Dangote Sugar Plc.
On the other hand, the Insurance index topped losers chart, down 0.9 percent, due to profit taking in NEM Insurance and Aiico Insurance Plc, while the Banking Index fell 0.2 percent on the back of sell pressures in Guaranty Trust Bank and Access Bank.