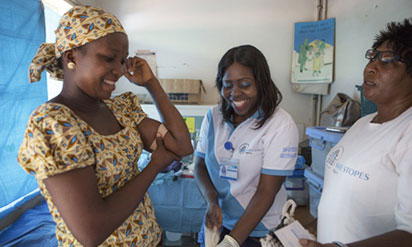 A client discussing her implant with outreach workers. Photo: Courtesy Marie Stopes International
By Sola Ogundipe
During his official working visit to the White House in April, President Mohammadu Buhari's conversation with the US President Donald Trump centred mainly on the economy, security and anti-corruption, but focused less on health issues.
President Buhari expressed gratitude for the American support in the reconstruction and rehabilitation efforts in the North East of Nigeria, as well as humanitarian assistance to the Internally Displaced Persons, through the United States Agency for International Development (USAID) as well as other agencies and international partners.
He acknowledged that the US, through the UN has supported Nigeria's health, food assistance and shelter among others. However, the Nigerian president missed a great opportunity to tackle the American president on one of his most controversial policies— "Protecting Life in Global Health Assistance," commonly referred to as the Global Gag Rule (GGR).
Nigeria is the single largest recipient of US international development aid and the country relies heavily on global health assistance to meet the needs of its large and growing population. Impacts of the expanded gag rule on Nigerian women's sexual and reproductive health include negative effects on advocacy for sexual and reproductive health and rights.
When President Trump first took office in 2017, he reinstated and expanded the GGR , also known as the Mexico City policy—a Republican policy that restricts foreign organisations from receiving US funding if they provide, or even discuss, abortions in any form or manner.
Widely criticised as an anti-choice policy, the GGR prohibits foreign non-governmental organisations that obtain US government family planning aid from providing abortion care or information about the procedure by blocking funds to such organisations involved in abortion advice and care, especially in developing countries such as Nigeria.
Previous versions of the policy applied only to family planning funding. Despite the US being the world's biggest donor to family planning and women's health programmes in developing countries, the Trump administration has since de-emphasised the relevance of reproductive rights by reinstating and expanding the GGR so that it not only prohibits foreign non-governmental organisations that get US government family planning aid from providing abortion care or information about the procedure, but applies to the vast majority of US bilateral global health assistance, including funding for family planning, HIV, maternal and child health, malaria, nutrition, and other programmes.
What the expanded GGR does in effect is to slash donor funding to and enforce restrictions running into billions in US global health assistance for family planning and allied women's health programmes in many developing countries (including Nigeria)—creating a void and causing a shift that could impact millions of women and girls around the world.
There is little doubt that the GGR is undermining Nigeria's reproductive and overall health goals and Nigerians are not happy about it. The policy has been having negative effect on broad range of health programmes that provide lifesaving treatment and prevention options to those most in need in the communities.
The unintended consequences of the anti-choice policy have been far reaching. Under previous versions of the GGR, organisations that failed to comply, lost funding, were forced to sack staff, suspend services and even close clinics. Worse is expected to happen under the more restrictive version. As the largest global donor on health, the withdrawal of funding for critical health services under the restrictive policy is undermining progress on improving health. There is less now access to contraception, resulting in more unintended pregnancies, and more—often unsafe—abortions.
There is evidence to show that restricting family planning funds results in unplanned pregnancies, abortions, unintended pregnancies and maternal deaths.
Nigeria provides clear example of how the global gag rule and restrictive similar international funding decisions can have negative ramifications for sexual and reproductive health and rights in a recipient country.
Today, millions of women obtain reproductive health care at the same health centre they receive all other care. This expanded GGR is hindering and possibly threatening the work of healthcare providers who may be the only source for reproductive health care and a woman's entry point for receiving a wide range of primary health services.
According to the Population Connection Action fund, "the Global Gag Rule is one of the cruelest policies ever enacted on foreign assistance funding. It penalises foreign health care providers that provide a full range of information and services that are legal within their own countries.
"It stifles democratic participation by prohibiting assistance to organisations that speak out about the impact of unsafe abortion in their own countries—and makes it near impossible to have a serious discussion about women's health and maternal mortality in the developing world without discussing the role of illegal, unsafe abortion. "
But rather than prevent abortion, the GGR actually accentuates it.  Independent researchers at Stanford University found that the imposition of the GGR caused abortion rates in the African countries most affected to double between 2001 and 2008 when the policy was first being enforced.
The GGR in reality constrains efforts to address the crisis of unsafe abortion throughout the developing world and undermines global health programmes and outcomes.
Nigeria's high maternal mortality rate—highest in Africa and 2nd highest globally—is often directly related to lack of proper sexual and reproductive health education and awareness. One of the biggest challenges in Nigeria is the non-availability of safe abortion services due to the restrictive abortion law that only allows medical abortion to save the life of a woman.
Consequences of the expanded global gag rule on the sexual and reproductive health of women are serious. Trump's gag rule will not only hurt abortion access or access to contraception but other forms of health care. The restrictions are causing easily preventable maternal deaths, both due to unsafe abortion and to an increase in unplanned pregnancies in areas where rates of maternal mortality are already high.
Observers are worried about a purported omission of reproductive rights from the 2017 US State Department's annual human rights report. The alleged elimination of sections on "reproductive rights," from the human rights report, titled: "Country reports on Human Rights Practices for 2017" is seen as is an ominous signal.
The effects are already being felt. The impact is hitting hard on millions of women and girls who depended on free family planning, anti-retroviral treatment and other reproductive health services provided through funding by US government. The message is clear—repeal the global gag rule.