By Chris Onuoha
In what one may describe as a different foray into art appreciation, an art scholar, painter and advertising practitioner Pa Rauf Thompson took art lovers and collectors into a journey of art sphere to explore lines, strokes and rhythms as he holds an art show of his latest works.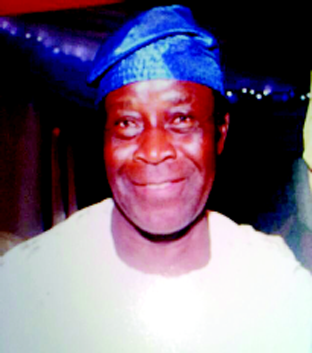 After a successful display of his previous collections of both old and new paintings held last year at National Art Theater, Iganmu,  Lagos, Thompson, a veteran visual artist in this new exhibition titled 'Beyond drawing and paintings" opened  on Friday April 27 to run till Monday April 30 at same venue, showcased the other side of art beyond what eyes can see.
In attendance were collectors, art enthusiasts and friends of Rauf Thompson. Senator Musiliu Obanikoro, a great art lover and collector was physically present to declare the exhibition open alongside another collector, Tunde Anifowose, his former classmates and business associates.
Meanwhile, Rauf's exhibition that has over 30 pieces of painting, is an artistic expression of life around us as seen by the painter. Done in oil on canvas with few pencil drawing, Rauf extended his use of natural and cool colours to vibrant and raw colours as a protest and a reflection of evolving situation in the country.
In one of the works that tell the story of fuel crises in the country, the vibrant colours depicts the intensity of the situation connecting it to the danger of fire outbreaks that emanates from such mad rush for fuel scooping by some indigents in a country of abundance.  Other works that has similar connotations were paintings of local drummers that depict the flamboyance and merrymaking that has been part of our lifestyle.
In summary, Rauf exhibited some measure of consistency in style with a bit introduction of new approach in colour usage to show a blending flow with the current contemporaries.
According to the artist, "Often times, people see art or appreciate it for the art sake, but the intrinsic attitude towards art is one spiritual aspect of it that is beyond general perception. What I intend to achieve in this current art exhibition is to bring to fore an art beyond aesthetics – using drawings and colours to pass a message about life around us" Rauf stated.
Pa Rauf Thompson in his late 70s is one of the pioneer students of Yaba College of Technology, Lagos under the tutelage of Professor Adebayo Yusuf Grillo, the foremost art teacher and one of the founding fathers of modern contemporary art in Nigeria.
He has consistently been vibrant in the art scene spanning for decades. Having transited from teaching career to studio practice, he had a stint in advertising practice and finally back to art. He said that his urge to paint all the time supersedes the rest. According to him, "Beyond Drawing and Painting" is a body work that speaks and connects to everyone in a particular a situation of life."
For Tunde Anifowose, a long time friend of Pa Rauf said, "Pa Rauf has come a long way.  When he came to my house and saw artworks, he now realized that he has been sleeping. I advised him to quit advertising and concentrate on art practise. And he also realize that there's money in art. In my collection, I have over 2000 pieces in my house and I don't sell them. Today's exhibition shows a man that has never got tired. I salute his courage," says Anifowose.
"I am highly impressed with what Rauf Thompson has done creatively, but unfortunately, we live in a society that doesn't show appreciation on our art and it bothers on our orientation about the work of arts," says Senator Musiliu Obanikoro, the chairman of the occasion.
According to him,  "There's a need to re-orientate our mind. Just like I am moving round, I saw a piece that depicts the fuel crises and I told myself that this is a piece of history. Evidently this situation will not last forever. A time will come when we will have it good in the country. And the art piece is a reflection of the situation then.
"Without reading a book that tells you about events, in the work of arts, you must have gone through a history of one or two generations explaining to you where we were and how we were able to come of such situation. We must also realize that some of the experience we had before came from artistic expression. It's something that we should all pick interest in, and again business-wise, it is a value added venture. It is a win win situation no matter how you want to look at it, either as a story teller, as a form of decoration, form of expression or investment.
"For Rauf, to be honest with you, I must give it to him. I don't know how to describe his efforts and consistency in art practice and delivery given that the situation of the country is tough now. I will salute him at his age and vigour.
"If it's for an ordinary person, he should have been so depleted to the point of given up judging from the things you have to go through to survive every day. The old man is going about it as if there is nothing wrong anywhere. I just want to commend him for his courage, steadfastness and commitment for the work of art. I picked about four of his works that have cogent message and valuable to encourage him.
For some art enthusiasts who not only admired his courage but also get connected to events they were familiar with says, "This is like another history book in visual representation. All the pieces has one story or another to tell."