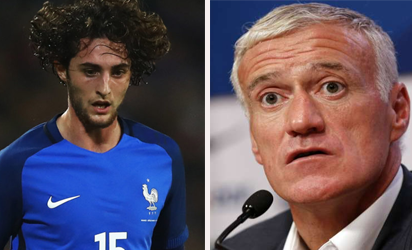 Midfielder Adrien Rabiot has written to France manager Didier Deschamps saying he is not prepared to be a World Cup standby player.
The 23-year-old Paris Saint-Germain player sent an email to Deschamps saying he would not "be able to follow the training programme" sent to the 11 standbys.
A source who had seen the message said on Wednesday it was short but filled with phrases that read as if they had been written by a lawyer.
French sports daily L'Equipe wrote that Rabiot "had decided to act himself without necessarily listening to the advice of those around him".
Another newspaper, Le Parisien, suggested that it was "a thoughtful decision" that the French coaching staff "would have tried to change".
When he announced the squad last Thursday, Deschamps said: "Adrien's performances for the French team are not at all at the same level as with the PSG."
Deschamps was due to speak again on Wednesday afternoon as 22 members of the squad assembled to start preparations for the World Cup.
The sole absentee will be central defender Raphael Varane, part of the Real Madrid squad for the Champions League final against Liverpool in Kiev on Saturday.
Rabiot, who has six France caps, was not included in the 23-man squad for the World Cup but placed on standby in case one of the first-choice players was hurt before the final deadline for submitting the squad on June 4.
In a change from the policy Deschamps adopted before the last World Cup and before Euro 2016, the standbys will not join the squad at the French training centre at Clairefontaine. The 11 players are expected to train by themselves and be easy to contact.
AFP