By Rotimi Ojomoyela
ADO-EKITI—FORMER  President, Chief Olusegun Obasanjo and former Head of State, Gen. Yakubu Gowon (retd), yesterday, commended the Afe Babalola University, Ado Ekiti, ABUAD, saying it is a citadel of learning that has brought respect to the academic image of the country at the global scene.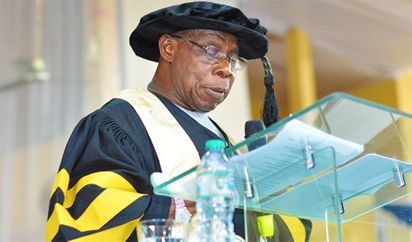 They said with the establishment of ABUAD by its founder, Chief  Afe Babalola, SAN, the country was gradually regaining its pride of place at the international level in the area of improved scholarship.
The projects commissioned included the newly built   18  metres  Dome Planetarium for Exploratory Trip for Space, Tele-medicine equipment at the Teaching Hospital that would facilitate free interaction of Aster doctors in Dubai with their patients here in Ado Ekiti, the multi-billion naira Postgraduate Hall and the state of the art Social and Management Science building
.It's a blessing to Nigeria—Obasanjo
Obasanjo said: "ABUAD is gradually transforming Nigeria. When I reappointed Chief Afe Babalola the Chairman  and Pro-Chancellor of the University of Lagos, he was determined to turn things around but that environment did not permit him.
"I want to thank God today that he had started translating those dreams  to  reality. I can say that ABUAD has become a huge blessing to Nigeria."
ABUAD becoming a trailblazer—Gowon
Commending ABUAD, Gowon said: "This University is becoming a trailblazer in all aspects. The development is attracting global body to invest and the product was what you are seeing in the memoranda it was signing with big educational and health institutions across the globe.
"ABUAD is doing well in academics, morality and in agriculture. Look at the farm set up by the founder, Chief Babalola. It has offered employment and increasing food production in Nigeria.
No need for medical tourism—Babalola
In his remarks, Babalola said with the establishment of Afe Babalola University Teaching Hospital, it would be of no need for Nigerians to travel abroad for medical treatments.
His words, "This University was set up to be a real example of  21st-century  university. A modern university that can compete with any university in advanced nations."