By Ochereome Nnanna
LET me join millions of Nigerians of goodwill and the rest of concerned mankind to wish our innocent, heroic tendril of youth, Miss Leah Sharibu, happy birthday. On Tuesday, 15th May 2018, she clocked fifteen. But she has little reason to celebrate because she remains in the clutches of Islamic terrorists while those with whom she was abducted from the Government Girls Science and Technical College, Dapchi, Yobe State on 19th February 2018, are home.
On 21st March 2018, roughly one month after an abduction that strengthened the long-held suspicions and allegations of conspiracy and collusion between highly-placed interests and the terrorists, Boko Haram returned 105 of the abductees amid pomp and pageantry to Dapchi town in broad daylight after 32 days. These girls looked more like holidaymakers than escapees from the den of terrorists. They were very neatly togged in uniform hijabs and they were each carrying travel bags!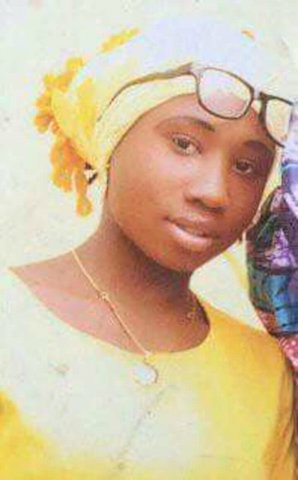 We had been fed with tales of how Boko Haram fighters were dying of starvation. The Dapchi girls spending a month among them and coming out looking more richly-endowed than they went in spoke volumes about the true situation of things behind the enemy lines which government propaganda feeds the populace.
Tongues wagged, and for good reasons. What manner of terrorists give their abductees such a royal farewell? What manner of "defeated" terrorists can stroll into a military-fortified zone, cart away 110 girls and return most of them without any form of resistance or risk? Where did they spring from and where did they vanish to? The terrorists which the Federal Government, the Nigerian Army and the ruling party had repeatedly claimed no longer controlled territories in Nigeria casually came and went as if our Army, Police, Department of State Services, DSS, and others paid to protect us did not exist. One day, some people are going to answer these questions because they hold the key to mystery of Boko Haram's "invincibility".
Leah Sharibu's tale is unique. She was the only Christian among the abducted Dapchi schoolgirls. Some have expressed their belief that the Dapchi schoolgirls were released with parting gifts merely a month after abduction because they were Muslims, unlike the Chibok girls who have been decimated because majority of them were Christians. Well, even if that is so, Boko Haram are Islamists, and they don't pretend about that. That is the very reason they are still keeping Leah: she refused to change her religion.
What Leah has done reminds us that this thing called braveness or heroism has nothing to do with gender. Leah compares with the Nobel Laureate, Malala Yousafzai, the Afghan girl who at 14 was shot by a Taliban gunman in a bus on her way to school to take exams. Just like Boko Haram, the Taliban are Islamic terrorists who oppose Western education in Afghanistan. Malala miraculously survived the assassination attempt and is today a major voice in the campaign for greater educational opportunities for girls around the world.
How many of us, including able-bodied men, can look Boko Haram in the face and reject an ultimatum to change our religion in exchange for our lives? Most of us would readily succumb, perhaps with the intention of renouncing it when we come back among normal human beings. A male who says no will not be killed – he will be slaughtered and possibly videoed to send a message to others. But apparently, Boko Haram saw the defiance demonstrated by Leah as both a challenge to their demonic egos and an opportunity to escalate her hostage value.
But in so doing they created a national heroine. Yes, indeed, Leah Sharibu is a Nigerian heroine, and with pleasure I will justify this claim. We pray for her safe return because she will be an inspiration to millions of Nigerians and people around the world, especially young women. But Leah will be even bigger in the sad and unfortunate event that she does not return.
She is not a heroine because she is a Christian girl who refused to convert to Islam. This has nothing to do with religion. I will say the same thing for anybody who refuses to yield to a change of his or her faith by force. I have heard Muslims say that their religion forbids the forceful conversion of unbelievers. If that is so, then they share that precept with those  who profess the Christian faith. But unfortunately, Boko Haram are also Muslims. Where did they get this mania of forcefully converting people or putting them to death?
There are people in the Nigerian governing elite who exhibit reflexes similar to these Boko Haram Islamists. With impunity they impose Islamic figurines on our national symbols without us first agreeing to adopt such symbols. We see these Islamic symbols in our currencies, the motto of the Nigerian Army and virtually every facet of our public life. Islamic scholars and emirs in the past few years have forcibly abducted Christian girls, converted them to Islam and married them off without the consent of their parents, and not one of them has been brought to justice except for the abductor Miss Ese Oruru, due to media attention. How different are these people from the Boko Haram abductors of Leah? How different from Leah's abductors are the law enforcement agents who refuse to implement the law when vulnerable Nigerians are victimised because of their faiths?
Freedom of religion is boldly enshrined in our constitution. Nigeria is one of the most violent countries in Africa because of religious predation. We can never have peace in Nigeria until we allow people to freely hold their faiths without harassment.
President Muhammadu Buhari must keep his word and secure the release of Leah Sharibu. She is a nasty pox on the face of his government. Nothing must happen to her.