Princesses Attaining Defining Stages (PADS), an NGO, on Sunday said proper menstrual education and hygiene were essential to boost the confidence of female child in contributing positively to the society.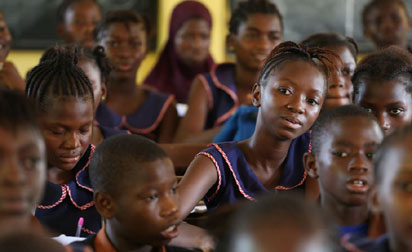 PADS Founder, Temitope Udom, said this in an interview in Lagos in commemoration of the Global Menstrual Hygiene Day, which holds May 28.
According to her, most young girls who were not educated about the physiological changes that occur upon reaching puberty get embarrassed and lo se self-esteem during the menstrual flow.
"Education about menstruation changes everything. A girl should be able to wear a sanitary pad to school with the conviction that she would not stain herself and feel embarrassed.
"Schools and government should regularly include menstrual hygiene education in any health programme organised in communities or the larger society as a whole,'' she said.
Udom said that menstrual education was necessary because of cultural, religious and traditional beliefs that could lead to restrictions that women and girls face during their period.
"For example, in some countries, girls and women face restrictive taboos relative to menstruation, such as being denied entry to places of worship and the kitchen.
"Some countries perceive menstruation as a disease and not a normal biological process, therefore, women who are menstruating are not allowed to sleep on beds or even touch male members of their family," she said.
Udom said that issues surrounding the menstrual cycle led to the birth of PADS, an initiative to provide girls with proper menstrual hygiene materials.
The founder said the project aimed to be a voice for menstrual hygiene for Nigeria and Africa beyond, ensuring increased access for girls to properly use menstrual hygiene materials.
"The project started as a community service in conjunction with three of my friends while doing their National Youth Service Corps (NYSC) in Calabar, Cross River in 2017.
"We were able to get sponsors from private organisations and well-meaning Nigerians to provide sanitary towels worth over N150, 000 to be distributed in three schools," she said.
She said that several factors such as ignorance and lack of access to proper menstrual hygiene materials needed to be addressed to prevent diseases such as Reproductive Tract Infections (RTI).
Udom also said that a common factor militating against proper menstrual hygiene in schools was lack of adequate toilet facilities and the availability of clean water, especially in public schools.
She, therefore, appealed to government at all levels to look into refurbishing toilet facilities of public schools and making arrangements for provision of clean water.
"Another way the government can help improve menstrual hygiene is by removing sales tax on feminine hygiene products and regularly distributing free menstrual pads in schools," she said.
Udom called on corporate organisations and well-meaning citizens to support the Global Menstrual Hygiene Day by providing menstrual materials through Non-Governmental Organisations to the less privileged.
"It is a day where menstrual pads can be distributed in schools, hospitals, on the streets and even in the slums of the society," she said.
NAN reports that May 28 has symbolic meaning for the Global Menstrual Hygiene Day.
May is the 5th month of the year and women menstruate an average of five days every month while the menstrual cycle averages 28 days. (NAN)
Subscribe for latest Videos