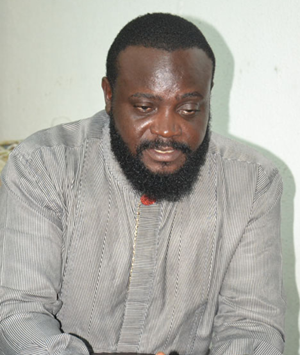 Ebi Ofrey
By Chioma Obinna & Gabriel Olawale
Dr. Ebi Ofrey is the Chief Executive Officer of GeroCare. In this interview with Good Health Weekly, he laments long neglect of the care of the elderly and why GeroCare was established to fill the gap.
Ofrey who has practiced as a General Practitioner for over 16 years also blamed what he described as untimely death of the elderly on failure of most Nigerians who claimed to be busy to take care of them.
Excerpts:
Care of the elderly
It is sad that Nigeria did not have any single structure for elderly people even the health insurance companies do not cover elderly because they consider it too expensive. That is why the life expectancy of average Nigerian is 53 years, not because they cannot do better. In other climes, where things are done better, ailments are detected early and so they live longer.
In adult, the major problem is hypertension and diabetes. Almost every problem they have emanated from these two conditions. The truth is that when these conditions start, if somebody has seen it and manage it well, it would have stop at that point.   This is where GeroCare doctors come in to detect most condition at early stage and manage it so that people can live a healthier life
Let me now tell you what motivated me into setting up GeroCare.  My personal experience as a medical doctor informed GeroCare. I have been in practice in the last 16 years, but few years ago, my father had a stroke and a year later he had another stroke. Right now, he cannot even speak again. His predicament was not as a result of my helplessness, the fact remains that I was not in the same city with him.
Not too long, my mother called me that her blood sugar is extremely high and there is something she said that led to the set up of GeroCare. She said, "Ebi you have neglected us" and that really touched me, up till that moment I thought I was a good son.
When I look at my life I realized that why I was busy sorting out my own matter I unconsciously neglected my parents. I realized that many Nigerians are facing the same situation. The only time they hear anything about their parents was when something goes wrong. In most cases, our parents don't feel the need to tell us how they are feeling not because we cannot solve it but because of the love they have for us. By the time they tell us, it is too late.
How will GeroCare rescue the situation?
GeroCare offers you opportunity to keep your parents healthy irrespective of the distance. It allows Nigerians wherever they are in the world to subscribe for regular doctor visit for their aged parents and loved ones in Nigeria no matter where they are. If you are in Lagos and your parents are in Benue State, with GeroCare they are secured.
GeroCare will provide them with a qualified doctor that will be checking them regularly at home and update you on their health progression. If specialist care is needed, our doctor will make recommendations. We do the referral and monitor the process.Steps to benefit from GeroCare
It takes three steps, first is to log on to our website, gerocare.org and create account for yourself then add the details of the beneficiary and make payment. Immediately that is done, the beneficiary will be merged with the doctor close to wherever he or she resides.
How affordable is this care?
What I like to tell people is that it is equivalent to DSTV Compact plan, which is N6, 300 per month. The subscription covers the consultation visit, those that need medication and test attract extra costs but you can decide to buy the drugs yourself or we supply them to you.  If your parent changes location, the health record will be transferred to GeroCare doctor in the new location which will take up without extra cost.
It enables them to add to what they are earning without any other activities. The different between our services and insurance is that you may pay money and never use it, but in our own network, whatever you pay, you get value for it. We leverage on technology to get this done, and we have our doctors in every state across the country. We are open to partnership with non-governmental organizations and corporate firms. GeroCare help detect and manage conditions early which in return increase the life expectancy. It allows this people to monitor progress through their mobile devices. So we are online hospital with outlet across the country, right now we have over 700 doctors spread around the country in every state across the country except Kebbi State.
Our doctors have the support of medical team, such as consultants, pharmacists, laboratory Scientists who participate in the process. So that our clients get everything at home, once they subscribe.
Many doctors cannot afford this, so what we do is to provide a structure whereby they are self employed and we provide them with other things and patients. All they need to do is to see and maintain a patient for extra money.
GeroCare is just about a year old, but before I launched it, I ran this service as an individual alone in Port Harcourt to ensure that the system is doable and workable because without testing it we cannot deploy it. After running it for three years alone, we now use technology to make it available across the nation and that is the birth of GeroCare. Our future plan is to provide service across Africa.
We also have lots of quality assurance system, customer care service, and we follow up on the relationship between doctor and patient.