By Kingsley Adegboye
…Says environmental law strengthened to deal with offenders
Lagos State Government has warned against indiscriminate dumping of refuse in the sprawling city, pointing out that it has strengthened its environmental enforcement law to deal with environmental offenders across the state.
Commissioner for the Environment, Mr. Babatunde Durosinmi-Etti, who disclosed this during ministerial briefing of his ministry to mark the third year of Governor Akinwunmi Ambode's administration in the state, said the operatives of the Lagos State Environmental Sanitation Corps, LAGESC, arrested 2,097 environmental offenders, comprising illegal street traders, hawkers, highway pedestrian defaulters, environmental nuisance polluters and cart-pushers.
According to him, 136 offenders were engaged in communal service across the metropolis while others were arraigned for prosecution in line with the law at the Samuel Ilori Court, Ogba and Special Offences Mobile Court, Oshodi.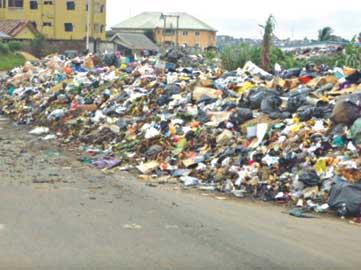 Durosinmi-Etti who noted that Lagos had strengthened its regulatory agencies to enforce compliance to standard and regulations, and curb all unsanitary behaviours by applying the required penalties, said  monitoring, enforcement and compliance activities of the ministry and its agencies had improved in terms of  environmental sustainability.
According to him: "We have continued to monitor industrial facilities based on indicators such as Chemical Storage Permit, Environmental Audit Report, Petroleum Storage, Solid Waste Management and use of Personal Protective Equipment etc. Sixty-three per cent of the eighty-one (81) industrial facilities monitored in the last one year were satisfactory while thirty-eight per cent were unsatisfactory, thereby leading to the issuance of non-compliance notices to two hundred and nine (209) facilities due to their recurring environmental issues," he said.
"We know that our population is increasing as available statistics indicate that 85 people enter Lagos every hour and very few of them go back, and as more people come in, the waste generated in the state is also increasing but we are working to put the right infrastructure and equipment in place to address waste management.
"However, one thing I can assure the people is that we are working and in another one month before the rainy season, it will be over. We know that the rainy season is fast approaching and we are also preparing but I like to assure that soon, the challenges will be surmounted," Durosinmi-Etti said. He said 13,958 Community Sanitation Workers CSW, have so far been employed to sweep inner streets in the 377 political wards in the State, with recruitment exercise still ongoing.
Subscribe for latest Videos