By Donu Kogbara
I HEAR that President Muhammadu Buhari is in London for a medical check-up.
While wishing him physical/mental survival and strength, I cannot help but wonder why a head of state who has attracted blind devotion from talakawas (the suffering Northern masses) for years and has always claimed to be a modest and financially undemanding Man-Of-The- People cannot use local healthcare facilities.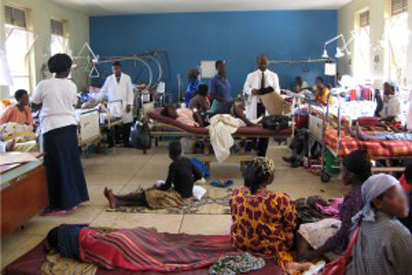 I voted for him in 2015 precisely because he gave us the impression that he was a down-to-earth type who would not behave like a pampered, entitled, elitist oligarch!
And I'm told that he said, while campaigning to secure your votes and mine, that he would ban medical tourism for himself and his subordinates. But he has turned out to be no different – on a medical level at least – to his Fat Cat predecessors.
Buhari's government officials and their sidekicks and relatives are running overseas whenever they are ill or simply feel like consulting foreign doctors.
According to Kola Ologbondiyan, the understandably outraged spokesperson for the main Opposition Party (the Peoples Democratic Party or PDP):
"We have nothing against Mr. President's decision to take care of his ailing health as we are all subject to human frailties. [But]…it is unfortunate that President Buhari would always embark on medical tourism abroad when his administration has completely refused to address the poor state of the health sector in Nigeria, for which medical personnel are currently on strike across the nation."
I recently met with a group of smart, caring, industrious lady doctors in my home state – Rivers. They were doing invaluable outreach projects in rural communities; and they were passionate about their work. But they sadly informed me that they would flee Nigeria if the opportunity arose, because of poor working conditions.
Meanwhile, Nigerian patients are dying in droves from curable ailments because of all manner of often minor problems that would never have arisen if our healthcare system was adequate; and I am absolutely appalled to the point of tears about the status quo; and the question I would like to ask the authorities is this:
If our hospitals are simply not good enough and are best avoided by anyone who values his or her life and can afford to jump on a plane to seek medical solutions overseas, surely Buhari (who is especially sanctimonious!) should doggedly focus on improving Nigerian hospitals and not just blithely enjoy his membership of a club comprising super-privileged folks who unrepentantly insist on special treatment?
It is downright evil and hypocritical for Buhari's ruling class to allow this amoral, destructive betrayal of ordinary Nigerian citizens to continue.
Cut him down!
IMO State Governor, Owelle Rochas Okorocha, is desperately trying to force Imolites to accept his vapid, mediocre son-in-law, Uche Nwosu, as his successor.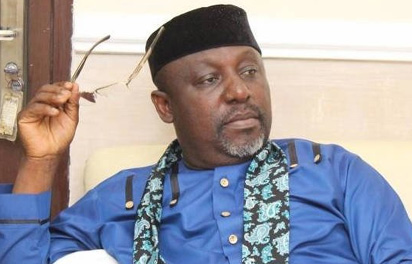 Fortunately, his crazy monarchical delusions of grandeur are not shared by the majority and his plans are going awry. Last Saturday, the ward congress of the All Progressives Congress, APC, took place and Okorocha was completely disgraced.
Okorocha made an "emergency visit" to the President's country home in Daura, Katsina State, a day after the congress…and has angrily accused his opponents of all sorts of misbehaviour, including electoral fraud.
According to The Source Magzine, which is owned by an Imo indigene, describing what happened in Imo as funny politics, Okorocha said: "We expect internal democracy and internal democracy is the way to go. This kind of funny politics that we are playing must stop … we do not want people to carry ballot boxes and steal results. This looks so primitive. I intimated Mr. President and we will make sure that such things must stop."
Asked what the President's response was, Okorocha could not deliver a triumphant response: "I intimated Mr. President and we will make sure that such things must stop. He spoke like the President and he will take the necessary steps to correct this in our party, APC, not just in Imo State but across the whole nation, and to also make sure that there is respect for internal democracy in Imo State."
Whatever Buhari actually said to Okorocha in private, it is extremely obvious that APC needs to curb Okorocha. I think it is fair to say that he is to blame within this context! And that he has tried to use his relationship with Buhari and the APC leadership to bully his way through the nepotistic nightmare that he has created for himself and Mr Nwosu.
As The Source scribe points out: "For almost eight years, Okorocha has taken the people for granted, serving them duplicitous meals. Now, the people have decided to cook for him. If he does not retrace his steps, he will come to political grief and there is nothing a President Buhari can do to save him from the wrath of a people he has humiliated for too long.
"What happened last Saturday is only a tip of the iceberg. If Governor Okorocha does not repent of his political sins and ask for forgiveness, his humiliation in the 2019 general elections will be total."
If Buhari wants to prove that he is a decent fellow who does not support cheating, he should firmly and publicly distance himself from Rochas NOW!!!
Responses to: [email protected] or to 0802 747 6458 OR 0811 675 9752 (texts only). PLEASE KINDLY NOTE THAT UNLESS YOU REQUEST ANONYMITY, YOUR COMMENTS MAY BE PUBLISHED, WITH YOUR NAMES AND CONTACT DETAILS ATTACHED.