By Prince Okafor
Lagos—Minister of Power, Works and Housing, Mr. Babatunde Fashola, yesterday in Lagos,  disclosed plans by the Federal Government  to reactivate weighbridges across the country, as a result of dilapidated state of the roads caused mainly by heavy duty trucks.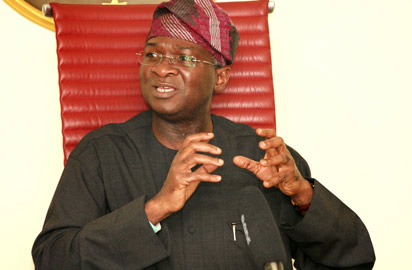 A weighbridge is a large set of scales, usually mounted permanently on a concrete foundation that is used to weigh an entire rail or road vehicles and their contents.
Making the disclosure at the  Nigeria Economic Summit Group, NESG roundtable on the Nigerian Transport Industry, Fashola also  revealed Federal government's  plans  to re-introduce toll gates on major dualised federal roads  across  the country.
According to the Minister, "The federal government is reactivating the weighbridges to check overloading. The weighbridges will be concessioned to private entrepreneurs to operate and manage.
"The federal government is also working on the introduction of toll gates on major daulised federal roads in the country. The toll gates will incorporate rest areas, shopping malls, conveniences, petrol stations, security outposts, first aid kiosks and towing facilities.
"The new toll plazas are designed to be business enterprises that will be managed by private investors. Funds generated from the toll plazas will be invested in the maintenance of the roads.
"The nation's highways are being made friendly with the provision of adequate road furniture like road signs, route assurance signs, place names, rumble strip within built up areas and distance to destination signs.
"Trailer parks are proposed for construction on major routes to ensure that the level of abuse being experienced on federal roads are minimized. The private sector is also invited to play a role in this regard."
Also in his remark,  Chairman of the Board Of Directors, NESG, Mr. Kyari Bu