By Vincent Ujumadu
Awka- THE World Bank –assisted FADAMA 111 Additional Financing is to engage no fewer than 9000 farmers in Anambra State as part of efforts to ensure food sufficiency in the state.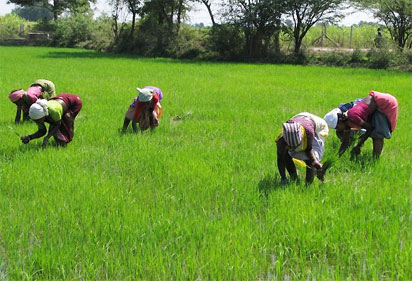 The State Programme Coordinator, SPO, of FADAMA 111 Additional Financing, Mr. Chuka Egbue, who spoke during the 9th joint World Bank/Federal Government Implementation Support Supervision Mission for FADAMA 111 Additional Financing in Awka, said that 6300 farmers were currently participating in the FADAMA 111 programme in the state, adding that the decision to increase the number was informed by the successes recorded in the six local government areas of the state participating in the programme.
He said that in addition to rice and cassava, FADAMA had added sorghum among the crops that grow well in the state, explaining that once the necessary funds were made available, there would be the need to engage more farmers.
Egbue said: "Our target is to complete all on-going projects and officially hand them over to the beneficiaries for maximum utilization. We have overwhelmingly got approval from the state government to intervene in Sorghum because of the opportunities in the value chain and increased youth participation in agriculture in the state."
The visiting team leader, Dr. Tunji Oredipe said the 9th mission was not aimed at fault finding, but to rub minds with the benefiting states on the already charted road map, with a view to finding out the amount of work that had been done and how much that could be achieved before the winding up of the programme in December 2019.
He called for undiluted focus on the sustainability of the projects and expressed satisfaction that the FADAMA 111 Additional Financing was being utilized judiciously to help farmers to be better people.
He urged the farmers to do the needful immediately their business plans were approved in order to be supported with the little available funds left before the project wound up.
Anambra Commissioner for Agriculture, Mechanization, Processing and Export, Mr. Afam Mbanefo observed that FADAMA 111 Additional Financing was playing critical and commendable roles to the state's general food security programme.
He said that Governor Willie Obiano was making agriculture very attractive by promptly paying the required counterpart funds.
Those that participated at the Awka meeting included officials from the Federal Ministries of Agriculture and Finance, as well as National FADAMA coordination office, Abuja, consultants, farmers, service providers, agro dealers and staff of FADAMA.