•'Some people don't know it is a taboo in Lagos community to whistle or pound yam'
By Ebun Sessou
Oba Bashiru Oloruntoyin Saliu is Elebo 1 of Oworonsoki, Lagos State. In this interview, Saliu speaks on how he gained admission into University of Lagos at 52 years to study mass communication. According to him, he had to study with pain and determination just to be relevant as a king.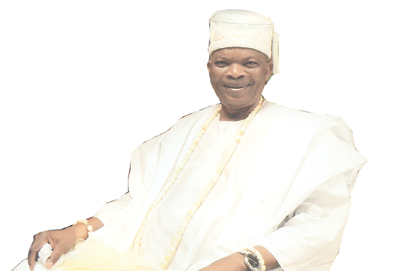 Educational background
I went to Muslim Mission School, Oworonsoki for my primary and secondary education. My father died when I was very young thus affecting my education. I continued with life and, at the appointed time, I ascended the throne of my forefathers. Unfortunately I was limited in my activities as a king because I was not educated. I then decided to improve myself. So I opted to pursue a National Diploma programme at the University of Lagos in 2008/2009 session. I sat for the entrance examination with my grandchildren's age mates.
When I started the programme, I had a course adviser, the late Okunuga, who told me I was not too old to learn and that there is no end to education. He was among those who encouraged me to study mass communication. I was 52 years old when I gained admission into UNILAG. Being an Oba is an inheritance. I am a descendant of the founder of Oworonsoki who came from Ile-Ife and settled in the place called Oworonsoki today. He came with his crown from Ife and that is the same crown I am wearing today.
Were you embarrassed being in same class with people as young as your grandchildren?
No. Rather, I was encouraging them to study hard. I told them I was in school to learn, that I had no opportunity when I was young. But that I needed education as a king so as to be bold and able to communicate with people. The truth is that I went to school with pain and determination.
Tell us about the founding of Oworonsoki…
Oworonsoki was founded by my great grandfather, His Royal Majesty Salami Ajumogijo who migrated from Ile-Ife. At that time, there were many shrines that were brought from Ile-Ife to Oworonsoki. The shrines include Ota, Oro, Egungun, Ifa and Ojubo-Obaluaye. Oworonsoki began to thrive after Ifa oracle was consulted and it instructed that a sacrifice be carried out to prepare for the coming of people from different places like Delta, Edo, Benin, Niger and Ogun (Ijebu), among other riverine areas, to trade in the community.
The people located the community through the smoke made by my forefather. My forefather and those who had migrated to the community from Ile Ife were hunters. Their business was to kill animals (Erannlaoniyo) one of which was the elephant. As they were roasting an elephant they had killed, smoke was billowing to the sky for the people who were migrating from other areas and were looking for a place to settle and continue their business (farm produce) to see.
Their kinsmen were trading by the river bank (Eti-Ebute). Then those migrating and looking for where to settle saw what was happening and how the people were trading inside the bush near the river bank and said 'Ewo ero ni ilu soki yi, ti won se owo', meaning, 'Look at this great multitude doing business in this small place'. The people were into all sorts of businesses. That was how the name Oworonsoki came into being. They were optimistic that the community would become a great town because of the assortment of businesses. In 1958, the then Western Region government acquired our land and our forefathers were forced to remove their deities.
They did not receive any form of compensation from government for the acquisition. Since there was nowhere to keep the deities because of the government action, some members of the community left, but my forefather refused to leave. He and his family decided to stay inside the bush. So we are the original settlers in Oworonsoki. Some land grabbers have, over time, encroached on our land and we do not have power to fight them and that is why the case was taken to the state government. The state government set up a committee and they discovered that the Saliu family are the original owners of Oworonsoki land, both at the upper and lower levels. We are peace loving people and we appreciate people to live with us.
How many kings have ruled since the founding of Oworonsoki?
Many kings have reigned in Oworonsoki. There was Ajumogijo who was the first king, then Salami, Saliu Idowu and Elebo before I ascended the throne.
Economic importance of Oworonsoki
We have different types of sand for building in Oworonsoki. We have sharp, golden, yellow, black and white sand. This particular resource is important to our economy as a people. And the water surrounding us is home to all kinds of fish. But in 1957, erosion claimed most of our land in Oworonsoki. About 5,000 hectares of our land has been taken over by water. But we believe the land can still be reclaimed if government, at both federal and state levels, come to our rescue. It will be easier to reclaim the land if government is really interested in establishing Lagoon City. But there is no development in Oworonsoki the way it should be.
Tell us about the culture and tradition of the people of Oworonsoki?
The crown brought by our forefathers from Ile Ife is celebrated annually in an event called "the Place of the sacrifice of the Crown" (Ojubo Ade) at the palace. We also make sacrifices to water goddess (Olokun Ota). The sacrifice is made based on the instruction of Ifa. This sacrifice is done to appease water goddess so as not to harm us or cause erosion. We use white ram, white dove, kolanut and corn porridge in the sacrifice. The place of sacrifice is on water. We have another sacrifice called the Olugbohun.
Whatever prayer you say during the sacrifice is believed to be answered by the gods. You must not place a curse on anyone during the sacrifice. Most people who come into the community do not know the tradition and culture of the land. And as a result, they do not know the implications of their actions. Some do not know that it is a taboo to whistle in Oworonsoki, it is a taboo to pound yam. You must not make pop-corn. You must not hawk broom on the street. If you are aware of all these taboos, you will not have problem living in Oworonsoki; you will progress in all you do.
The truth is that the covenant the gods had with my forefathers has been preventing calamities from happening in Oworonsoki but most strangers living in the community don't know.
How many ruling houses are there in Oworonsoki?
We have one ruling house. There are documents in that regard. Anyone who is not related to the community kingship cannot be an heir and cannot become a king. Anyone who dares the throne will not spend three days on earth. To become a king, you must have your ancestral lineage by blood. It is only members of the Saliu royal family that are entitled to become a king in Oworonsoki.
Installation of kings in Oworonsoki
You are expected to consult the oracle. There is a priest called the 'Father of Sacrifice' who consults the oracle on what to do. The oracle reveals whose reign is best for the community. As soon as the oracle reveals the king to the people, the kingmakers would take the king to the Ipebi, a shrine where he would stay for three months to be trained on the do's and don'ts of the throne. He would also be taught on how to talk and what to eat, the taboos and steps to take when a sacrilege is committed.
When were you installed?
I was installed and taken to the 'Ipebi' in October 1996 and given an instrument of appointment and staff of office on February 19, 2000 by former Governor Ahmed Tinubu. I am a first class king in Nigeria.
Tell us the significance of the throne?
The throne is very significant because if you are not permitted by a king or the oracle, you cannot sit on the throne. It is abomination to sit on the throne without being permitted. If a child climbs the throne without permission, such child will die unless you bath him with water and give him water to drink. We must also pour water on his head, legs and hands and warn him not to sit on the throne again.
Did you inherit these chairs I can see in the palace?
I met most of the chairs in the palace. The palace was constructed without a door, mat serves as the door. But I reconstructed the palace and refurbished the chairs. The chairs have been there since the creation of Oworonsoki. Special carvers carved those chairs.
And the crown, horse tail, shoes, staff, bead?
I inherited some and bought some. There are specialists who make horse tail, crown and shoes used by the king. These people are Oyos and Ibejus. There are called crown makers. They know the history of each town and make the crown, horse tail and shoes according to the traditions and beliefs of the town. Although some Hausa make horse tail, it must not be with beads. The shoes are customized for the king. Bead sellers make the bead. They are native and unattractive beads. It is not everybody that is permitted to wear customized or native bead. Some of the beads are sacred. They are permanently in Ipebi. There are some objects in the Ipebi that are forbidden for women to see or touch. There are people who have been ordained to see those things. And they must carry out some rituals including water, kolanut and dove before entering the Ipebi. We have lots of traditions and culture in Oworonsoki.
What is the cost of your appearance?
It depends on the occasion. If it is casual outing, my appearance might cost between N200, 000 and N250, 000. But, there are some occasions that are worth N1.5million, especially when I appear in full regalia.
Tell us about your real estate?
When I was young and living in my mother's town, Ijora, and in other areas where our family lives, Ajao Estate for example, the family invested me with the power of attorney to represent them. We have vast areas of land. That was when I acquired some experience. I would buy 10 to 15 plots of the family land at a time and resell. The money I made was used to build a bungalow for my people to live in.
Before then, I was a technician and worked with Shell Petroleum. I worked at the pipe and fitting section. I was a pipe fitter. And they were paying me well; my allowance alone was enough to sustain me for the month. The money I got there I invested in my company, B. Saliu Technical Works Nigeria Limited.
Advice for the people of Oworonsoki
Pray to God to show them the right path. They should not be envious of one another.