By Iyabo Aina
Recently Maja Spencer and Winning Jah bagged the prestigious Obaland Royal Awards Honours, they decided to contact each other for a social campaign to tackle violence against women. The intro of the song was made by Maja spencer, the track lasted 3.08 seconds.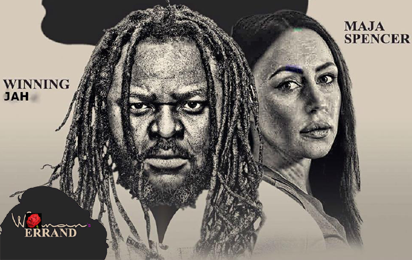 The song which was released on all digital platforms like Itunes, Spotify and others on the 1st of April 2018 is already making waves globally.
Kingsley Eno Osagie, popularly known by his stage name Winning Jah, is a Nigerian veteran reggae musician and a prolific song writer. He won John Player Gold Leaf Award for Best Reggae New Acts in 1989, and in 1990 he released his debut album Big Man, which was a success, with the sales of more than 650,000 units.
Born in Kano-State and raised in Benin City, Nigeria, he worked with various artists like Stephen Marley, Baba Sissoko, and also opened the concert for Blessed Memory "Miriam Makeba", before the iconic singer passed away in Italy. He has performed at important music parks alongside Luciano Messenjah, Ky Mani Marley, Baba Sissoko and others.
In 2018, he was awarded the prestigious monarchs recognition, Obaland Awards, also known as Africa Grammy under the International category "Obaland Royal Awards" honor for Best Edo state/Diaspora Philanthropist and Best Africa reggae artiste -2018 (Honor)
Maja Spencer is a Serbian singer, songwriter, dancer, and book writer. After becoming a successful author, Spencer started writing and recording her own music. All her songs are played on air worldwide, and have been performed live in Europe.
In 2018, Spencer was awarded a Monarch recognition, Obaland Award, under the international category of "Obaland Royal Awards – Honor", as the best inspiring author and the best Serbian singer, alongside numerous mainstream musicians such as Queen Ifrica, Jah Cure, Chronixx, Capleton, Damian Marley, Shatta Wale, Ziggy Marley, Busy Signal, Sean Paul and others.