What is your day like when it comes to shopping?
From the movie "The diary of a Shopaholics" – Are you and impulse buyer?
Do you buy things based on your emotions?
Do you shop as and when you need or want things?
I guess when it comes to shopping the right thing is to make a purchase when you need things as required, to be accountable for your pocket and resources; this usually is not endless. It takes a lot of discipline to spend smartly, wisely and justifiably. Not everyone is structured like that; there will be times that society will affect your spending pattern. In a highly social setting; the pressure of cultural traits and the need to fit in may require you to spend for weddings, funerals, birthdays as offered by the celebrant. These are the traits of Aso-Ebi, if not handled with good control it will make you spend what you simply do not have.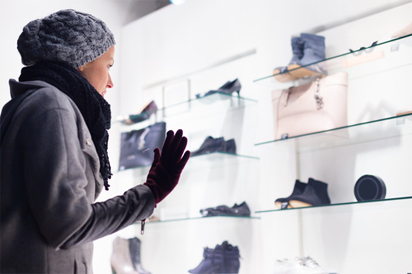 Anyway are you one to plan your shopping in advance?
Do you enjoy the art of "Window Shopping?"
That is going out to check what the options are or going specifically to look at what is trending before you finally buy. Window shopping simply is that exercise where you check things from shop windows or shop stores with no intention of purchasing. You may in future buy something, but whether it is your physical visit to the store or your shopping around online you are under no pressure to buy. We tend to find many people who are on holiday relaxed and adventurous tend to pass time window shopping. How you window shop is a matter of the time you have on hand, your taste and your style. Here are a few window shopping etiquette strategies to make the experience easier.
ETIQUETTE OF WINDOW SHOPPING.
Make that decision / Plan it
Window shopping can take the entire day, walking from one window to the next. Sometimes window shopping is unplanned especially when you are in a totally new environment or destination with a different vision,  just seeing the shops is an automatic welcome to look, see and enjoy. Most times when on a holiday there is a huge chance you will engage in window shopping, it is a good idea to plan ahead of time. When hunting around for a shopping spree or shopping malls make the decision as to how long you would want to spend window shopping. It could be from 30minutes to 3 hours or more; depending on your desire to keep looking, seeing and enjoying.
Trending Shops
The newer the shop the bigger the desire to want to check it out. Whether you are window shopping, viewing the store floor, or browsing the online store choosing that trendy store will make your expedition more fun and exciting. Also look out for those trendy shops that will inspire, motivate and empower  your perspective and your values.
Image & Comfort
Window shopping can easily be very exhausting, it is still important to look good as you walk into a shop, however always remember your comfort comes first. There is an interesting psychological approach that says that shop attendants tend to size customers up as they walk through the doors of a shop or store. They say "Dress the way you want to be addressed", your dress sense triggers how you will be attended to at any moment in time. As true as this is you are not in a store to create any side attraction, therefore wear clothes that will not burden you or discomfort you, your shoes are the first and foremost clothing wear to watch out for. Flats will do you more justice than any heels at this time.
Carry On
Never go window shopping with a large bag that you have loaded with unnecessary items. Go light as much as possible to ease the window shopping experience. If you do decide to buy things, refrain from carrying too many bags around as you move from shop to shop. At this point you have engaged in real shopping, it is no more an on looking exercise.
Weather Watch
It is so much easier when you window shop under one roof within a shopping mall, however when shops are on the high street and you need to move from one location to another the weather needs to be highly considered. Always watch the state of the weather before embarking on a window shopping spree.
Invite Friends or family
Going alone on a widow shopping spree physically is not so much fun, some will say that they prefer to go alone it as they may not be bugged down or delayed by others. Make your experience more exciting by exploring new shops with other family members and friends alike. Online shopping is easier done alone.
Going the Extra mile
Some people enjoy window shopping by trying clothing items on, they can take six or more outfits to try on in the fitting room and buy nothing. As you do this from shop to shop you may just wear yourself out and waste much more valuable time, fitting can be done when you have really decided to make a purchase.
Rest & Relax
Window shopping is not a marathon or a race to win. Whenever you sense you are feeling tried, take a tea or coffee break. That moment of relaxation will re-energize and re-motivate you. You may just end your entire shopping spree day with a light break in a coffee shop. Take a note of your expenditure and then plan to create a real purchase on another day.
Be in Control
Finally if you have decided to just window shop, ensure you control any impulse buying, you may leave your purse behind for this. If eventually it is an item you just do not want to miss be mindful of your purse, your pocket and your priority.
Good luck!!!!!