By OSA AMADI, Arts Editor
Renowned visual artist, Tola Wewe's painting dated April 1989 and titled Iye Boabo, which was stolen the same year after it was exhibited along many other works by him and his friends, turned up last week, April 18, 2018 at Arthouse, Lagos in preparation for auctioning.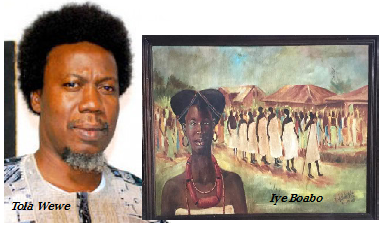 Arthouse, art auctioneers and one of the country's leading suppliers of interior decors had contacted the renowned artist, to help it authenticate one of his works that someone had brought in and which Arthouse is preparing to auction.
Narrating the incident to journalists in Lagos, Tola Wewe said: "In 1989, the Ono movement was formally launched with the exhibition of our works at the Institute of African Studies, University of Ibadan.  Immediately after this great exhibition, me, Muyo Okediji, Tunde Nasiru, Bolaji Campbell, and Kunle Filani, each member had an exhibition at Ife. It was in my solo show at University Hall, Ife in 1989 that I exhibited the painting in contention – Iye Boabo. I exhibited about 30 paintings. At that time, I had no car to move my paintings, so I was compelled to keep them at Ife, in Muyo's apartment. Muyo was lecturing at Ife then while I was living in Ondo. It wasn't only my works that were in Muyo's apartment. Filani, Nasiru, and all Muyo's works were in that house.
"Eventually Muyo had to travel to USA for further studies leaving his wife in the house. Somehow, the house was burgled and all the art pieces there were stolen. I would have discovered this early enough. It took about 5 years before I learned that all the works had been stolen."
Later, Tola saw some of Muyo's works somewhere which someone had brought them for framing. Because there was no easy means of communication in those days as it is now, there was no way he could communicate with Muyo in US to tell him about his paintings which he saw at the framing centre, and of course he didn't know whether Muyo had sold the works.  Many years later(1995 or 1996) after Muyo returned Tola mentioned it to him that he saw some of these paintings where they were being framed and Muyo told him that all those works had been stolen. "So I forgot about it and moved on," Tola Wewe said.
"About 10 days ago, on April 18, I got a mail from Arthouse with a picture of one of works titled Iye Boabo. They said I should please help them to authenticate it like we used to do. I have done several authentications like that for them. Immediately I saw this one, I said this is one of my works which I have been looking for. I sent a mail to Muyo immediately saying "do you remember this work?" He said "yes". I told him what was happening and he said I should pursue the link; that perhaps we will get the other stolen works through the link. I said ok, I am in touch with Arthouise."
The e-mail Arthouse sent to Tola Wewe on April 18 attached with picture of Iye Boabo reads:
Dear Chief Tola,
….The attached work has been submitted for our coming auction. We kindly request your assistance with the following information: titled, medium, (and) artist statement. We look forward to hearing from you.
Tola Wewe responded with a mail to Arthouse:
Dear Nana (Arthouse representative),
The painting is mine. I have the title and the story that inspired the painting. I am very please to discover that this painting is still living because I have been looking for it since the late 80s. I would be glad to know who the collector is and probably agree on some terms before giving you further details about the work. Thank you for your quick response.
From that point, the Arthouse representative, Nana, no longer responded. After Tola waited for a few days without getting her response he switched to WhatsApp:
Tola Wewe: still waiting for your response on the work.
Nana: I forwarded your mail to the owner and no response yet.
Tola Wewe: We need to act quickly because I may be forced to make this public o.
Nana: How? That we stole your work?
Tola Wewe: Arthouse has no problem. In fact you are my saviour now. If not for an institution like Arthouse, how would I have seen this work? Kindly tell him to link up with me so that we (can) resolve the issue or I go through my own way.
From that point Arthouse, represented by Nana, stopped communicating with Tola Wewe.
"Art is my life. It is what I have invested my life on. As at the time when I was producing this painting, many of our colleagues could not paint because it was unaffordable. I was earning about N500 in a month. I was committing all my resources into it, and we were not selling. It was like a religion to me.  It was my life saving. So for somebody to come now and flash the work, trying to lay claim to it, I don't think that will be acceptable to me. I will not be in a haste to indict Arthouse until further investigation which I am sure you people (the press) can help to unravel. I believe also that this will lead to the whereabouts of the other stolen works," Tola said.
What Tola Wewe wants now is not only to reclaim his painting, but also to know the so called collector who brought Iye Boabo to Arthouse for auctioning and how he got the painting. It may lead to where the other stolen paintings are.