By Ndahi Marama, Peter Duru & Boluwaji Obahopo
No fewer than 16 persons were, yesterday, killed in Bama, Borno State, and Kpanche in Bassa Local Government Area of Kogi State.
While four persons were killed in suicide bombing on a mosque in Bama, including the two suicide bombers, with 10 others sustaining injuries, 12 were slaughtered at Kpanche in inter-communal conflicts.
In the Bama attack, two suicide bombers, male and female, aged about 14, invaded a mosque around Bama Dina area of Shehuri /Mairi/ Hausari ward of Bama Local Government Area of Borno State.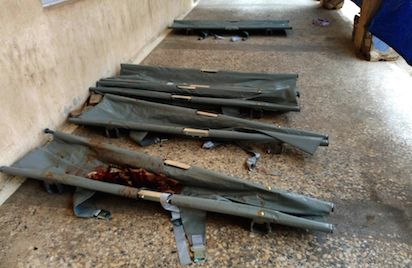 The incident, according to residents, took place at about 5:15a.m., yesterday, when the two suicide bombers detonated Improvised Explosive Devices, IEDs, strapped to their bodies while some Muslim Ummah were praying.
Although sources disputed the number of casualties, the Caretaker Chairman of Bama Council, BaShehu Gulumba, who said normalcy had been restored, confirmed that two suicide bombers and two innocent civilians were killed, while 10 other persons sustained injuries in the blasts.
Confirming the attack, Borno State's Police Public Relations Officer, DSP Edet Okon, said: "At about 5.40a.m. yesterday, two female suicide bombers infiltrated Ajilari area in Bama town and detonated Improvised Explosive Devices, IEDs, strapped to their bodies, killing themselves and two other male victims.
"Eight other persons were injured and rushed to hospital. The corpses have also been evacuated."
Gunmen in Kogi
In the Kogi gun attack, about 12 persons were killed when gunmen, at 5:30a.m. yesterday, besieged Kpanche community of Bassa Local Government Area.
Though Police said they are yet to establish who the aggressors are, sources revealed that the incident might be in connection with the December 2016 uprising in which Igburra Mozum people attacked Bassa Kwomu masquerades.
However, the state Police Public Relations Officer, who confirmed the incident, said only four persons died, adding that a combined team of Army and Police promptly responded to distress call and repelled the attackers, killing four of them in the process.
But a commissioner in the state, Mr. Ali Janga, told newsmen that 10 persons, including five residents of the community and five of the armed bandits, were killed.
Meanwhile, suspected herdsmen, Saturday evening, shot dead one Mr. Mtserikyaa Hiimo between Iorza and Jootar, along Anyiin-Gbeji Road in Logo Local Government Area of Benue State.
Vanguard gathered from sources that the victim accidentally ran into a roadblock mounted by armed herdsmen.
Contacted, the state's Police Public Relations Officer, Assistant Superintendent Moses Yamu, said he was yet to receive report of the incident.