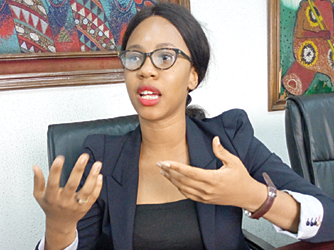 *Stephanie Chizoba Odili
Stephanie Chizoba Odili was a child prodigy in the literary field. Now, after her university education, she has authored a book, Deafening Silence, scheduled for launch this week. She spoke with the Arts Editor, OSA AMADI.
When did you start writing?
I started writing in 2001. I think there was a bomb blast at the time.
The Ikeja Military Cantonment bomb blast?
Yes, thank you. That day, I sat down and described everything I saw happened: how people ran helter-skelter and all that. From that day, I never stopped writing.
The first time I knew I could write was when I was 7. I read a lot, and my parents also encouraged my reading habit. I wanted to read more because I realised that reading more will help me to write. I was getting books from my parents every holiday, every birthday, every little activity. If I did something good, they would reward me with a book. So, it made me develop love for books. In a year, I would have read about 50 books. And I was very young. I am not even reading now as much as I read when I was younger.
It happened that I wanted to be everything I read about. When I read Wole Soyinka's Abiku, I told my parents that I wanted to be an Abiku. And they would say: kedu ihe n'eme nwa a biko? (what is the problem with this kid, please?). When I read Joys of motherhood, that was when I knew I wanted be a writer like Buchi Emecheta. That was in 2003. That was when I realised I was going to be a writer.
What is the title of the book you are planning to launch now and what's the plot?
The title of the book is Deafening Silence. I conceived the idea for this book in 2016. I like to think I am the only person of my age who so much believes in Nigeria. When they were talking about the anthem and the pledge, I was the only person who could sing all the verses of the anthem and recite the pledge, even the old national anthem, Nigeria we hail thee…. Everyone was surprised and said "how did you know so much?"
But the secret is that reading culture made me a historian, and I fell in love with nationalists who fought for the country's independence. So I asked myself: why can't I tell a real life story based on my experiences? After doing a lot of historical research in the library, I wrote the book in two months. It will be launched on Saturday, the 7th of April 2018 at The Lagos Resource Center, 9, Anifowoshe Street, Off Adeola Odeku or Kofo Abayomi, VI, Lagos. The time is 2-5 p.m.
Who are your parents?
My parents are Mr. and Barrister Mrs. Osita Odili. My dad is a stockbroker and financial analyst and my mum is a lawyer who works in a bank.
Were you born in this country?
No. I was born in London.
You schooled there?
I schooled both here in Nigeria and in London. I was shuttling between Nigeria and London because my dad was there and my mum was here. My primary education was in John Perry Nursery & Primary School, Dagenham, London, and Crown Gate Nursery and Primary School, Somolu, Lagos. Then I went to Our Lady of Apostle Secondary School, Yaba, and later to St. Gregory's Roman Catholic Science (RC) College, Kenton, London. I returned for my tertiary education at Covenant University here in Nigeria.
In what ways did these diverse experiences impact your writing career?
The way English is taught here is different from the way it is taught there. When we read a book here, what we are expected to look for are literary devices like figures of speech, etc., over there, what they want to know is how the book has influenced you. You are asked for your opinion about the book. Over there too, you are taught how to review a book. Having both experiences, however, has helped me structure how I write.
Now that you've finished schooling and your book is about to be released, where do you want to go from here?
I want to go into broadcasting. I love broadcasting. I love to write for TV, radio, newspaper. I like writing, editing, publishing, reviewing. These are the things I enjoy doing.