By Our Reporters
THE 2nd Vanguard Economic Discourse held yesterday lived up to the expected billing with consensus on the urgent need for pragmatic policy reforms in order to avert the dangers of uncontrolled population growth looming over the Nigeria.
With the theme, Economy in Recession: Pitfalls, Trajectories and Resetting, the Discourse zeroed in on the frightening dimension of the country's huge population size, projected to hit 550 million by year 2070, and its implication for government finances,  provision of socio infrastructure amenities  as well as choice of macroeconomic policies to influence economic growth.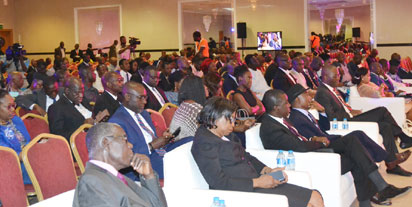 Attended by an array of chief executives, captions of industry and economic analysts from various segment of the economy, including President, Lagos Chamber of Commerce and Industry, Chief Mrs. Nike Akande, and Managing Director/Chief Executive, Cowry Asset Management Limited, Mr. Johnson Chukwu
The Discourse was chaired by Mr. Bukar Kyari, Chairman, Nigeria Economic Summit Group, NESG, while discussions were kick-started by  Mr. Olabode Auguto, Chief Executive Officer of Augusto and Co, who delivered  a comprehensively packaged keynote address which was dissected by a panel comprising: Patience Oniha, Director-General, Debt Management Office, DMO;  Muda Yusuf, Director-General, Lagos Chamber of Commerce and Industry, LCCI, Comrade Issa Aremu, Vice President Global Union, African Region; Opeyemi Agbaje, Chief Executive Officer, RTC Advisory Services; and Tony Okpanachi, Managing Director, Development Bank of Nigeria, DBN.
Danger of uncontrolled population growth-Augusto
Speaking on the frightening dimension of the nation's population growth, which he asserted is the biggest problem, Augusto averred its time the country embraced population control measures.
He said: "It is a myth to say that our population is strength. I believe that our population is only strength if it is well educated, if it is healthy, if the economy in which they reside has the capacity to provide them with jobs and the people living in the households earn good income and are able to afford the goods and services provided by businesses.
In my opinion, the biggest problem we have in Nigeria is our population – uncontrolled population growth. That's my own personal view and I will explain why by putting things into context.
"When we got independence in 1960, the population of Nigeria was 46 million, the UK of Great Britain and Northern Ireland was 52 million – 6 million people more than us. By 2015, the UK moved from 52 million to 62 million, Nigeria moved from 46 million to 185 million. That's not the end of the story. In another 55 years, by 2070, the UK will be 80 million while Nigeria will be 550 million. This projection is by Population Pyramid, these are not my numbers. My younger brother who is a mathematician said it is possible, because it is 2.2 percent compounded, and we are already doing 2.5 percent.
This means demand for primary schools would be much bigger, the number of teachers we have to pay would be more, the number of schools and classrooms we need to build will increase, the number of vaccines we need to buy to inoculate these children will be more. We need to send them to secondary schools, keep them healthy and after they finish school, we need to find work for them. Otherwise, they'll become non-earning assets and because we will feed them and clothe them, they are liabilities to the nation.
At the end of the day, the wealth of a nation is measured by the output of the nation (e.g. number of tubers of yam produced) divided by the number of people going to eat yam. Today, we are growing the number of people going to eat yam faster than we are producing tubers of yam. The distribution of these tubers of yam (wealth) is also heavily skewed in favour of the rich.  On the way out, Agusto asserted that the nation's political agenda must of necessity incorporate population control.
"Population control must enter our political agenda irrespective of religious beliefs. Before we enact policies, we should study what China, India and Singapore have done in this respect and tweak to reflect the realities of our environment. The least we must do is to encourage families to just replace themselves by having a maximum of two children. There must also be incentives to encourage people to comply and penalties for those who fail to comply," stated.


Turning population growth to national asset
In their  comments, Muda Yusuf, Issa Aremu and Tony Okpanchi opined that the real issue is what the country does with its huge population, stressing  this will determine  whether the huge population becomes a liability or an asset.
According to Muda Yusuf, "The population may be very fierce, but we need to worry more about investment in human capital, because if you look at the biggest economies of the world today, most of them have big population. Look at the United States of America, China, Brazil, and in Africa, Ethiopia and all of that. We need to worry about the quality of the population, which has to do with investment in human capital. That, we need to underscore."
Linking the mandate of the Development Bank of Nigeria to efforts to address the nation's population growth challenge, Tony Okpanachi said: "I join the other speakers to say that population could be an asset or a liability.
"I think the prescription to population control is just being simplistic because we are already in there. So if you talk just replacing yourself no matter the way you look at it the population is still going to grow.
"We are already in it, what are we going to do or where do we go from here? That is the perspective I am going to look at it. So if you look at the demography and the composition of the population, you we will discover that most of them are youths.
"So, if you want to talk about increase in government revenues, increasing taxes to be able to fund some of these projects, you also have to make them productive in such a way that they are able to contribute in their own way to be able to pay their taxes. "That is why I think we should be able to look at which areas of the economy will able to create employment more and that where the Micro and Small scale enterprises come to bear.
"If you look at it, almost over 60 percent of the employment was created by that sector. So an institution like the Development Bank of Nigeria, DBN, is set up to focus strictly on that segment of the economy. That is a decision in the right direction."
According to Issa Aremu, "Nigeria's population can be an asset if government pays workers adequate and proper remuneration. If government channels its spending properly  Nigeria's population could be an advantage."
*More stories on Sunday and Monday