… says sustained conflicts contributes to poverty
By Emmanuel Elebeke
The National Bureau of Statistics (NBS), says the overall incidence of conflict recorded in Nigeria was higher in 2016 as compared to 2010.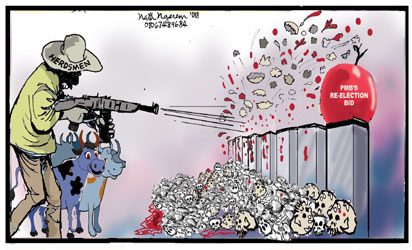 In a study carried out  in the North East, North Central and South Souths zones of Nigeria between 2010-2017, on conflict in Nigeria and Food Insecurity in Conflict affected areas of Nigeria , released yesterday by the bureau, it was revealed that many conflict events in these areas are never reported to authorities.
It suggests engaging community and religious leaders in surveillance may improve rates of reporting events and improve overall understanding of the changing context of conflict and violence across Nigeria.
According to the report, only a small minority of conflict-affected households receives any type of assistance in support of their recovery increased reporting and a stronger response system may aid in post-conflict rehabilitation
It noted that sustained conflict is known to be both caused by and contribute to poverty.
However, the report further stated that wealth does not protect households from exposure to conflict and violence in the surveyed areas of Nigeria Phone-based data collection can improve understanding of conflict and violence, especially in areas where insecurity prevents face-to-face access to community members.
Food Security
On food security, the  NBS said majority of households are food insecure in all three regions.
It indicates that food insecurity as measured in the survey could be transitory, stating that markets are the main source of food, and there is plenty of food available in the market.
However, the bureau stated that high food prices are the largest concern in all three regions, which is in line with high (national) food inflation rates.
Given the high food insecurity rates in all the regions, it noted that  information is needed for indepth analysis, adding that state-level data collection is required to better identify households at risk.